I should title this post "A Tale of Two Tights".
Patterned tights can be tricky to wear sometimes: ones with heavy ribs need to run straight up and down, as do the sorts with cables, or else you look like an errant child. Depending on the size and shape of a motif-type, the lower leg can appear one way, but then the pattern can just… kinda… spread as you get into the thigh area… which is why I tend to stick to solids. But then I wonder if I'm just being a big bore about my clothes.
So, while I was in the place that rhymes with Sinners recently, I spied a pair of tights with a triangle motif on it, which immediately stopped me in my tracks. How SPLENDID, I thought! Coloured in two shades of grey and black (my favourites) AND with adorable triangles… I've been looking for ways to bring them into my wardrobe, but I haven't seen a sweater or anything else that I liked enough to wear. Until now. And they're of a good medium-weight – perfect for this time of year, especially paired with this denim mini I love so much. Easy-peasy.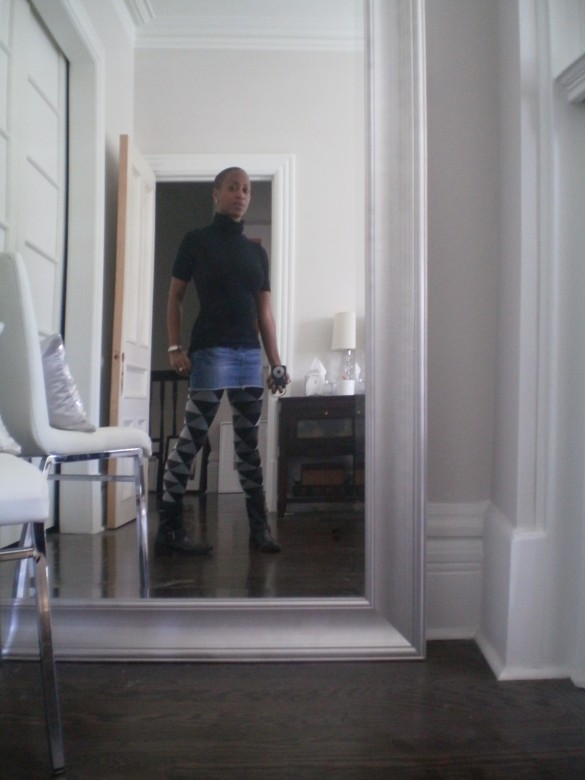 Did I say patterns can be tricky? Well, in this case, because the lighter triangles run on the outside of the leg (rather than down the centre) they make the leg appear more… broad. Tree-trunkish, even. And what lady wants that? Not this guy.
The upside is I really love the pattern, but there's a lot of it going on with this short skirt. Sometimes less is more. A taller boot would cut the pattern (must I buy tall black boots now?) or an over-the-knee sock, but then what's the point of patterned tights? And I'm not sure I'd like them so much more if my skirt was longer… but I don't hate them. And they feel good on – not itchy or weird in any way. In fact, this cotton-poly-nylon-spandex blend feel pretty damned silky and luxurious. Maybe they'll be worn under my pants on those super-cold days, that are already here – Oh HAI winter.
As a contrast, I put on some slim-ribbed black tights…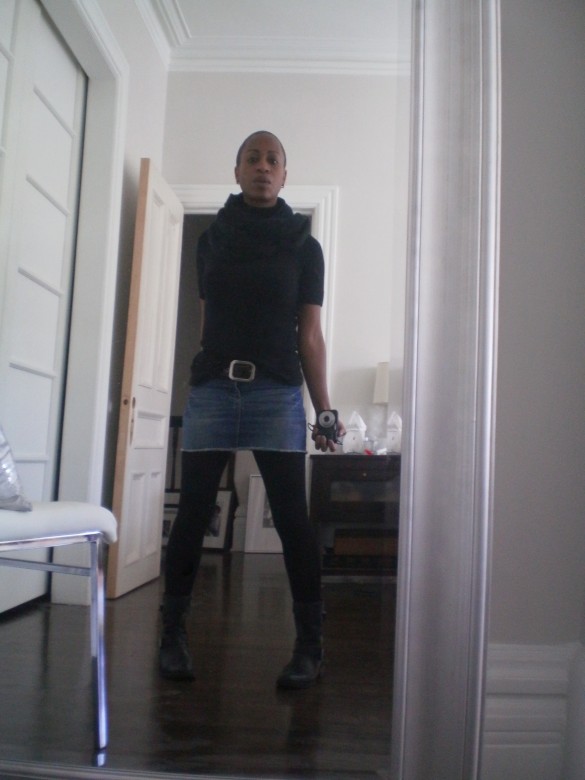 …black is beautiful.
Does anyone else have trouble with patterned tights, or is it just me?
geometric sweater tights in grey, MeMoi – Winners, $10
black ribbed tights – Forever 21, $10