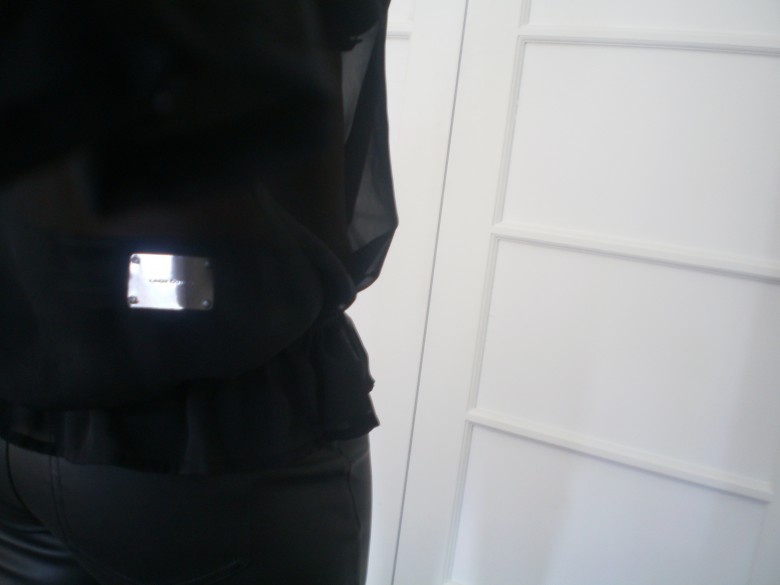 I did a bit of post-birthday shopping last Thursday, right after I finished getting an awesome foot massage at Footsie Reflexology (seriously, yo… you should go!) which is located across the street from The Bay… so wandered in to have a gander, and it seemed like the entire ladieswear department was on sale. My favourite! I scooped up a bunch of things to try on, and fell in love with some leatherette pants by Lady Dutch, which is what's engraved in the metal plate at the back.
I KNOW.
It's crazy, but they are… so… sick…
And since the party season is here, and it's drinks, parties, more drinky-drinks, and more parties happening all over the city and in houses all over town, a) I'm digging that I have some pants to wear because Montreal winters are not generally known to be balmy, and 2) I dig pants in general and skirts sometimes make me feel weird, and c) these pants are sick. (Wait, did I say that?)
They are a faded black colour – like a piece of charcoal, really – and they look great with everything from your everyday sweater, to a blouse which is how I'll likely pair it at night. In this case, I like this wide neck sheer blouse with the three-quarter sleeve ending with a simple ruffle there, and again at the hem. They fit well, and there's no need for a belt, which is great in and of itself, but ALSO! You can see the shiny metal thingie in the back through the sheer fabric, which gives this all-black ensemble a bit of interest. The only downside to these pants is they've gone and sewn the front pockets closed. DRAG! Why must you do that, manufacturers? Please stop! A lady needs a place to put her hands, you know.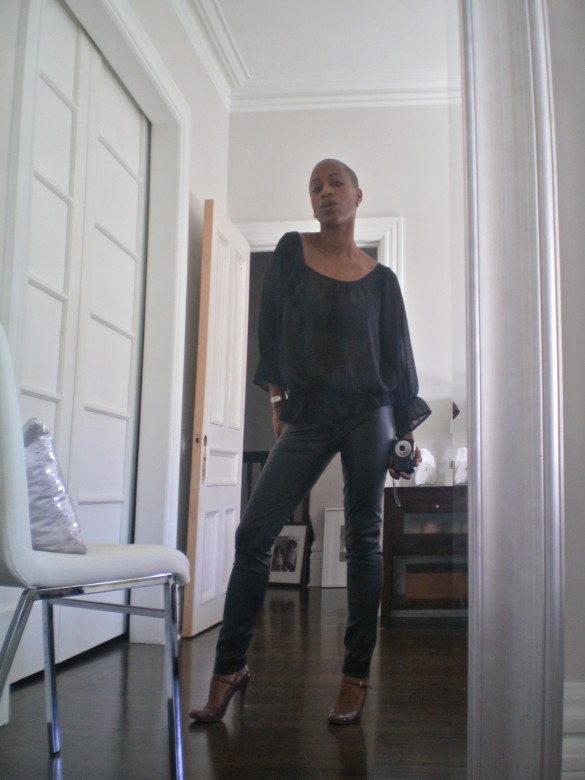 Because of the generous neckline, I would opt for bigger, sweepier earrings, but not much more. There's already a bow on the blouse at the neck (it's hard to see in this pic)… but for height, and for texture, and for a hint o' fetish, I pulled out those darling mauve, glossy patent leather mary janes, which reads close to nude on my foot. (Fetish wear is not my thing, really, but sometimes I like the edginess.) Sure it's sheer by day, but a lady doesn't look so naked during the low-light of cocktail hour and beyond… it's all about silhouette.
Happy Birthday to me. (42 has been fun thus far…)
black leatherette pants, Lady Dutch – The Bay $78 $39 sale (I know. I'd hate me, too.)
sheer black blouse with bow – Bedo (ancient)
stiletto mary janes, mauve – Nine West $125 $87.50 sale