While out with my Littles today, I got three Great t-shirt comments, two people said Love the hat, and one What is UP with those jeans, girl?
Thank you, Gap – sometimes you make my ass look so boss are so good to me. I love the fit, and the whiskering, and the faded dark rinse, and distress holes, and I love extra hard the fact that these are probably capri ankle-length pants for regular people, but in my case, they've just become the first pair of jeans I haven't had to roll up in a long, long time. WIN! (And how much do I dig your sales?)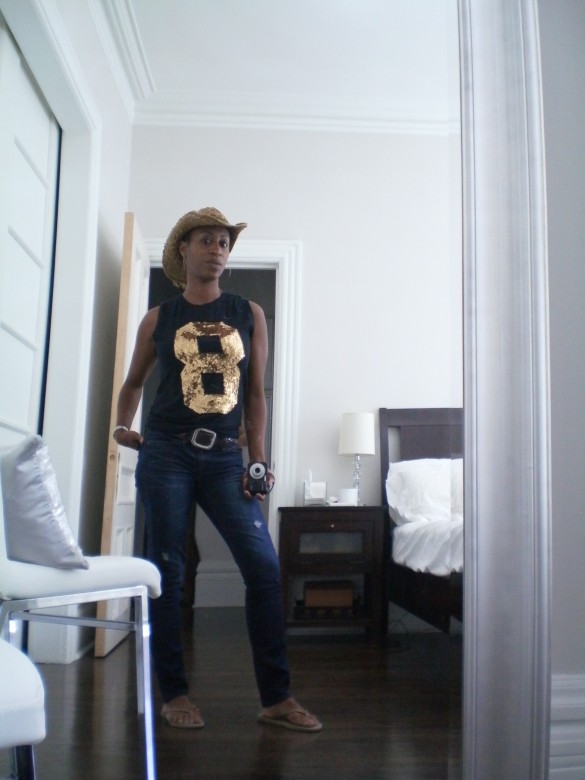 I must say, today I feel a lot like Matt Dillon during his Tex/Little Darlings days, only faaaar less beautiful. Because… Matt Dillon in the 80's, yo. PRETTY. Like, whoa.
And? As it turns out, it's the eighth day of the eighth month… so. How's THAT for random?
(And HOW is it already August?! Wow.)
straw cowboy hat – Winners (ancient)
gold hoop earrings – Michael Kors (gift)
black #8 with gold sequins sleeveless t-shirt – Forever 21, about $20
black-brown belt with grommets – Winners, not new
1969 deconstructed always skinny skimmer jeans – $79.95 NAY! $32.99 (in-store rebates and whatnot)
gold Havaianas flip-flops – whatever