I don't know what this weather is doing. Heat-wave followed by chilly spell… it's all a lady can do, trying to get dressed and look relatively fly while out and about town.
I had to break out a toque last week while in the woods, and to be fair, it sometimes feels so comforting. And it lends a bit of a style change… I don't have a lot of hair, you know.
I picked up this pair of cotton khaki pants recently – they're super-soft to the touch, with just a hint of stretch, with zippers at the ankle, so they look current. Grumble Girl ain't exaclty synonymous with "Dockers" if you catch me. (I mean no offence, Dockers-wearers… party on, dudes.)
And I cut the sleeves off Jimi, too – that's how all my ladies and I are rolling in our 'hood this summer. I like the youthfulness of it. And sure, just as I was knotting the slightly-wide t-shirt, and daring myself not to feel ridiculous, I ran into my homeless-guy-on-the-corner while I was out with the kids, and we chatted.
He: How old is your boy again?
Me: He's nine and a half.
He: Really? You don't look hardly old enough to have two kids this age.
Me: *snorts* Thanks, Michel… but I don't think you're looking closely enough. *laughs some more*
He: *throws hands down* Awww, you look like a baby. *winks*
So. That's me. The hip-hop baby-lady with her midriff showing, riding a scooter with her headphones on and feeling summer on her skin. Dig it.
Never mind your age, muthers… wear what you want to.  Nobody is looking that closely, I promise.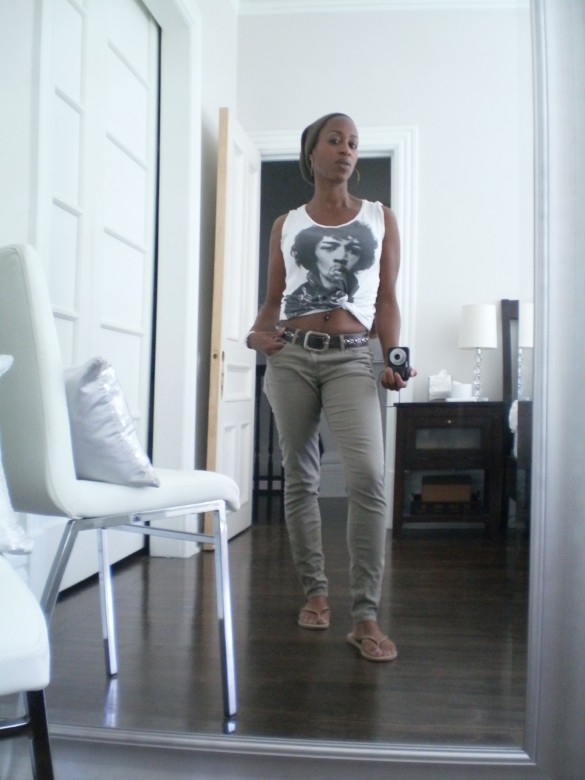 olive knit beanie – Forever 21 (ancient)
gold hoop earrings – Michael Kors, gift (thanks mum!!)
Jimi Hendricks t-shirt, hacked by yours truly – Forever 21, about $18
brown-black leather belt with grommets – Winners, practically free
skinny khakis with ankle zippers – Forever 21, $28
gold flip-flops, Havaianas – whatever