We've all got that friend, the one who posts every single thing on Facebook (or Instagram or Twitter). Whether they are a new parent posting about their bundle of joy, a fitness fanatic who keeps you informed of their every sweat drop or a foodie who wouldn't dare miss sending out a snap of their latest creation.
We live in a society of oversharing and, sure, sometimes it gets pretty annoying. And sure we've all wanted to tell that friend to ease up a bit, but how many of us have ever actually acted on that feeling?
One group of friends did—they took their frustration to the next level by sending their oversharing new mom friend a types out letter explaining why she needed to stop posting so much about her daughter.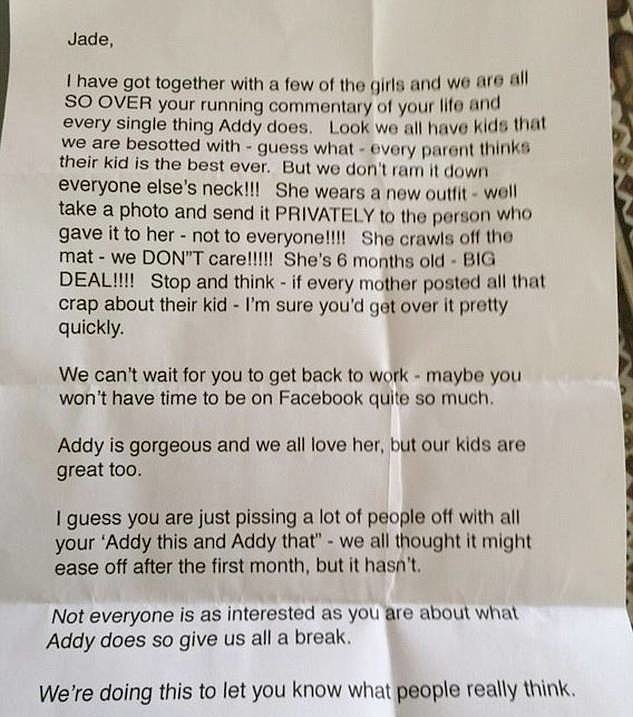 Jade Ruthven, 33, is mom to 6-month-old Addison, or Addy. She received a letter from people who claim to be her friends telling her to cease and desist with all the Addy updates. "We are all SO OVEr your running commentary of your life and every single thing Addy does," the letter says. "Look we all have kids that we are besotted with… but we don't ram it down everyone else's neck!!!"
You know its' serious when the girls bust out the triple exclamation marks.
Best of all this group of "a few of the girls" decided to send this note anonymously… how mature.
Ruthven responded in the best way possible—she started posting even more photos of her daughter with the hashtag #Addyspam. Her true friends joined in so that Addy really took over Facebook.
And just a bit of a PSA for any of you that are currently experiencing a bit of annoyance from a friend's excessive posting. You can simply unfollow their feed on Facebook so you no longer have to see what they post in their newsfeed without, you know, ruining a friendship and becoming a total bully.