There's nothing that scares me more than not having the right mix of cocktails for the adult ghouls that come around once the witching hour begins. But I have no doubt my drinks will be a howling success with my new favourite spirit Crystal Head Vodka… of course!
The Crystal Head bottle was designed by renowned American artist John Alexander. The bottle itself is manufactured in Milan, Italy where fashion and style meets impeccable taste. Not only does each bottle contain super fine crystal but the highly collectible bottles are hand inspected and takes 16 times longer to create. And of course, it makes a wicked centre piece!
What's inside the skull?The vodka is made with the highest quality of peaches and cream corn grown in Ontario, quadruple distilled, gluten-free and then blended with the most pristine water of Newfoundland. The vodka is filtered seven times (three of which are through semi-precious crystals known as Herkimer diamonds) and nothing else is added to mask the pure taste of the vodka.
And yes, this is the vodka that actor Dan Aykroyd is involved with!
Remember to use your head. Keep the drinking to a minimum before the trick-or-treating ends and always remember to enjoy responsibly!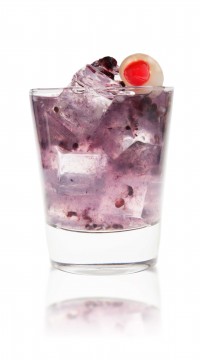 LOOK INTO MY EYE
1 1/2 oz. Crystal Head Vodka
1 oz. Sojo OR Zipang Sparkling Sake
3 oz. coconut water
fresh blackberries
1 whole lychee
1 maraschino cherry
Directions:  Muddle blackberries with splash of vodka in a shaker. Add in ice, remaining vodka, Sojo and coconut water, shake well then pour entire contents into a rocks glass.
Garnish:  with lychee made to look like an eyeball by placing the cherry in the centre opening of the lychee.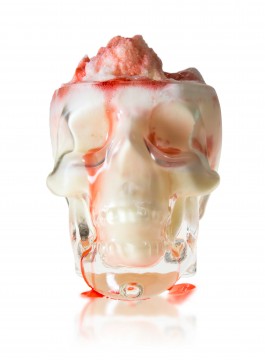 OUT OF MY HEAD
1 1/2 oz. Crystal Head Vodka
1 oz. Galliano
1 scoop vanilla ice ream
1 scoop ice
1 tsp simple syrup
1 oz. pink cream soda or 1/2 oz. grenadine
Directions: Add all ingredients except for cream soda into a blender and blend until thick and smooth. Pour into glass and slowly top with cream soda or grenadine.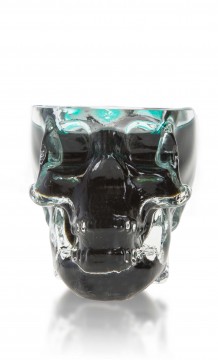 BLACK AND BLUE SHOOTER
1/2 oz. Crystal Head Vodka
1/2 oz. premium coffee liquor
1/2 oz. Black Sambuca
1/2 oz. Blue Curacao
Directions: Add all ingredients to a shot glass.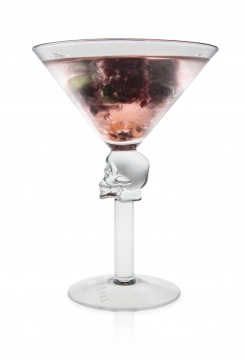 BRAINSTORM
2 oz. Crystal Head Vodka
2 oz. coconut water
1/2 oz. simple syrup
2 blackberry mint ice cutes (prepared in advance)
Directions: In a shaker half filled with ice, add Crystal Head Vodka, coconut water and syrup. Shake well and strain into martini glass. Add pre-made blackberry mint ice cubes. As the ice cubes melt, they release their flavours into the drink. Each sip tastes different!
How to make blackberry mint ice cubes: muddle ripe blackberries with mint, add them to a small ice cube tray, top with water and freeze.