As a kid, my mom was a Butter Mom—she always bought butter and kept it in a little dish that sat right beside our toaster. Growing up, I never really thought much about it, except when it was still hard and I had to try to put it on a sandwich or a piece of toast (that was basically my worst nightmare).
It wasn't until I would go to my grandparents' house and experience the pure joy of taking a tub of Becel® margarine out of the fridge and easily spreading it onto my challah bread that I would start to question that hard, unyielding block of butter at home.
As often happens when we start to grow up, move out and live our own lives, things in my own home are different than they are (still to this day) at my parents' home—I am 100% a Becel® user for a myriad of reasons that go way beyond the ease of using margarine straight out of the fridge.
So when I was invited to experience the brand new Blend Bar by Becel® at Loblaws at Maple Leaf Gardens, I couldn't turn down the opportunity to see how plant and seed oils are blended to create soft, non-hydrogenated margarine.
We were introduced to the Becel® Master Blend by Rose Reisman, aka the art of living well guru. With Rose, we experienced the full farm-to-knife story of how Becel® is made with simple blends of plant and seed oils—including their Master Blend of sunflower and Canadian canola oil.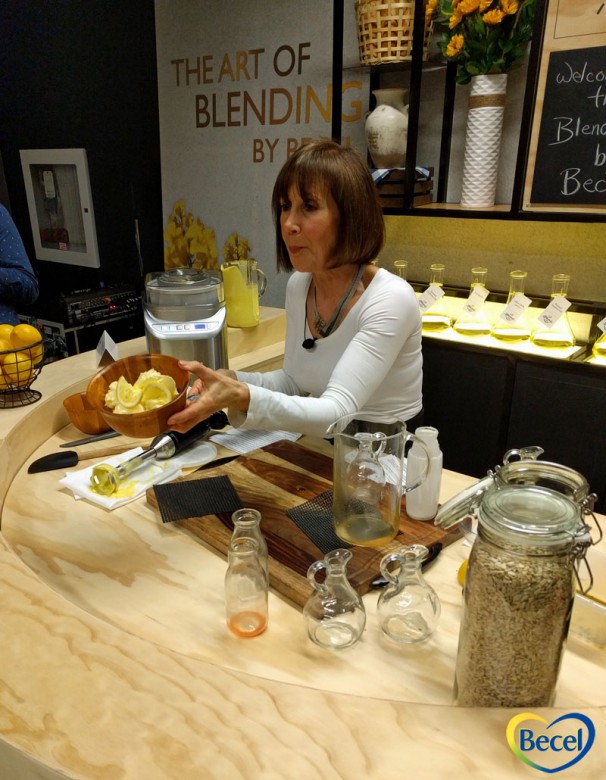 Right in front of our eyes in under fifteen minutes, Rose made fresh margarine. It was amazing!
"There is so much confusion around fats in general nowadays. Is it a good fat? Is it a bad fat?" Rose explained. "So here at the Blend Bar, we are going to help clear up that confusion."
Becel® margarine is part of the good fats family—it provides you with a great source of Omega 3 polyunsaturated fats that our bodies need and contains zero trans-fat and 80% less saturated fat than butter.
"We used to be a fat-phobic society, but that is changing, now we are adding in more good fats," Rose said while blending up a fresh batch of lemon and olive oil infused margarine.
"What's beautiful about Becel® is we aren't adding anything artificial. That beautiful yellow tone you see? That comes from a bit of carrot juice." There are no artificial preservatives, flavours or colours in Becel Original, Becel Buttery Taste, Becel with Olive Oil and Becel Vegan with simpler ingredients.
After we taste tested Rose's fresh margarine, we got to see how Becel® can be added into any recipe to replace butter 1:1.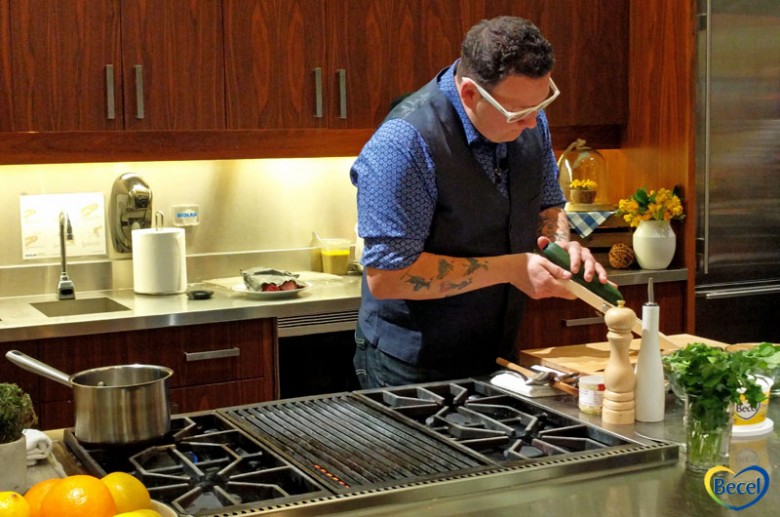 We watched as Master Chef's Graham Elliot cooked, fried and sautéed with Becel® and I can tell you, after trying the dishes—the Grilled Zucchini with White Wine Sauce and Shaved Fennel & Citrus Salad was my favourite—I was not disappointed. And after two pieces of banana bread I was pretty happy that I was missing out on the extra 80% of saturated fat I would have gotten from butter!
After my night at the Blend Bar by Becel®, margarine has definitely been demystified for me.  And sorry Mom, but Grandma and Grandpa were definitely right on this one!
Best of all, residents of Toronto and the GTA have a chance to experience the Becel® Blend Bar first hand. From now until March 20th, head down to Loblaws at Maple Leaf Gardens (60 Carlton Street, Toronto) between 11am-7pm Monday to Friday, and 10am-6pm Saturday and Sunday to watch the Master Blender at work and get a taste of the fresh margarine that's been blended right there on site!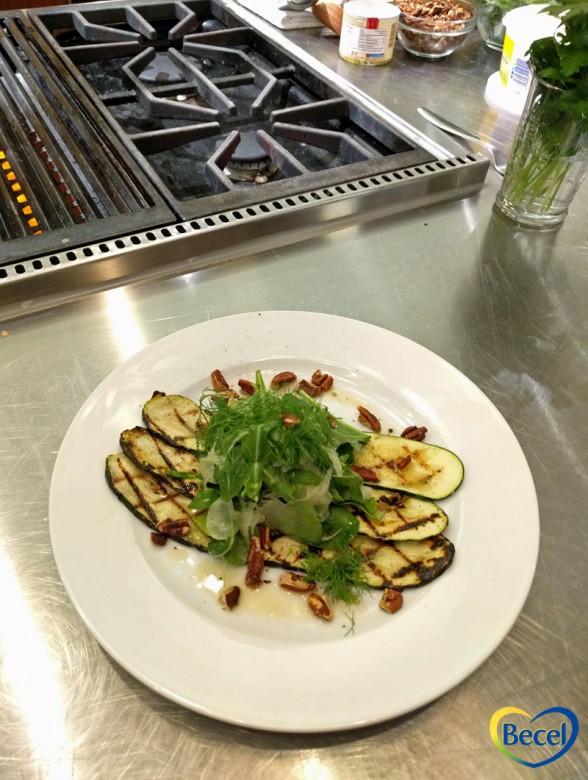 This post was sponsored by Becel® but the opinions and images are my own.