Last week turned out to be a delicious one as I was asked to participate in selecting the winner of the 3rd annual Cheesecake of the Year competition (I know, tough job). But I took one for the team *winks*. It sounds like a dreamy position to be in, right? The judging panel consisted of three Kraft kitchen experts, the food director of Canadian Living magazine and myself.  A tight panel we were and it was a fierce contest — the five finalists had earned their places, making this one heck of a contest to judge.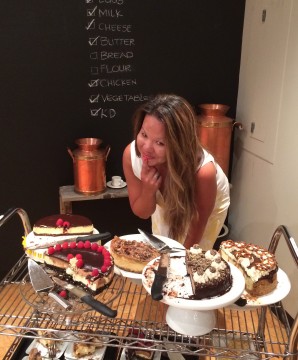 So, what does it feel like to be in the judge's seat?
First off, the finalists must have been super nervous. Understandably as they had all made it this far. The five had already been awarded the trip to Toronto complete with hotel accommodations, meals and transportation. They had spent a day in their own designated "test kitchen" spaces at the Kraft Canada offices to bake their submitted recipes. Rules were tight and guidelines were given to both the finalists and the judges. Judging was based on visual presentation, taste and originality.
It wasn't until the evening that the winner was revealed. The party was hosted by the Real Women of Philadelphia at the swanky Thompson Hotel rooftop overlooking the stunning skyline of the city. MC media darling Jennifer Valentyne mingled with the finalists while guests enjoyed nibbles and a DIY cheesecake food station, of course!
These are real people who bake just like you and me. They aren't professionally trained pastry chefs. They work. They have families. They've been whisked into this fast-paced city and breathed it all in. Each finalist presented their cheesecake and inspiration for their recipes.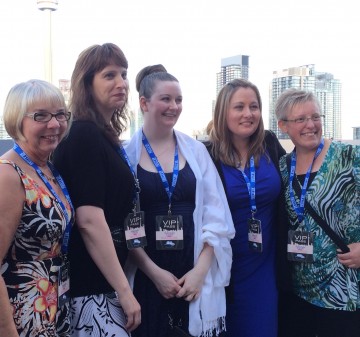 You can read about each of the five finalists here: Real Women of Philadelphia.
So, which Cheesecake recipe claimed the title of Cheesecake of the Year 2014?
It was Ronda Hahn's CARAMEL PRETZEL CHEESECAKE that claimed the title!
I admit that the sweetness of the caramel cheesecake together with the crunchy candied pretzel had me swooning!  I'll be looking for those Butter Shots liquor too as I'm anxious to recreate this delicious cheesecake!
All five finalists' amazing recipes are now online at realwomen.phillycanada.com
Here's the link to Ronda's AMAZING recipe: Caramel Pretzel Cheesecake