Last week a friend remarked that, as a working mom who cooks dinner (almost) every night, I must be a super-organized person.  That I must be the sort of woman who meticulously plans out my weekly meals and then, using a list that is both alphabetized and organized by grocery aisle, set out to do my shopping.
No chance.
I explained to her that normally, I have no idea what I'm going to make for dinner until I stop by the grocery after work and something tickles my fancy.
My fancy gets tickled even more when spring hits and my grocery trips morph into trips to a Farmer's Market.  Fortunately for a disorganized Torontonian like myself, I can find a Farmer's Market every day of the week. But Toronto isn't the only Farmer-friendly city.  With the recent (and I hope lasting) trend of eating locally, you'd be hard-pressed to find a community in Canada that doesn't have an awesome Farmer's Market.
That is why, until the last bushel of apples is sold sometime in late fall, each month one of my posts will highlight What's Fresh at the Farmer's Market.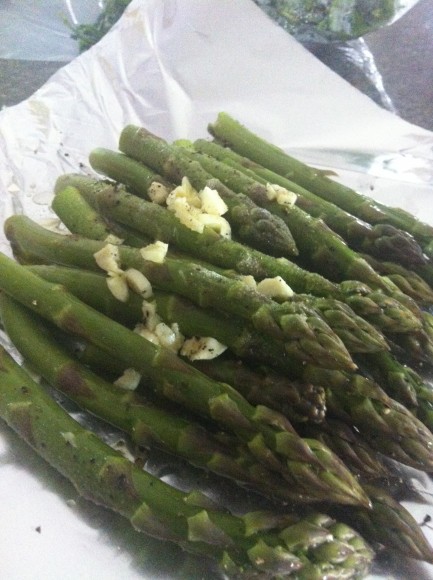 So what IS fresh at the farmer's market right now? Asparagus.
Did you know that according to Miss Manners, asparagus is the only vegetable you can politely eat with your hands during a formal  dinner?
Did you know that asparagus is one of the few vegetables that are perennials and that they are ridiculously easy to grow?
Did you know that asparagus make a great centerpiece for a light, easy and delicious meat-free meal?
Warm Asparagus and Fried Egg Salad
Ingredients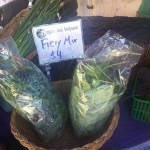 1 bunch of asparagus with the thick ends snapped off.
3 cups mixed salad greens (I like a sassy blend for this one, like young arugula, frisee, and kale)
1 clove of garlic, smushed up.
4 tbsp olive oil
1 tbsp lemon juice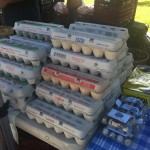 1 tbsp minced fresh herbs (I used basil, parsley, and thyme)
4 eggs
1 tsp  honey
1 tbsp butter
s & p to taste
Directions
Heat your grill to medium
Put the asparagus' on a large piece of aluminum foil, along with the garlic and 1 tbsp of the olive oil and s & p.  Mix it all up and then scrunch up the foil so it resembles an open-top pot
Place on the grill for about 10 minutes, mixing it up one in a while, until its bright green.
Meanwhile, prepare the dressing: put 2 tbsp of oil, lemon juice, minced herbs, honey, and s & p to taste in a jar and mix the meatballs out of it. Taste and adjust the seasonings.
Pour the dressing over the greens, mix well (with your hands is the best way) and then divide among four plates
Make the egg: heat the remaining oil and butter in a large pan and cook the eggs until the white are cooked but the yellows are still runny.
Assemble: divide the roasted asparagus into four sections and place on top of the salad greens and then top with the fried egg. Serve with some warm, crusty bread to mop up the delicious juices.