Okay, we're a couple weeks into school and I'm already exhausted! The extra-curriculars haven't even started yet except for the early morning cross-country practice at the school. I had vowed to be THAT MOM who makes the "breakfast of champions" each day. That was my "back-to-school" resolution as Ryan would refer it as.
But you know, everything caught up to me so I've cut myself some slack and realize it's doesn't have to be elaborate… and no, I don't need to make pancakes from scratch each morning. So, I've been managing. Little guy loves grape jelly on some days and on other days he's happy with eggs over-easy on toast. Sometimes he wants both. But me thinks we're going to get a little tired of that soon enough! So, I look for yummy (and healthy), easy breakfast solutions.
We love really good bread too! We had first discovered Ozery Pita Morning Rounds through my mom who brought over the Cranberry Orange breads one day and we fell in love with them instantly. Toasted with a pad of butter is the way I enjoy them. Seriously! They are good. So, I looked in them a bit more to find out what they were all about.
Ozery's began as a small family owned bakery in 1996 with pitas being baked fresh in the back of their sandwich shop in downtown Toronto. The family believes in wholesome and tasty baking which leads to higher quality health. With the popularity of these pitas, the family has now expanded the business in the marketplace making them available in Canada and the U.S.
The bonus… they are free of artificial preservatives, low in fat and low in sodium. The fruit bits in them are real too! That's comforting to know!
So, we've been enjoying the variety — when I can find them in the grocer. There are a few times I've gone and they've been sold out of the flavours I want. No surprise.
You can find Ozery's Pita Break Morning Rounds, Toastable Fruit & Grain Breakfast Pitas in your favourite grocers. Flavours include Muesli, Apple Cinnamon, Cranberry Orange and Multi Grain.
Obviously these are great for lunches and snacks too! It's easy enough to use say, the Apple Cinnamon Morning Rounds and serve with cheddar and apple slices for a healthy snack!
Now that I'm hungry…here's a recipe for you!
GRILLED TURKEY SANDWICH
Ingredients:
Cranberry Orange Morning Round
Avocado
Turkey breast
Mango, sliced
Red onion, thinly sliced
Red bell pepper, thinly sliced
Greens (watercress)
PREPARATION:
Mash the avocado and season with pepper if desired. Spread on one side of the Morning Round. Top withtury mango, red onion, red bell pepper and watercress.
Enjoy!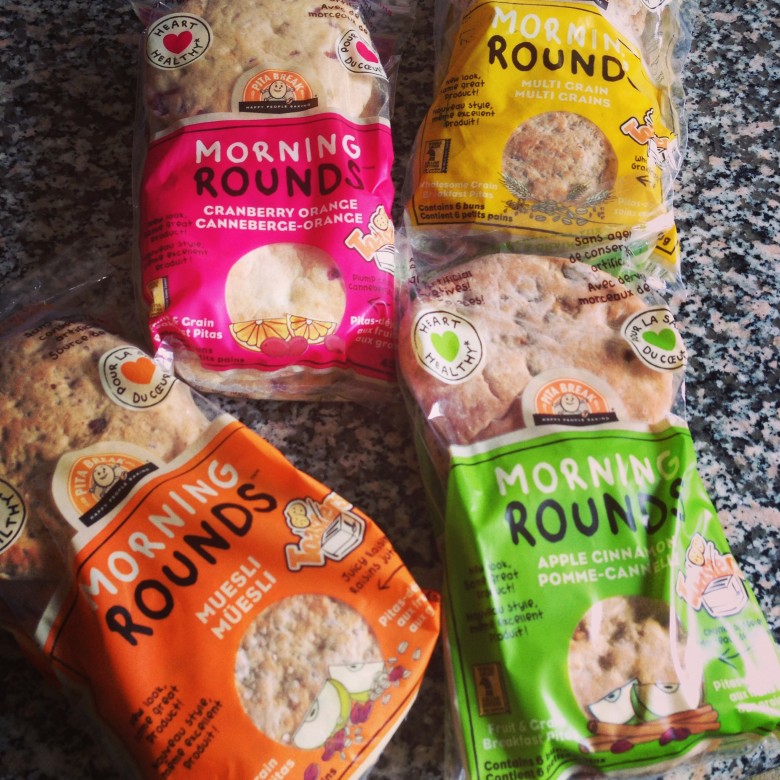 This post is not sponsored, nor was I compensated. As always, the opinions expressed her are my own.