With warm weather comes warm weather cooking and we couldn't be happier that we finally get to pull out the barbecue! These summer grill recipes are perfect for avocado lovers—who knew avocados could work with the grill in so many ways? Thankfully, Avocados From Mexico gave us the scoop on these delicious meals that we'll definitely be adding to our cooking lineup in the months to come.
Flat Bread with Grilled Red Peppers, Shrimp, Arugula and Avocado from Laurent Godbout, chef at Chez l'Épicier.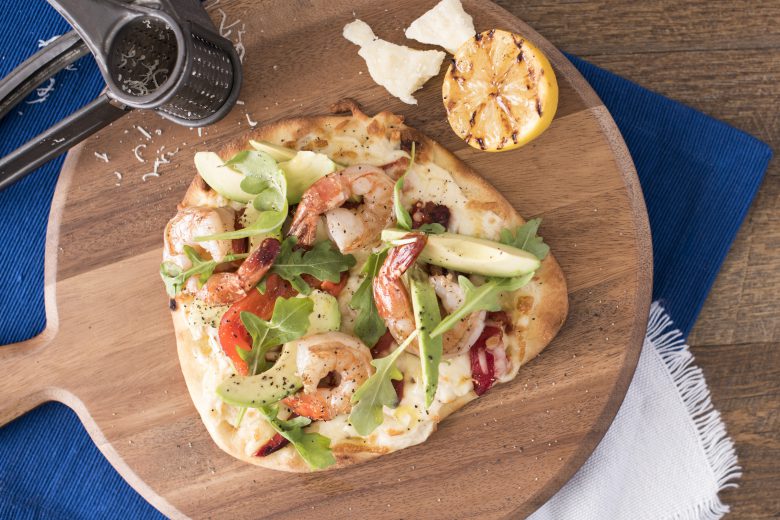 Ingredients:
1 naan flatbread
60 ml commercial Alfredo sauce
1 grilled red pepper, sliced into strips
15 ml olive oil
5 raw shrimp, peeled
1 avocado, quartered
A few arugula leaves
Fleur de sel and fresh pepper to taste
½ grilled lemon
Directions:
Brush the bread with the Alfredo sauce. In a skillet over high heat, sauté the shrimp in the olive oil and arrange on the bread. Add the red pepper slices. Bake in a 300˚F oven for 5 minutes. Add the avocado pieces and arugula leaves. Season and drizzle a little olive oil over top. Serve with the grilled lemon.
Tip:
Garnish with grated cheese and top off your presentation with a few slices of smoked salmon.
Italian-Style Grilled Avocado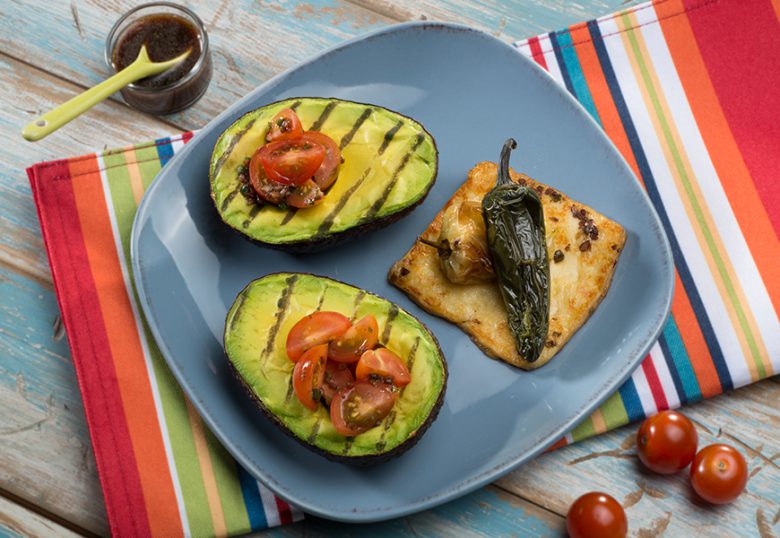 Ingredients:
1 slightly firm Avocado from Mexico
1 lemon
olive oil
2 tbs diced tomatoes
1 minced garlic clove
1 cup shredded mozzarella or parmesan cheese
2 tbs prepared pesto
Directions:
1.Cut avocado in half and remove the pit
2.Squeeze lemon juice across the flesh
3. Coat the outside shell liberally with olive oil and sprinkle with salt and pepper
4. Place halves flesh-down on the cooler top grill rack for about 2 to 3 minutes
5. Flip and grill for another 2 to 3 minutes until you see sizzling on top
6. Fill halved avocado with 2 tablespoons of diced tomatoes and 1 minced garlic clove
7. Sprinkle with shredded mozzarella or parmesan cheese and drizzle prepared pesto over the top
8. Grill until the ingredients are softened, sizzling and the smell makes you swoon
9. Scoop out and spread atop warm, grilled rustic bread
Steak and Avocado Grilled Kabobs (serves 4)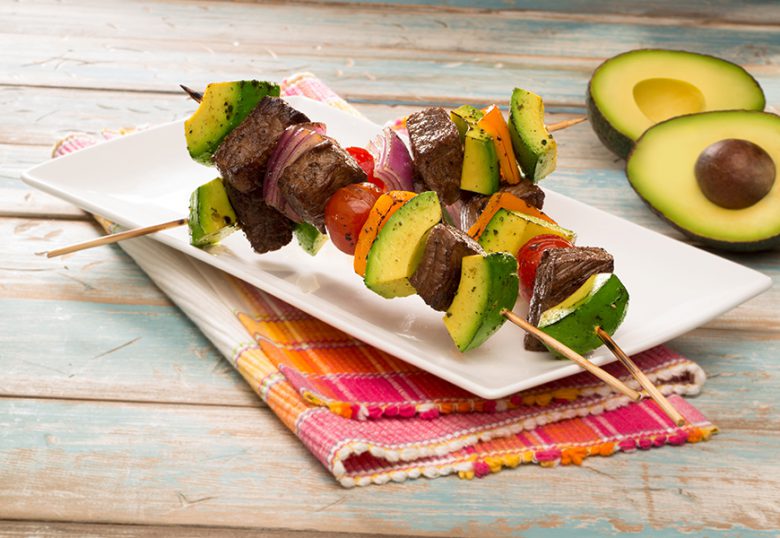 Ingredients:
1 tsp olive oil
1/4 tsp kosher salt
1/2 tsp chipotle chilli powder
1/4 tsp black pepper
1 pound sirloin steak
16 ripe cubes of Avocado from Mexico
16 cherry tomatoes
16 (1-inch) squares red onion
8 (8-inch) skewers
Cooking spray
1/4 tsp kosher salt
Directions:
1. Combine olive oil, 1/4 tsp kosher salt, chipotle chilli powder and black pepper; rub evenly over top sirloin
2. Cut steak into 32 cubes
3. Thread steak, avocado, cherry tomatoes and onion alternately onto skewers
4. Coat with cooking spray; sprinkle with 1/4 tsp kosher salt
5. Place skewers on grill rack coated with cooking spray
6. Grill 5 minutes or until done, turning skewers occasionally for an even char