The picture above is not part of my weekday meal planning. My sister is a way healthier cook than I am, so she gets credit for the beautiful summer salad that I blatantly used to draw you into reading my post. Shall we begin?

I am primarily responsible for the food in our household.  I do most of the shopping and most of the daily cooking. This does not mean Steph cannot cook, in fact she is a fantastic event cooker, meaning dinner party or other specialty occasions, but because she deals with mornings and works later than I do, I plan for the dinners, particularly during the week. Lunches, well, I just got stuck with that one, not sure how, likely the promise of wild ass circus sex, but whatevs, you deal with hand you were dealt.
Literally. Buh dum dum diss!
Before we start, this is my perfect dinner. Hence the endomorph thing I got going.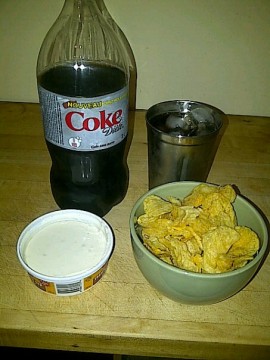 Without further ado, here are my go-to-meals for fast, easy weekday cooking.
Peanut chicken stir-fry
Whether the sauce is store bought, or chunky peanut butter, soy sauce with a dash of Chinese hot sauce, this chicken breast-based recipe usually fills the gaping maws of my boys with little complaint. Throw in some broccoli, green beans and/or snow peas on a bed of brown rice and you feel pretty good about the nutritionally-balanced weekday meal.
Chicken Quesadillas
This one is a little bit more labour intensive you have to cook the chicken first (breast or thigh meat, either works) and mix it with corn, black beans then add it to your choice of grated cheese. Plop the gunk in between two tortillas and heat up in a skillet with a little olive oil. I cut into eighths because the boys feel like they are eating more and there is usually leftovers for lunch. Serve with salsa and arriba! Happy muchachos!
Homemade Pizza
No, I do not make my own dough so the title is a bit misleading. Usually for about two and half bucks you can grab a bag of pizza dough at the grocery store.That's a small price to pay for time I do not have. I use one ball of dough for two pizzas, as Steph likes the more exotic fare (read: goat's cheese) and the boys like the traditional cheese or Hawaiian. I roll them out thin and always, always use Parmesan on top of the sauce before any toppings are added. And it doesn't have to be the $32 chunk of hard cheese, it can be the green and red can that our parents bought back in the day. Add a Caesar salad and start to finish; this one takes about 35 minutes. Perfect for a stupidbusyTuesdaybeforeswimminglessonevening.
Penne with red peppers and sausage and basil/tomato/garlic/onion paste
I have been making this pasta since before the boys emerged from various parts of Steph's body. Take some fresh basil, fresh tomatoes, lots of garlic and a couple of shallots or a tiny bit of red onion. Throw it all in a handheld mixer and grind that goodness up until it's like a pesto but not really. Cut some mild Italian sausage into small pieces (or use chicken, which Hud prefers, not a sausage fan) and pan fry to get a nice crust, drain the fat (not all of it, don't be a martyr), toss in some chunky red peppers, cook for just a spell and add it all to some el dente penne. Add Parmesan and throw into a giant bowl so the kids can serve themselves and you while you gulp some big, nasty red wine rewarding yourself for a job well done.
Breakfast for dinner (c'mon, seriously, you didn't think this was coming?)
Cheezy scrambled eggs and toast with some cut up vegetables on the side takes about 10 minutes to make and my kids totally dig it. If they have done all their homework and made their beds, I reward them like I do with everything they do with some crispy bacon. Like attentive dogs they respond with the promise of bacon. As do I naturally. Ask Steph.
This is not set in stone, but usually one, two or three of these meals make it into the rotation on weekly basis.
What are your go-to weekday meals? Can you come over and make them at my house?