Last Friday, I experienced a trinity of joy: it was the first day of summer, my favorite class was presenting their final projects, and the folks at Magnum Ice Cream Bars offered to let me try their new Magnum Gold bars. It doesn't take a teacher like to figure out what to do; I put 1 +1 +1 together and treated my class to Magnum Ice Cream Bars as a celebration of learning.  Of course, it also gave me a chance to eat ice cream.  In class.  Before noon.  A very decadent thing to do, indeed!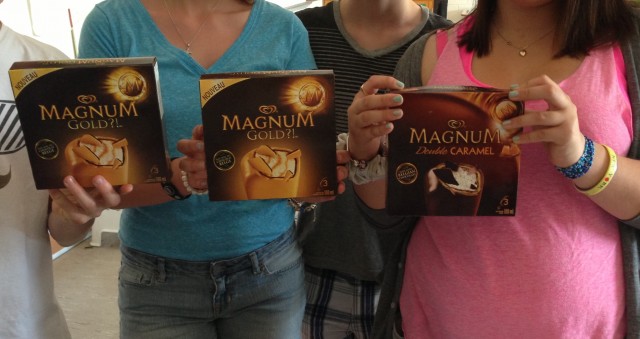 In case you haven't heard of Magnum Ice Cream Bars, you should know that they are more than your typical frozen treat.  They are premium, high quality ice cream surrounded by the richest of chocolates and the gooiest of caramels. I treated my class to the Magnum Gold, vanilla bean ice cream swirled with sea salt caramel and covered in a golden coating made with Belgian Milk Chocolate, and Magnum Double Caramel, vanilla bean ice cream dipped in a chocolaty coating, then caramel sauce, then thick Belgian milk chocolate.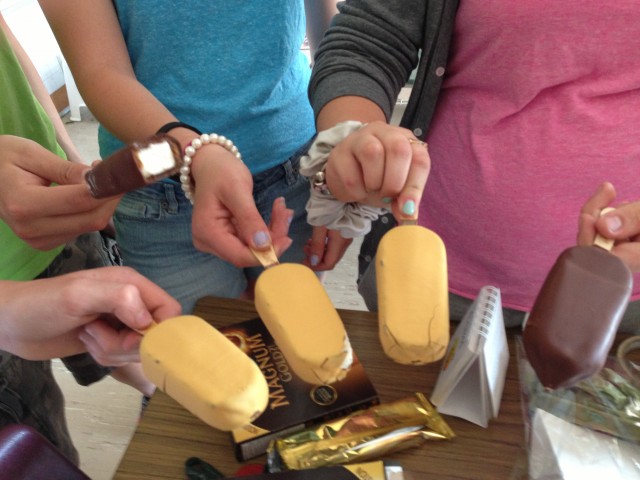 This is what they thought:
"This is really, really, good.  Way better than a regular scoop of ice cream."
"The chocolate on the outside is really crunchy.  I like that."
"It tastes better than regular vanilla ice cream.  And I like the caramel in the middle."
Overall, they really liked the bars and all said that they would want to eat them again.
But the kids weren't the only ones to enjoy the treats.  I also gave one to my Educational Assistant and another teacher.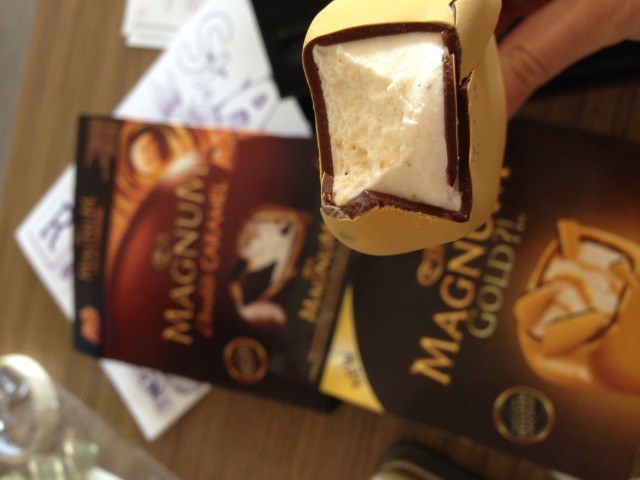 We compared notes after finishing and all really enjoyed it.. a little too much.  One teacher commented that they would be a fun and delicious dessert for a summertime bbq party.  The other teacher agreed, stating that the hint of salt in the Magnum Gold gives it a grown-up, sophisticated taste.  One thing we all agreed on, though, is that they were a touch too decadent.  While the kids had no problem demolishing theirs, we couldn't finish ours.  Luckily, Magnum also comes in mini size, so you can choose to either have a little decadence or a lot.
Overall, the Magnum Gold and Magnum Double Caramel ice cream bars were the perfect way to end the school year.  And the perfect way to start summer.
The opinions expressed above are my own; I was not compensated for my review.