My kid is not a big fan of cow's milk. Never has been. I assume he takes after me when it comes to drinking it straight up and cold. Since I didn't grow up really drinking milk in my home it's not that big of a deal for us. It may be part cultural upbringing as we were more accustomed to drinking soy. Luckily there are so many great options out there so we don't miss out on all the yummy smoothie and shake recipes! I've been experimenting with Almond Breeze over the past few months; it's now a staple in our fridge. Not only is it great in smoothies but it's also very versatile! In fact, for a satisfying breakfast I warm up almond milk (vanilla flavour is my FAVE) and add in cereal like Mini Wheats — so good!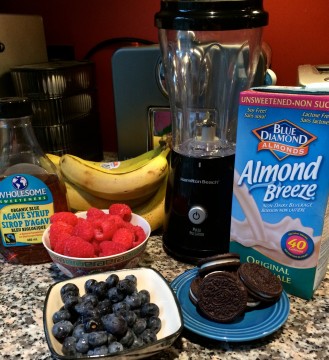 But a few times we've created a quick smoothie bar for breakfast — the kids love having this to wake up to on the weekend when friends are here for sleepovers! It's easy enough to blend together your favourite fruits like bananas, peaches, strawberries, mangoes, blueberries and add your almond milk and crushed ice for a healthy and yummy treat. Pssst… take it to the next level and crumble in an Oreo cookie or two! Yes, that's what I said! CRAZY GOOD!
Blue Diamond Almond Breeze is gluten free, lactose free, soy free and 98% fat free! You can find it on the shelf in your local grocers in both refrigerated and shelf sections!
But what else can you do with Almond Milk? Try this for something different and good!
Warm Almond Quinoa Breakfast Sundae
A fun interpretation of the mason jar trend, treat yourself to this dessert-like breakfast that's gluten free!
Ingredients:
1 cup (250 mL) uncooked quinoa
2 cups (500 mL) water
1 tsp (5 mL) ground cinnamon
1/4 tsp 91 mL) sea salt
1/3 cup (75mL) Blue Diamond Almond Breeze Unsweetened Original
1 tbsp (15 mL) slivered almonds
4 large apples cored and chopped
1 cup (250 mL) fat-free Greek plain yogurt*
1 tsp (5 mL) almond butter, melted
1 tsp (5 mL) honey
Directions:
Rinse quinoa thoroughly in cold water and drain. Place the rinsed quinoa in a medium saucepan with 2 cups water and bring to a rolling boil. Turn down to low heat, cover and cook for 15 minutes until all the water is absorbed. Remove from heat and add in cinnamon and sea salt.
In a medium saucepan over medium-low heat, heat almond beverage until warm, about 3-4 minutes. Layer quinoa, slivered almonds, apples and yogurt in four deep, serving glasses. Repeat until glasses are filled with quinoa as the top layers.
Pour warm almond milk over the quinoa. Drizzle with warm almond butter and honey and serve immediately.
Makes 4 servings.
*Recipe can be made dairy-free by using dairy-free plain yogurt such as coconut milk yogurt in place of the Greek yogurt and omitting honey.
This recipe was created by Amie Valpone of The Healthy Apple, for Almond Board of California.
Enter here for your chance to win an Almond Breeze prize pack!