We're settling into the cold weather now and craving comfort foods. Lasagna is always a great go-to dish for any night, especially for when guests come over. The gooey cheese that we pull from the piping hot dish is what comfort food dreams are made of. I can't resist, can you? It's a dish that can be done ahead of time and popped into the oven when your guests arrive (or while you need to help the kids with their homework).
Serve it with your favourite fresh loaf of garlic bread and a side salad and you've got a meal that everyone will enjoy. You probably have a recipe stashed away somewhere but this? This is the Ultimate Recipe. Instead of using a jar of pre-made sauce you'll love making your own and it's not too difficult. The fresh basil leaves and sundried tomatoes gives it more flavour that isn't overpowering and the surprise hint of orange takes lasagna to the next level!
I wanted to mention that the cheese you use makes a difference in taste. The Saputo family came to Canada in 1950 to continue their tradition as master cheese makers. Giuseppe Saputo and Frank, his older son left their village of Montelepre (close to Palermo, Sicily) were immigrants who came to this country in search of a better life. They settled in Montreal and with their traditional ways have continued the family's craft of making world-class Italian cheeses.
For adults, you may want to pair this delicious pasta with a favourite wine. Compliment your meal with pairing wines like  Mezzacorona Pinot Grigio or a Leonardo Chianti . Mezzacorona had some buzz  in recent years as it was named European Winery of the Year in 2010 by Wine Enthusiast Magazine. The great value wine comes from Northern Italy's Dolomite mountains and has been a consistently popular wine for it's light and crisp flavours.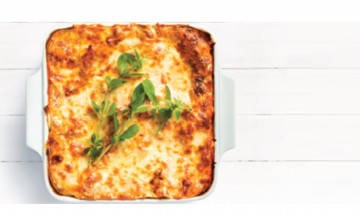 THE ULTIMATE LASAGNA
Ingredients
Meat Sauce:
75 mL (1/3 cup) olive oil
750 g ( 1 1/2 lb) ground veal
5 mL (1 tsp) salt
6 garlic cloves, chopped
2 celery stalks, coarsely chopped
1 green pepper, diced
15 mL (1 tbsp) tomato paste
1 large white onion, finely chopped
1 carrot, diced
2 cans of 796 mL (2 x 28 oz) whole Italian plum tomatoes
4 sundried tomatoes, diced
3 bay leaves
30 mL (2 tbsp) dried oregano
12 fresh bay leaves
15 mL (1 tbsp) dried thyme
2 mL (1/2 tsp) chili pepper flakes
5 mL (1 tsp) fennel seeds
1 orange, zest only, grated
2 Italian sausages
salt and freshly ground pepper, to taste
Pasta & Cheeses:
12 dried lasagna noodles
475 g ( 1 unite) of Saputo Ricotta Fiorella
450 g ( 1 lb) Saputo Mozzarellissima cheese, sliced
30 mL (2 tbsp) Saputo Romano cheese, grated
Bechamel Sauce with Cheese
80 mL (1/3 cup) butter
80 mL (1/3 cup) flour
500 mL (2 cups) milk
Salt and freshly ground pepper, to taste
Grated nutmeg, to taste
125 g ( 4 oz) Old Cheddar cheese, grated

Directions
Meat Sauce:
Heat oil in a heavy-bottomed saucepan over high heat and brown ground veal for 5 minutes. Add salt to taste.
Add onion, garlic, celery, peppers and carrot. Cook for 10 minutes.
Add the canned tomatoes, dried tomatoes, tomato paste and seasonings. Reduce heat and cook for 15 minutes. Break up whole tomatoes with the back of a spoon and stir sauce occasionally. Add the grated orange zest and cook another 5 minutes.
Cook sausages in a frying pan, Remove, slice and set aside.
For The Bechamel Sauce: 
In a saucepan, melt butter then add flour. Cook for 2 minutes over low heat, stirring constantly. Add the milk while stirring.
Cook for 5 minutes over medium heat, stirring constantly. Add salt, pepper and nutmeg to taste.
Blend in the Cheddar cheese, stirring well. Set aside to cool.
Assemble The Lasagna:
Preheat oven to 200C/400F.
Cook the lasagna noodles according to packaging until al dente. Rinse in cold water, oil lightly and set aside on a clean towel.
Pour a layer of meat sauce in the bottom of a lasagna pan. Cover with layers of noodles, then half of the combined cheeses (tossed together) and half of the bechamel.
* For a vegetarian version, add 600 g (1/3 lb) fresh, chopped spinach to the bechamel sauce. Replace the meat with 760 mL (3 cups) cooked lima beans sauteed in pesto.