I'm constantly sifting through cookbooks and recipe apps to find the next family dinner or crowd-pleasing dish for entertaining. I had discovered Lick Your Plate!, created by two Canadian Food writers, known for Bite Me More! I'm sure you've heard about the sister team of Lisa Gnat and Julie Albert, as they are well established in the food scene in Canada. Having met these women in person, they are just as fun as they sound!
In their latest cookbook release, the sisters aim to have gourmet inspired dishes but without all the fuss. Now you're talking my language! They have found ways to save time with shortcuts, but without sacrificing flavours or compromising on ingredients. I had sifted through and tried out a few recipes that have been a hit with my kids. Most can be done in 30 minutes or less. Yay!
The book features 160 recipes served up in 10 chapters, from appetizers  to desserts. So far so good! The first recipe we tried was the Baja Fish Taco Salad—I added a few additional ingredients and served it "deconstructed" to give the kids added fun at the table to mix it up themselves. It was a hit! I've since tried several others and each one is a winner, making this one of the best family-friendly recipe books I've come across.
Many of the recipes have a nostalgic feel and the one below really caught my attention. It's easy enough for kids to help and a real crowd-pleaser. I personally love the crunch the graham crackers add to the mix.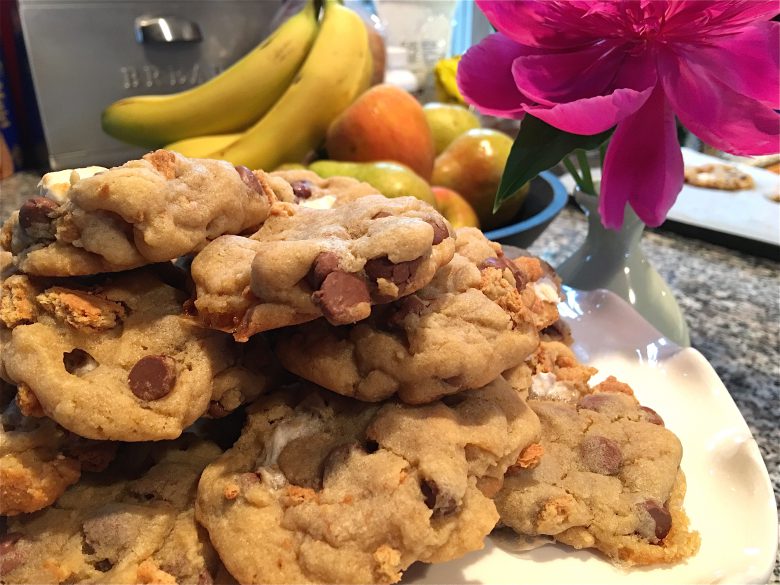 Chewy S'mores Pudding Cookies
1 cup butter, room temperature
1 cup brown sugar
1⁄2 cup sugar
1 package (3.4 oz) instant vanilla pudding powder
2 eggs
1 tsp vanilla extract
21⁄4 cups flour
1⁄2 tsp baking soda
1⁄4 tsp kosher salt
1 cup coarsely broken graham crackers
1 cup mini marshmallows
11⁄2 cups chopped milk chocolate
LINE A BAKING SHEET with parchment paper. Set aside.
USING AN ELECTRIC MIXER, cream butter, brown sugar and sugar on medium speed. Add vanilla pudding powder and continue to beat to combine. Add the eggs one at a time, beating until mixture is light and fluffy. Mix in vanilla extract. On low speed, add the flour, baking soda, salt, graham crackers, mini marshmallows, and chopped chocolate. Mix just until flour disappears and the mixture is incorporated, being careful not to overmix.
DROP 1⁄4 cup scoops on prepared baking sheet. Cover and refrigerate 1 hour before baking.
TO BAKE COOKIES, preheat oven to 325°F. Bake 14–15 minutes, until edges are golden. Cool cookies on a wire rack.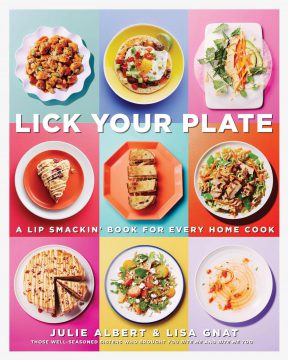 *Recipe reprinted with permission from the publisher and authors of Lick Your Plate!*