Iced Teas and blender coffee drinks are popular especially during the summer months but here are a few great new iced coffee brews with a twist. Great for entertaining on the back porch or at the cottage. Awesome for a quiet afternoon while you're into that hottest summer read. I've been inspired by these new recipes from Nespresso, and try these with friends and family. Specific roasts have been selected for the recipes but you may also discover new notes by substituting your favourites.
Mojito Cafe 
A refreshing twist to the well loved summer cocktail, this mojito recipe has the flavours of fresh mint mingling with the roasted notes and subtle cocoa aroma of Arpeggio.
Ingredients:
1 capsule Arpeggio Grand Cru
1 oz white sugar
2 ice cubes
35 ml sparkling water
5 ml mint syrup
5 tbsp crushed ice
1 fresh mint leaf (garnish)
Method:
Pour the mint syrup and sparkling water into a large recipe glass. Prepare a capsule of Arpeggio into a shaker, add the sugar and the ice cubes, then shake the ingredients. Add the crushed ice into the glass and using a spoon, gently pour the coffee preparation into the glass. Garnish with a mint leaf.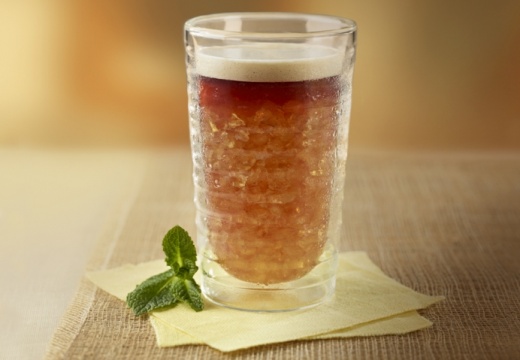 Iced Tropical Caramel Coffee
Add a tropical twist to  a favourite, Caramelizio, from the VertuoLine is unexpected and delicious!
Ingredients:
1 capsule Caramelizio Coffee
1 cup pineapple juice or soda (for pineapple ice cubes)
15 ml coconut syrup
Method:
Pour juice or soda into ice cub tray and freeze for several hours or overnight. Once frozen, brew Caramelizio into separate container and set aside. Add three ice cubes to a cocktail shaker. Pour Caramelizio into shaker and let chill. Add coconut syrup and three additional ice cubes into glass, strain chilled Caramelizio over ice cubes into the glass.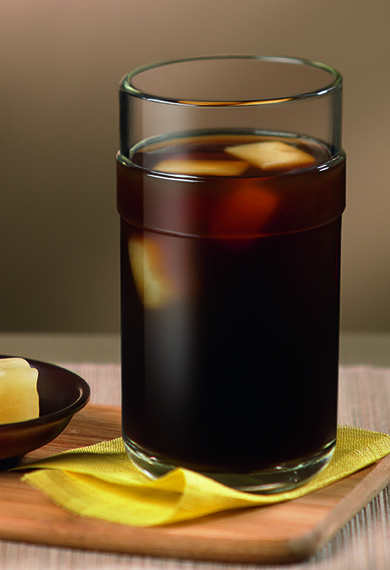 Coffee Pistachio Semifreddo
Ice cream and espresso is an easy summer dessert for adults. We love a shot of espresso over a scoop of ice cream (aka Affugato) but this recipe is a step up! Serves 4 people.
Ingredients:
4 capsules Ristretto Grand Cru
1/4 cup pistachio ice cream (remove from freezer 15 minutes before hand)
4 tbsp shelled, toasted pistachios
2/3 cup vanilla flavoured whipped cream
Method:
In a large bowl, mix the softened ice cream with half of the whipped cream and half of the shelled pistachios. Add one tablespoon of whipped cream into four individual espresso cups, then top with the ice cream mixture. Just before serving, pour a Ristretto Grand Cru over each dish. Crush half the pistachios to a powder. Decorate with the remaining whipped cream and toasted powdered pistachios.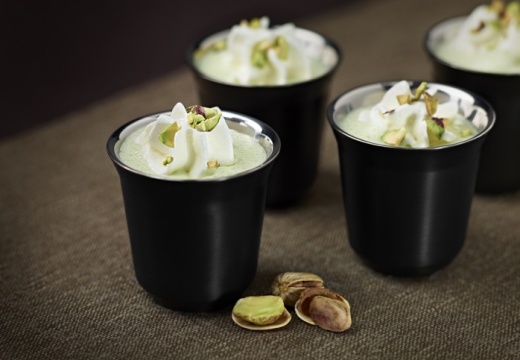 Although I often test out recipes provided by various food and drink companies, we've owned our Nespresso machine for a long time and continue to love it! We'd tried other coffee machines, but none of them hold a candle to the Nespresso (in my opinion!).
The original concept started with a simple, yet revolutionary idea that anyone can create the perfect cup of coffee. For over 29 years, the company has revolutionized the global coffee culture. Individually portioned capsules are not only convenient but more importantly, Nespresso delivers a solid selection of high quality roasts perfectly measured out as well as seeing coffee as an experience. Having said that, while we see the growing popularity the company is also committed to reducing the environmental impact. Nespresso capsules can be recycled through Canadian company TerraCycle where residual coffee grounds are separated and sent to an industrial composting facility.