Our family is getting ready to usher in the Chinese New Year on February 19th! You'll often here it referred to as also the 'Lunar New Year' as other asian cultures also celebrate it. It's a time when we get together with family and friends and we tend to eat… a lot. It's not just celebrated for one day, in fact we celebrate it for a couple of weeks! But it seems to always involve eating. Dumplings are a big part of of Chinese New Year as they are shaped like ancient ingots which symbolize wealth and prosperity.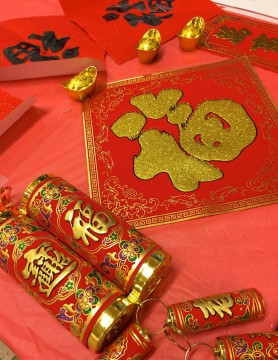 Living in the big city gives us many opportunities to pick up asian groceries even at my local Loblaws (how convenient!) which is great given that that so many people have opened up to trying other world flavours beyond the steak and potatoes. It's one of those things that just makes me smile when I walk down to aisles to see that I can get things that I can often find in Chinatown. Pretty cool!
But back to Chinese New Year… each dish is symbolic particularly this time of year. If you're having fish or chicken try serving them whole if you can. It's an appreciation for the entire being. If you have noodles, please don't cut them. They are symbolic of long life. And always have tangerine oranges in the house; they represent good fortune. When visiting someone's home over this holiday we'll often bring the tangerine oranges with stems and leaves intact. While they are mostly used for decoration, it is like you are wishing your host a prosperous new year. We also love to bring New Year's candy. Look for the strawberry "lei see" candies that are very popular this time of year as well as interesting options like sugared melon slices—one of my favourites!
You can find most of these ingredients at your local T&T®, Loblaws®, Real Canadian Superstore® or No Frills® and some even carry a few Chinese New Year decorations.
Here are a few recipes for you to try at home…
I love rice cake as it's a nice alternative to pasta. Rice cakes are generally denser in texture and chewier (kind of like gnocchi). They can usually be found in the refrigerated section. We slice the rice cake and stir-fry them in with vegetables and protein for a great meal.
WOK-FRIED FOUR FORTUNE NEW YEAR RICE CAKE PASTA
Prep time: 15 minutes
Cooking time: 10 minutes
Serves 3 to 4 as a noodle dish
Ingredients:
4 pc. T&T dried shiitake mushrooms, rinse and soak in 1 cup hot water for 30 to 45 minutes in advance, or until mushrooms are softened completely
2  pc. Lean pork and/or chicken sausages (lap-cheung); halved horizontally, then julienne diagonally. (Can be substituted by carrots or onion)
2 Tbsp. cooking oil
1 tsp. chopped garlic
1 tsp. chopped ginger
1 cup yellow or green beans; cut in half
1 small red pepper; cut in strips
2 1 pkg (1.5 lb) New Year Rice Cake
1 Tbsp. teriyaki sauce
1 Tbsp. T&T soy sauce
1 tsp. granulated sugar
Method:
Remove mushroom cap and julienne.
Heat wok on high, add oil, garlic and ginger, mix well
Add sausage and mushroom, stir and cook for 1 minute
Add yellow bean, stir and cook for 30 seconds, add red pepper, stir and cook for another 30 second.
Empty rice cake into the wok, stir well.
Add ½ cup of mushroom water, mix well. Add teriyaki sauce, soy sauce and sugar, stir well. Cover and cook for 2 to 3 minutes. Discard remaining mushroom water.
Remove lid, stir and cook for another minute. Ready to serve.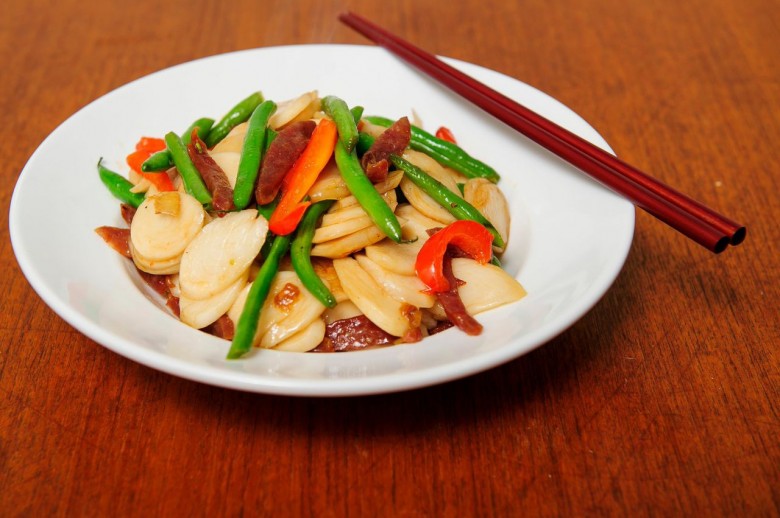 My kids love when we go out to dinner with PoPo and Gong Gong (grandma and grandpa) especially when we order Peking Duck! Everyone loves creating the wraps! So, here's a perfect at-home version. You can purchase barbecue duck or barbecue pork at T&T or at a Chinese BBQ shop. If you want try making your own BBQ pork, I've found a Lee Kum Kee "Char Siu" sauce in the asian food aisle that can be brushed onto a pork tenderloin to bbq at home. It's a nice alternative too! But for me, it's really the Hoisin sauce that is needed and offers the distinct finishing flavour to the wraps.
LETTUCE WRAPS OF PROSPERITY
Prep time: 20 minutes
Cooking time: 10 minutes
Serves 6 to 8 (as an appetizer)
Ingredients:
1 lettuce, rinse and drip dry, cut 1" off head and into 2-halves vertically for easy peeling
1 Tbsp cooking oil
6 pc. button or brown mushroom, small-diced
1 small can water-chestnut, drained and diced
A pinch of sea salt
2 cup barbecued duck or barbecued pork, diced
2 cup cooked shrimp, diced
½ cup crushed T&T unsalted cashew nuts (or peanuts)
½ cup Hoisin sauce
2 Tbsp T&T Teriyaki sauce
1 Tbsp water
1 tsp brown sugar
Method:
Peel off leaves which should be palm-shaped and stack them on a plate.  Reserve small leaves for other use.
Heat oil in pan on high. Add mushroom, stir well. Add water-chestnut. Stir and cook for 90 seconds, add salt, mix well and place in a bowl.
Return wok to stove, add duck, stir and reheat on medium high for 20 – 30 seconds, place in a bowl.
Reheat shrimp in wok for 20 – 30 seconds, place in a bowl.
Place crushed nuts in a bowl.
To make a wrap sauce, mix Hoisin, Teriyaki sauce, water and sugar in a small saucepan.
Bring to a gentle boil and empty into a sauce bowl.
Place lettuce and all the bowls of ready-to-eat ingredients on the table for individuals to fill their own lettuce wraps. Enjoy with wrap sauce.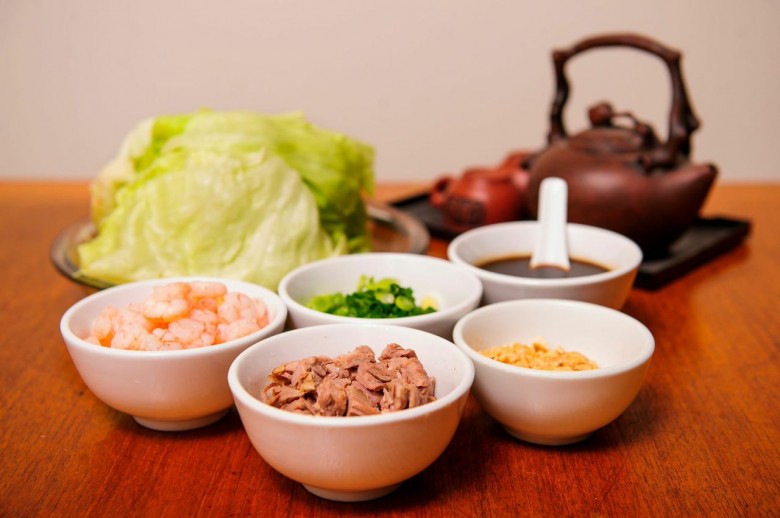 LION'S HEAD MEATBALLS WITH SHANGHAI BOK CHOI
Ingredients: 
450 g PC Free From Lean Ground Pork
100 g ground pork belly
1/2 tsp (2 mL) kosher salt
2 tbsp (30 mL) water
1 cup (250 mL) finely chopped water chestnuts (canned drained)
1/3 cup finely chopped green onion
2 tbsp (30 mL) dark soy sauce
1 tbsp (15 mL) Chinese Shaoh-Tsing rice wine
1 tbsp (15 mL) corn starch
1 tsp (5 mL) brown sugar
1/4 cup (50 mL) corn starch
2 tbsp (30 mL) safflower oil
1 cup (250 mL) chicken broth
1 slice peeled ginger ( 2 inches by 1/8 inch thick)
1 tsp (5 mL) corn starch
1 lb (500 g) Shanghai Bok Choy, each halved lengthwise and rinsed clean
1 tbsp (15 mL) toasted sesame oil
Method:
Meatballs
Combine lean ground pork, pork belly and salt.  Mix in water until absorbed bypork with hands. Add water chestnuts and green onions and mix well. Stir together in small bowl soy sauce, wine, 1 tbsp corn starch and brown sugar.
Mix into meat mixture for 2 minutes until well absorbed.
Form into 8 meatballs – approx. 91 g each; place on parchment lined pan, cover  and refrigerate 30 minutes up to 1 hour.
Preheat oven to 325F (160C).
Coat meatballs lightly with cornstarch, discarding left over starch.
Heat oil in wok or large frying pan on medium-high heat.
Brown meatballs on all sides in two batches, about 5 to 7 minutes per batch. Transfer to plate.
Wipe out same wok or pan with paper towel. Add chicken broth and ginger, bring to a boil. Return meatballs to hot broth and simmer 2 minutes.
 Transfer contents of wok  to 1 L deep  baking dish; cover with  tightly foil and bake in centre of oven 2 hours.
Remove meatballs to bowl to hold warm, cover with foil. Pour broth from baking dish into small saucepan. Mix remaining 1 tsp cornstarch with 2 tbsp water, whisk nto broth and bring to a boil on medium-high heat. Cook, whisking until sauce thickens, about 2 minutes. Pour over meatballs.
Meanwhile add sesame oil to large pot of boiling salted water. Blanche bok-choi in batches, 30 seconds per batch. Remove with slotted spoon or wire strainer to plate.
Serve Bok Choy with meatballs and sauce.
*Thanks to Stephanie Yuen for creating the above yummy recipes on behalf of Loblaw Companies Limited.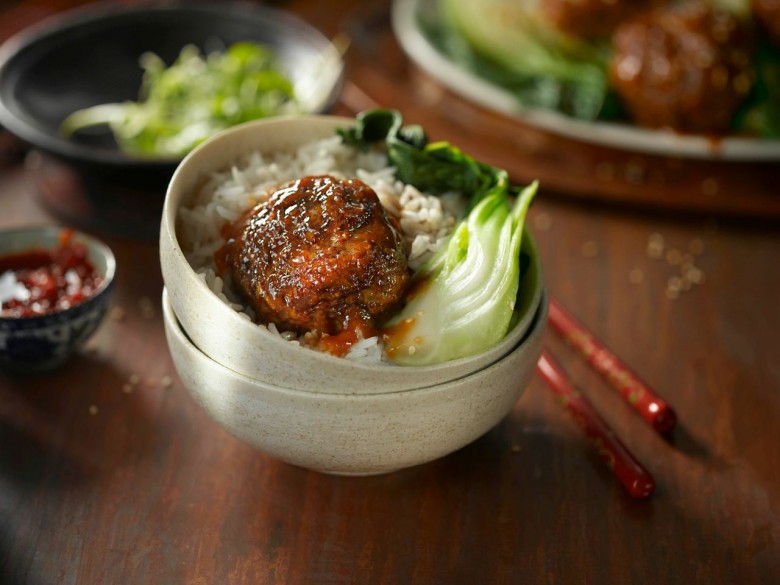 DUMPLINGS!
While it's easy enough to make your own dumplings, it's even easier to buy them at the grocers. Loblaws and Real Canadian Superstore both have a great selection of meat and vegetarian options and my friends are often surprised when I tell them that I just pick mine up from there! What we love about dumplings is that you can cook them up in a steamer, pan fry, air fry or include them in soups. Just make sure you follow the instructions on the packages.
If you'd like to try making these on your own, have your kids help mixing the filling and pinching the dumplings close. Making dumplings is a real family affair.  Here's my air-fryer recipe from last year: Home made Pork Dumplings but again, you can assemble them and use a steamer to cook them up. The steamer should have a rolling boil and then taken down to a medium-high heat to keep the steam moving. Cook for a good 10 to 15 minutes on steam – check that that the inside is not still pink and raw before serving.