There are so many types of food that go well with beer, don't you think?  I swear Hubby thinks that even chocolate goes well with a good beer. I won't argue with that! But beer is definitely a refreshing compliment to cuisine that is full of flavour and spices!
Aside from drinking beer straight up there are interesting ways to incorporate it into your cooking. One dish that my family loves is steamed mussels. Serve it with a side salad and a generous that can sop up the sauce…mmm hmmm, you know?
I came across this particular recipe from Steam Whistle Canadian Brewery and it was a nice twist to the white wine base that I usually do. Well, you know, when you open that bottle of wine it's more of a commitment…haha! Plus we never seem to have a shortage of beer in the fridge!
So, the thing about mussels is you must get them fresh. We love the mussels from PEI! Buy them with the intention of serving them that day. When you get them home keep them in the fridge until ready to use. Discard any with cracked shells. I wouldn't suggest keeping them in plastic for too long…give the mussel at tap and if the shell closes you know it's still alive. That's what you want.
STEAM WHISTLE MUSSELS
Ingredients:
2 lbs fresh Mussels (clean under cold running water and trim off any "beards" with kitchen scissors)
2 tbsp  butter
1/2 cup finely diced shallots
2 tbsp minced garlic
3 tbsp finely chopped parsley
3 large tomatoes, coarsely chopped (or 1 can of diced tomatoes, 28 oz)
1 bottle (341 ml) Steam Whistle Beer
1/2 cup 35% cream
2 tbsp butter
salt and pepper to taste
Directions:
1. Heat skillet, and add butter, shallots and garlic. Stir for a few minutes until soft.
2. Add tomatoes and bring to a simmer.
3. Add Steam Whistle beer and bring back to a simmer. Let it cook long enough to cook out the alcohol flavour.
4. Add the mussels, cover and cook until mussel shells just open. Then remove the mussels from pan and set aside to keep warm. Discard any unopened mussels.
5. Turn the heat up slightly to reduce sauce. Add cream and allow to reduce briefly.
6. Remove from heat and stir in butter.
7. Pour sauce over mussels and serve immediately over cooked pasta or serve on it's own with plenty of fresh crusty bread like a French or Italian loaf.
For more great recipes visit www.steamwhistle.ca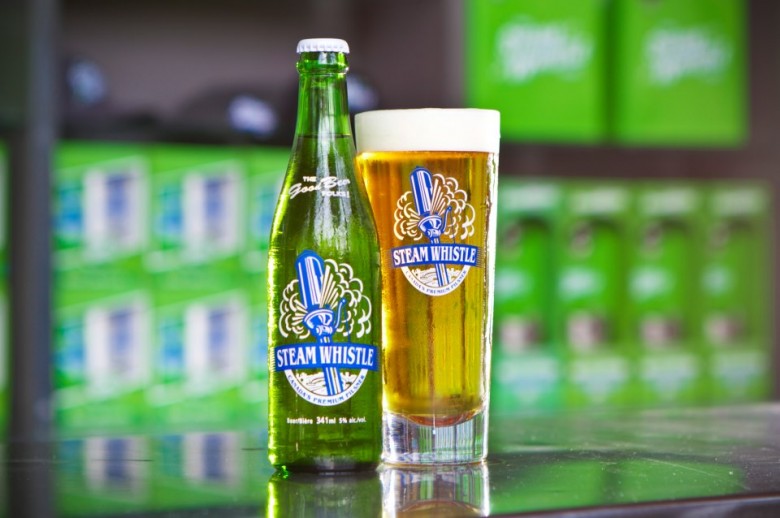 This post is not sponsored. Recipe provided by Steam Whistle Brewery and tested by my family. All opinions expressed are my own…and, yes, it's totally delicious!