Little guy was eager to help me in the kitchen the other day. He saw the veal scallopini I got from the butcher int he fridge and he meal planning wheels in his head started turning. "With pasta and a salad," he suggested. Awesome, I love a quick and easy meal! We also got a chance to try out Christine Cushing's handmade artisan line of sauces and spreads.
Christine is the host of Food Network's daily show Christine Cushing Live as well as her reality show Fearless in the Kitchen on the Oprah Winfrey Network. She's no stranger to the Canadian cooking scene as she's been teaching us home chefs how to make the most yummy dishes for almost 15 years. Christine is also the resident chef on the Marilyn Denis Show.
We particularly LOVE Christine Cushing's "Fired Up" pepper spread – okay, we admit to putting this into everything including as a sandwich spread to give a nice sweet flavour to an otherwise humdrum lunch! We also enjoy her "Bold" Extra Virgin Olive Oil that's been on the market for 10 years. The BOLD is harvested in the region of Mani in the Peloponnese in Europe and takes on the unique notes of the wild herbs that grown in the region.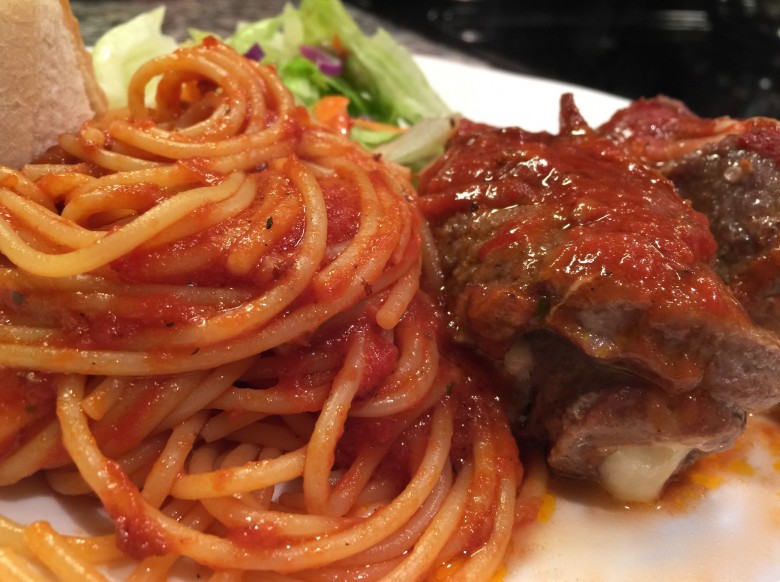 Veal Roll-Ups All Fired Up! is a simple (and impressive!) meal for busy families
Serves 4 people
Ingredients:
4 veal scallopini
4 slices of prosciutto
4 slices of cheese (provolone or mozzerella)
4 large fresh basil leaves
2 tbsp of Christine Cushing's Bold Olive Oil
1 jar of Christine Cushing's Porcini & Marsala "Romantic" tomato based sauce
1 jar of Christine Cushing's Fired up Sauce (hot or mild)
4 toothpicks
1. Assemble the veal rolls. Lay veal scallopini flat on cutting board surface. Add a slice of prosciutto,  then cheese to the centre and then the basil leaf. You'll want to have the prosciutto, cheese and basil run lengthwise on veal for a clean roll. Carefully roll together and secure with toothpick.
2. Heat frying pan with 2 tbsp of olive oil on medium heat and quickly/carefully  brown the rolls. Place browned rolls into a deep casserole dish. Pour Porcini & Mushroom Tomato Sauce over top of rolls.
3. Place in preheated oven (350F) for 30 minutes, or until cooked to your liking.
4. Remove from oven and remove toothpicks carefully. Garnish with chopped extra basil leaves and a dollop of Fired Up sauce.
5. Serve warm with your favourite simple side dish like pasta or salad – we also love a quick rapini & garlic saute and hunks of crusty Italian bread – with a side dip of the Bold Olive Oil!