Dumplings are very much a part of my heritage. I grew up with them and they are absolute comfort foods. Making them is a labour of love. You just can't make a few. You need an afternoon of making LOTS. But it can also be a social thing. I remember sitting in my grandmother's kitchen many times as we made dumplings as a family. She would bake the wrappers from scratch. She would flatten each round ball of dough into a flat circle using her heavy metal presser and I would fill them. Someone else would finish them off because every time I sealed them, they would explode while they cooked! We would spend hours doing this assembly line of dumpling making. Making dumplings was one of my favourite things to do with her. That and having pizza… she would call cheeza.
I was asked to create a new recipe using the Philips Airfryer. I knew I wanted to make something that was not expected. So the challenge was to come up with something that can be cooked with this new gadget that has found its way into my kitchen recently. Dumplings immediately came to mind so I was on a mission. I didn't have a recipe per se but I know the basics of my favourite dumpling filling. That wasn't the issue. The cooking part would be the challenge.
The dumplings I was determined to make are the fried kind, something like "warteep", that I always enjoy at our local dumpling house. Most often done in the frying pan and more than often very greasy. I was inspired by Dumpling Queen's version that seem to be less oily… almost no oil as a matter of fact.
My biggest challenge was to cook the dumplings just right. The Philips Airfryer requires little or no oil so to achieve that crispiness while keeping the inside soft was the challenge. I had attempted placing the assembled dumplings right into the machine. While they were good it wasn't quite what I had envisioned. So I decided to boil them first for 5 minutes (adding a couple drops of oil into the boiling water as it would give the dumplings a nice light touch), drain the dumplings, and then place them in the fryer to crisp them up. And it worked!
As mentioned, I didn't start off with a recipe. Both my grandmother and my dad taught me that cooking was about  experience, being aware of how flavours work together, trusting your instincts and tasting along the way.
I did write down what I did…
PORK DUMPLINGS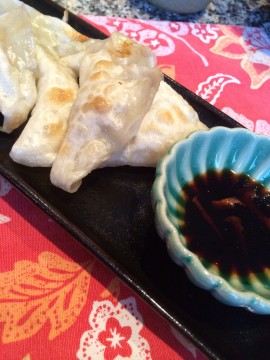 Filling:
1 package of lean ground pork
1 cup of finely chopped napa cabbage
1 tsp sesame oil
1 tsp Chinese Five Spice (I used PC Black Label)
1 tsp corn starch
Wrapper:
1 pkg won ton wrappers, room temperature (save time and just buy them at the grocers. Usually found in the refrigerated section in produce)
Dipping sauce:
1/4 cup light soy sauce
1/2 tsp sesame oil
slivers of fresh ginger
1. Mix together the ingredients for the filling and set aside.
2. Take individual wonton wrapper and place a small teaspoon of filling in the centre. Using a bit of water on the  line the inside edges of the wrapper to make it wet . Fold to make a triangle and press along the edges to make a seal. If it's not sealing just use a bit more water with your finger tips.
3. Set aside dumplings until you've made your batch. Cover the raw dumplings with plastic wrap to avoid drying out too quickly.
4. In a large pot, boil water with a few drops of oil. Drop in dumplings into the boiling water and cook for 5 minutes. Carefully remove dumplings and let the excess air and water naturally drain out.
5. Place gently into the AirFryer Basket in a single layer leaving space to allow the air to circulate. You'll probably fit about 6.
6. Cook at 180C on the AirFryer set timer for 5 minutes.
*The desire of browning and crispiness is a personal taste, so you can adjust the timing on this but keep an eye on them!
7. Be carefully removing the dumplings to serving platter! Serve with dipping sauce!