One of my weakness, yes besides shoes, is drinking soda pop. Maybe it 's the fizzy sensation that is so satisfying. When SodaStream came into the market, I was definitely curious. With a teenager and another youngster in the house, this machine was worth trying out. This past week gave us the opportunity to test one out.
This in-home system offers you carbonated beverages easily. The starter kit included a strong BPA Free reusable and refillable bottle, a CO2 "carbonator" gas cylinder and an assortment of flavours to sample. The instructions were very straight forward and the design is sleek! It doesn't take up too much space in my kitchen either and the hubby is definitely happy about that!
Flavours included the usual ginger ale, cola and root beer but I was pleased to see options like cranberry and orange mango. There are  over 60 flavours in total that are offered but mixing our own is an added bonus.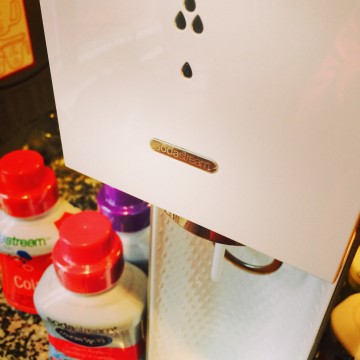 How it works:
The CO2 canister "carbonator" is locked in place behind the machine and covered. Fill the provided bottle with regular tap or filtered water and secure in the front of the machine. The machine requires no batteries or electricity! Another bonus to the environment! When you're ready to carbonate the water you can even select the desired amount of fizziness. Within mere seconds the water is carbonated. The final step is adding the flavour of choice.
The Verdict:
I was surprised to learn that SodaStream was founded in 1991 and sold in more than 15 countries around the world. SodaStream arrived in Canada in 2009, but it was only over the past year that I started seeing it pop up in stores.
I absolutely love having the ease of making my own pop and the ability to control the fizziness. But what's important is that we can also control the amount of sweetness of the pop. The boys like rootbeer as a treat and it's not something I buy often. Of course the bonus of minimizing unwanted plastic waste is important and no more lugging around heavy bottles or cans of pop!
The machine is also great for parties… you won't have to worry about running out too quickly or having multiple bottles sitting in the fridge.
My biggest concern is what happens when you run out of CO2? I discovered that the empty canister can be returned through the "Cylinder Exchange Program"  by authorized SodaStream retailers. Return your empty and purchase a new one.  There are several locations including Canadian Tire and Home Outfitters close to my home and alternatively there is an online shipping program directly with SodaStream.
I did a little bit of research into the drink comparison of my boys' love for Rootbeer.
Calories: Popular Brand Rootbeer  120  vs SodaStream Rootbeer 35
Sugars: Popular Brand Rootbeer 31g vs SodaStream Rootbeer 9g
Sodium: Popular Brand Rootbeer 45mg vs SodaStream Rootbeer 2 mg
And what about taste? Although the instructions say not to shake the soda and liquid mix (for obvious reasons) I found that one gentle turn of the contents in the secured bottle was needed to just gently mix in the product for a more even taste. We did notice that the drinks were not as sweet as regular pop but after a couple of sips we got use to it. I definitely think it's a better alternative.  I also find it refreshing to simply add a couple pieces of fresh fruit into the non-flavoured carbonated water.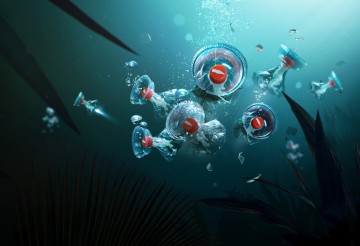 Speaking of trying to do our part in minimizing plastic waste, SodaStream launched The Secret Continent campaign and petition with Global Brand Ambassador, Scarlett Johansson, just in time for Earth Week. The website www.secretcontinent.ca is a user friendly site with interactive learning and fun surrounding the issue but done in with a fresh approach. Here's you'll visit the world's "secret continent" where unusual creatures lurk like cap-nosed sturgeons. Would you vacation here?
The post is not sponsored, nor was I compensated. The SodaStream machine was provided for review purposes only. All opinions expressed are my own.