I recently attended the most beautiful harvest luncheon at l'unita restaurant where Chef Miriam presented a mouth-watering full on meal that has also provided the inspiration I need to get me through this coming Thanksgiving weekend. Cranberries were the talk of the event aka a staple at most holiday feasts.
At the event I had a chance to meet with real Canadian Cranberry growers from Quebec. They mentioned that they are right in the harvest season now and the blushing berries are a beautiful sight. I'm now pining to visit them and see what that's all about. Their days actually begin at night in preparation for the three weeks of harvesting the berries with this three-generation family business. By the way, I also learned that Ocean Spray is actually owned and operated by the cranberry growers themselves. There are 100 Canadian grower families involved and over 700 growers in North America supplying the world with this delightful fruit that is most often used in juices, dried for baking and cooking.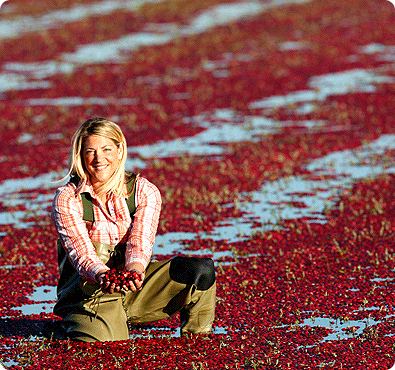 The event also gave me the opportunity to virtually experience a cranberry harvest with the latest technology created by Oculus Rift. By donning specially created goggles I was able to take a 360 degree vantage point of what is truly a beautiful sight to see. I had no idea cranberry bogs were so big!
We're hosting family dinner at our house and I've been searching for new recipe to give a twist on an family favourite. Everyone loves stuffing and this particular recipe is a crowd pleaser. Happy Thanksgiving!
CRANBERRY ORANGE STUFFING CAKES (makes 16 cakes)
Ingredients
2 tbsp (30 mL) butter
2 tbsp (30 mL) vegetable oil
1/2 cup (125 mL) Ocean Spray Craisins Dried Cranberries
1/2 cup (125 mL) finely chopped onion
1/2 cup (125 mL) finely chopped celery
4 tsp (20 mL) dried sage leaves
1 tsp (5 mL) dried thyme leaves
1/2 tsp (2 mL) each salt and pepper
3 cups (750 mL) coarse fresh bread crumbs
1 cup (250 mL) shredded aged Cheddar cheese

2 eggs
2 tbsp (30 mL) orange juice
1/2 cup (125 mL) Ocean Spray Whole Berry Cranberry Sauce
2 tsp (10 mL) finely grated orange zest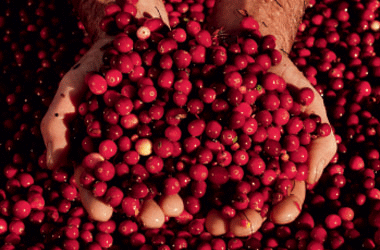 Directions
Heat 1 tbsp (15 mL) each butter and oil in a large, nonstick skillet set over medium heat. Add the Craisins, onion and celery; cook, stirring for 5 minutes or until softened. Stir in sage, thyme, salt and pepper. Cook stirring for 2 minutes. Cool to room temperature.
Toss bread crumbs and Cheddar cheese with the cranberry mixture. Whisk the eggs with the orange juice. Pour over the bread; toss to moisten. Firmly form the mixture into 16 small round cakes.
Heat 1 tbsp (I15 mL) each butter and oil in a nonstick skillet set over medium heat. Add a single layer of cakes ot the pan. Cook, pressing often with a spatula, for 2 minutes per side, or until golden. Repeat, adding additional butter and oil as needed. Keep warm.
Stir in cranberry sauce with the orange zest in a microwave-safe bowl; heat on High in the microwave for 6o seconds. Stir well. serve the warm stuffing cakes with a dollop of cranberry sauce.