This is a very special marinade recipe that comes is sure to awaken your senses – we need a little bit of a spring awakening, right? I was particularly drawn to this recipe as you can make the marinade and store it in an air tight container in the fridge for up to five days. It's great for poultry, fish and other seafood. With the flavours stemming from Northern African/Moroccan cuisine it's easy for weeknights and equally as impressive for guests.
Chermoula Marinade: (makes enough to coat 4 chicken breasts)
1/3 cup fresh cilantro, roughly chopped
3 cloves garlic, minced
2 tsp paprika
2 tsp ginger, freshly grated
1 tsp ground cumin
1 1/2 tsp salt
1/2 tsp cayenne pepper
1 lemon, juiced
4 tbsp olive oil
Directions:
Combine all ingredients in a mixing bowl. Coat meat or fish massaging the marinade.  Let stand in fridge for 30 minutes or overnight. Bake in preheated oven at 350F (chicken for 45 minutes, fish for 25 minutes until cooked). Serve with your favourite side dishes. *Note: I like spicy so I've added a spicy pepper mix (La Bomba Sauce) as a finishing.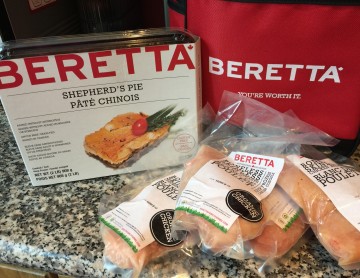 I was recently introduced to Beretta Family Farms  Chicken. I've been a personal fan of the line of their high quality beef for many years. My first experience with Beretta was before they were available in my local grocer. We had five families in the neighbourhood who pooled our resources together to purchase directly from them. Why? Their commitment to Canadian-raised meat without the use of antibiotics, hormones or steroids. They are certified organic and the animals are reared being fed certified organic feed — without pesticides, GMO/s or chemical fertilizers. Just food for thought here.  I love them.
Beretta Family Farms has also introduced a line of deliciously prepared entrees for busy families. Visit berettafamilyfarms.ca for more details.