Written By Sonya
Sonya is a true Urban Mom! Her goal is to inspire you to do what you love and maybe experience something new! Fuel for your mind, body and soul. She reports on city life from arts & culture, food, events, lifestyle and tech for families and chats with interesting people. Everyone has an interesting story, right?
Read Her Blog
"The Culture Pearl"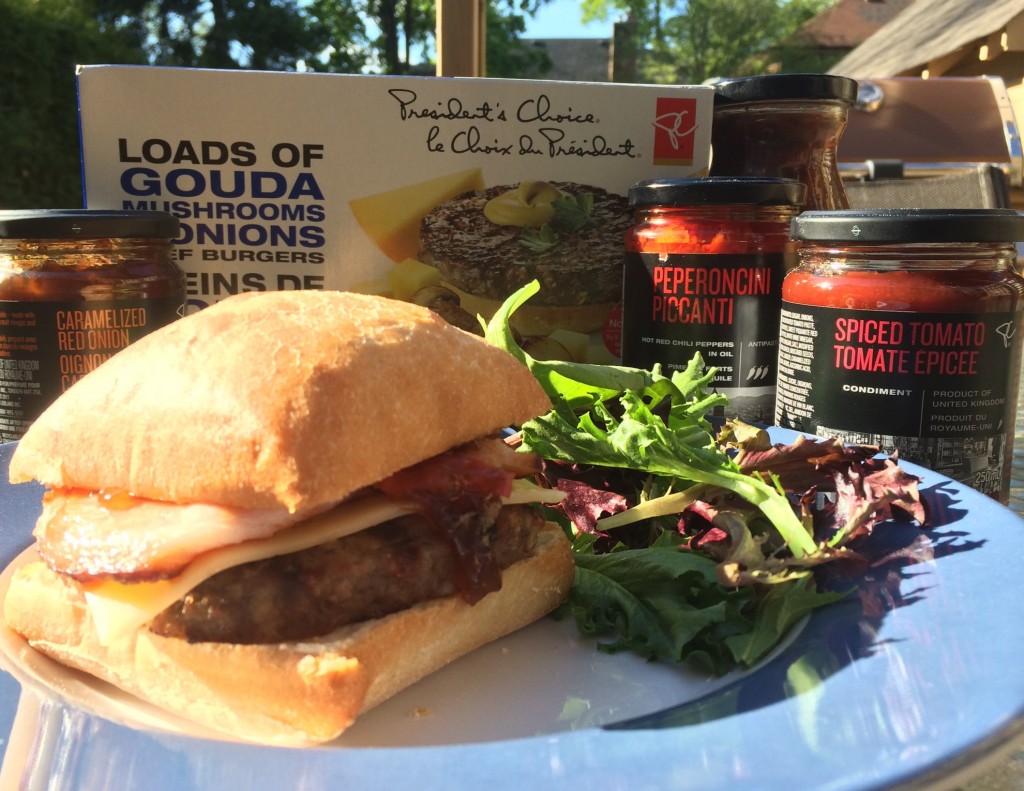 You can smell it in the air. It's BBQ season. Our neighbourhood is sizzling now that the warmer weather is here. We often joke about having a "burger-off" on our block. And yo, I'm up for the challenge and I'm serious. My kids are in it to win it. Trust me. They know a good burger when they taste one.
About two weeks ago we had a delivery to the door from President's Choice that included everything to create for the "ultimate burger" — how bold! But hey… if you're going to put that claim on something you better live up to it.
President's Choice recently teamed up with some of Canada's top chefs to create provincially inspired burgers. Chef Rob Bragagnolo, executive chef at Marben Restaurant here in Toronto was one of the chefs involved in the project. Rob was raised in Toronto but spent his summers in Veneto Italy,  learning how to cook at his family's Trattoria and bakery. Rob's grandfather and great aunt are celebrities in the Italian food scene as they were the inventors of the dessert 'La Fregolotta' in 1924. It is now one of the most well-known dishes of the region. Bragagnolo later studied in Neuchatel, Switzerland before moving to Mallorca, Spain where he still owns two restaurants in Palma de Mallorca with his business partner, Michelin starred chef Marc Fosh. After cooking and living in Spain for 12 years Rob decided to return to Toronto.
Bragagnolo has create his ultimate burger  "The Great Lakes Guac and Gouda Burger". We love this recipe so much that we've actually recreated them three times in the past two weeks. How insane is that?
The combination of a little heat with a little sweet is a big hit with us… even the kids. But feel free to adjust to your taste! We went all the way.
So here's the recipe… not gonna lie, it's messy but hey, who cares? It's sooo good!
THE GREAT LAKES GUAC AND GOUDA BURGER
Ingredients:
1 ripe avocado
1 tbsp chopped cilantro
1 tbsp lime juice
1 tbsp PC® black label Peperoncini Piccanti peppers
1 tbsp PC® black label Spiced Tomato Condiment
1 tsp salt
4 PC® Loads of Gouda, Mushrooms & Onions Burger
PC® Naturally Smoked Bacon Rounds
4 slices plain or smoked Gouda cheese
4 each PC® Ciabatta Burger Buns
2 tbsp PC® black label Caramelized Red Onion Chutney
Preparation:
In a bowl, combine the avocado, cilantro, lime juice, PC® black label Peperoncini Piccanti peppers, PC® black label Spiced Tomato Condiment, and salt and mash well with a fork. Refrigerate until ready to build the burgers.
Preheat BBQ to medium-high heat. Place the Loads of Gouda, Mushrooms & Onions Burger patties on BBQ and cook for 5-6 minutes per side or until done. Add bacon slices to the grill, flip when lightly crisped and place on top of patty. Add plain or smoked Gouda cheese on top of bacon and close lid to cook until the cheese is just melted. Remove burgers from grill and keep warm.
Place PC® Ciabatta Burger Buns on BBQ, cut side down, for a few moments until lightly toasted. Slather both sides of toasted buns with PC® black label Caramelized Red Onion Chutney and place cooked PC® Loads of Gouda, Mushrooms & Onions Burger on bottom bun. Spoon a tablespoon of guacamole on top of the burger. Place top half of the bun on top and lightly squish down to spread the guacamole evenly.
Serve with favourite side dish.
TIP: PC® also has a guacamole seasoning pre-made in a jar  (looks like salsa)– all you need to do is mash up a couple of avocados and add in the guac seasoning mixture. It's a time saver!
This post was not sponsored, nor was I compensated. It's just a really amazing burger!