I love visiting Cafe Belong, a casual restaurant set in the city's lovely Evergreen Brick Works. If you haven't been to the area yet, it's definitely worth a visit for it's hiking trails, children's garden, farmer's market and this restaurant. It serves up honest to goodness wholesome dishes that remind us to slow down and take a deep breathe.
Chef Brad Long is no stranger to the restaurant scene and foodies everywhere recognize him from his appearances on the Food Network. His food is all about supporting local and sustainability. Everything from the herbs he grows to the wine and beer served at the restaurant is well thought out. By the way, his blueberry scones are crazy addictive. Whenever I'm there I try and buy the whole lot.
Now that we're right in the fall harvest season, I've been flipping through my collection of recipes for some comfort soups. I was taught how to make this Cauliflower Soup by Chef Brad Long at an event held earlier this year at Cafe Belong and hosted by Earth's Own. I kept this one as it's  great comfort in a bowl for everyone, but also for those who don't use dairy products. It offers the velvety creamy taste and texture without dairy and everyone can enjoy it. I've also added Chef Long's insanely good biscuit recipe because you gotta have both! It's a match made in heaven and easy to make!
CHEF BRAD LONG'S CAULIFLOWER SOUP
Makes 4 cups. Prep time: 15 minutes. Cooking Time: 35 minutes
Ingredients:
4 cups cauliflower florets (no stems)
4 large shallots (or small onions)
1 ounce of Olive Oil
2 1/2 cups cold Unsweetened Almond Milk ( I used So Nice)
Salt to taste
1/2 tsp of Cider Vinegar
1/2 cup of Roasted and Salted Almonds, roughly chopped
1 ounce of chopped chives (optional)
Method:
Put the olive oil and roughly chopped shallots on medium to low heat in a medium sized pot and sweat until softened without colour – 10 minutes or less. Add the cauliflower until the cauliflower is completely soft – another 10 minutes or so.
Puree this mixture in a blender (not all at once – at least in two batches) and return to a clean pot. Bring this mixture to a gentle boil being careful to slowly stir so it doesn't burn on the bottom.
Add the cider vinegar and add salt a bit at a time until it is perfectly seasoned to your taste.
Divide into bowls, top with chopped almonds and chives. Serve.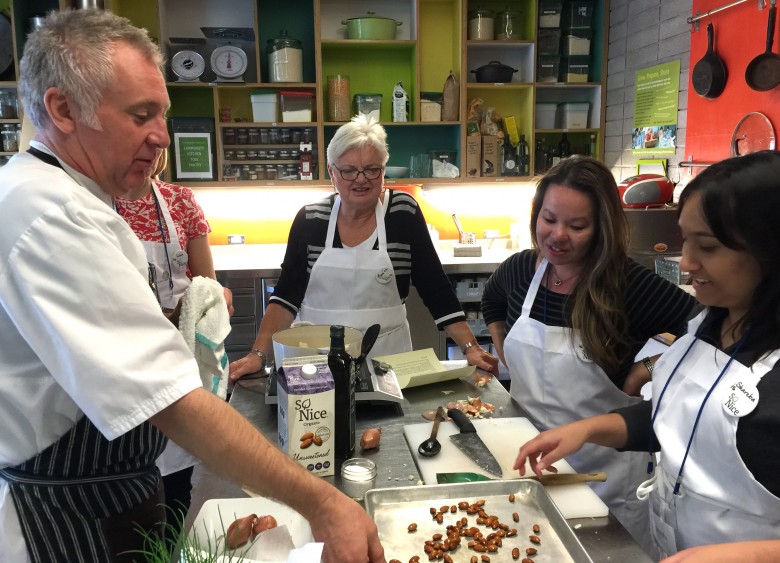 CHEF BRAD LONG'S BISCUITS
Makes 8 mini-loaves. Prep Time: 20 minutes. Cooking time: 15 minutes
Ingredients:
1 cup washed an roughly chopped leeks sauteed in
2 ounces of Olive Oil
1/2 cup cold Soy Milk (I used So Nice Original Soy Milk)
1 egg
1 tsp salt
2/3 cup all purpose flour
1 cup whole rolled oats
2 tsp baking powder
Method:
Preheat oven to 425F.
Grease your mold(s) with olive oil or line the baking sheet with parchment paper.
The leeks can be rough cut, diced or cut into long strips (but only if you saute them long enough to become very tender, without any colour though).
Once the leeks are softened and cooled, combine all ingredients (including any liquid or leftover  Olive Oil from the leeks) into a thick batter.
You can either make the biscuits as rough rounds (a large rounded tablespoon full) on a parchment lined baking sheet or your favourite small mold.
Bake in the oven for 10-15 minutes. They should be golden and very crisp on the outside but still extremely moist inside.