We spent a very fun evening with Barton & Guestier, a French wine label. With almost three centuries in the wine business, B&G represents many wine growing regions including Bordeaux, Loire Valley, Burgundy, Beaujolais, Rhone Valley, Languedoc, Gascony and Corsica. Our host, Clementine Quereax hosted the night and had us dreaming of heading to France and visiting B&G's guest house Chateau Magnol located on a their property in France.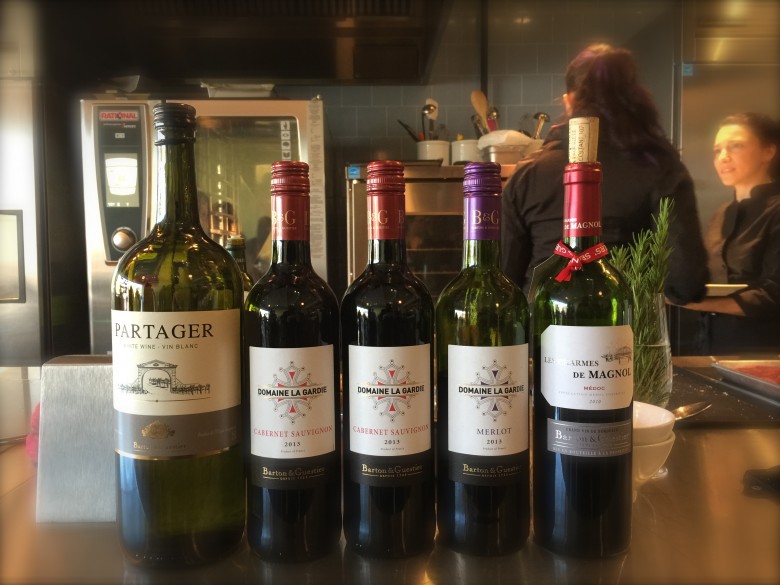 During the event, the guests arrived at Nella Cucina only to learn that we would be cooking our meals! So our aprons went on and with wine in hand we proceeded to make dinner for each other. Under the watchful eye of Chef Brianne Nash (who happened to be a Chopped Canada winner), we were split into groups to be responsible for meal preparation. I breathed a sigh of relief when I learned I wouldn't be responsible for the beautiful Beretta Farm steaks!
Once dinner was ready we all sat down to enjoy our efforts. B&G wine pairings were explained by Clementine in between courses. We learned about how B&G is located in the south of France where they have the ideal climate and soil for nurturing a variety of grapes. Cool fact, harvesting is best at night so they don't stress the grapes.
As we cooked, ate and laughed it seemed like everyone was truly enjoying themselves. Clementine explains that B&G is very much that kind of wine as well… unpretentious, fun and perfect for dinner parties with friends.
We managed to score a few of Chef Nash's recipes from the evening. I can't wait to make this at home!
This salad was a real hit and perfect for entertaining…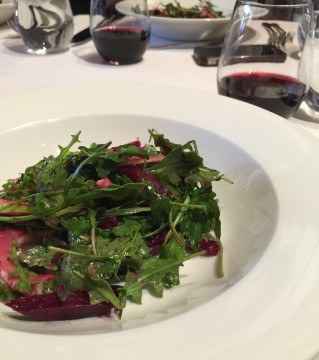 BEET, FENNEL AND APPLE SALAD (Serves 6)
Wine Pairing Recommendation: B&G Partager La Gardie Merlot—a dry, medium-bodied and fruity, with a dark ruby colour and aromas of raspberry, currants and a hint of herbs. 
Ingredients:
3 beets (roasted, cooled, peeled and sliced)
1 fennel, trimmed and sliced
1 apple, sliced (use an apple that does not oxidize too fast, such as Lady Alice, or toss lightly in lemon)
2 cups of arugula
1⁄2 cup toasted walnuts
Dressing:
1 tablespoon of shallots, finely chopped
3 tablespoons of olive oil
1 tablespoon of honey
1 teaspoon of Dijon mustard
2 1/2 teaspoons of fresh lemon juice
1/2 teaspoon of cider vinegar (you can substitute it for white wine vinegar or champagne vinegar)
salt to taste
Preparation:
1. Roasting the beets: Preheat the oven to 400F. Trim both ends of the beets. Layer 2 large pieces of aluminium foil and place the beets on top of them. Drizzle the beets with olive oil. Fold the foil over the beets and close it tightly. Bring itto the oven (place the foil package directly on the oven rack) for about 50-60 minutes or until beets are very tender. Wait the beets to cool before adding it to the salad.
TIP: beets can be roasted up to 3 days ahead if you keep them tightly closed inside the refrigerator.
2. Dressing: Combine all the listed ingredients except the oil and whisk them all together until well combined. Slowly drizzle oil in while whisking very fast to combine oil and create an emulsion.
3.  In a large bowl place sliced fennel, sliced apple, arugula, and fresh walnuts. Add the dressing and toss to combine. Adjust salt and pepper, if necessary. Top with beets and crumble cheese on if desired.
GLAZED BEANS  (Serves 6 side dishes)
Ingredients:
1 pounds wax (yellow) or green beans, trimmed
1 tablespoon honey
4 teaspoon finely grated fresh lemon zest
1 teaspoon salt
1 tablespoon butter
DIRECTIONS:
Cook beans in a 4-quart pot of boiling salted water until just tender, 4-6 minutes. Drain in a colander, then immediately toss with honey, zest, butter and salt in a large bowl. If not serving right away under cook beans slightly and place them in a ice bath, then heat remaining ingredients in a pan when ready to serve and heat through beans.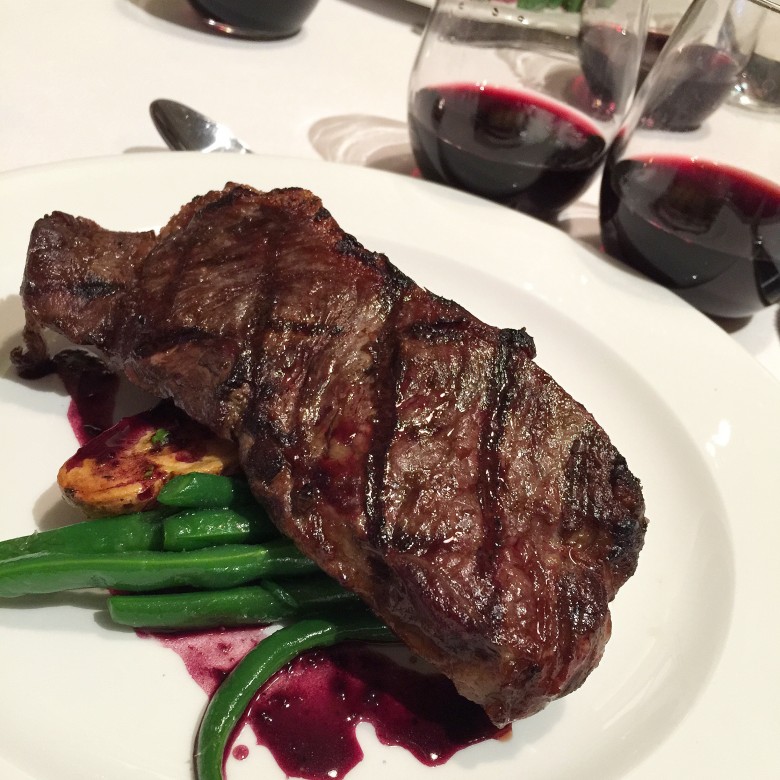 When you just need a really good "jus" to drizzle onto your steaks, this recipe is simple and delicious…
JUS (Makes 2 servings)
Ingredients:
olive oil, for coating the pan
1/4 cup shallots, minced
1/2 cup red wine
1/2 cup beef stock
2 tablespoons butter
salt and pepper to taste
1 tablespoon rosemary, chopped (optional)
Directions:
In a saute pan, over medium high heat, add enough olive oil to coat the pan.
Add the shallots and cook until translucent.
Add the red wine and the stock and reduce by half. (If you would like a smoother sauce you can strain the shallots out at this point then return to the pan and add the butter and rosemary).
Add the butter and chopped rosemary and whisk in to combine.
A real standout wine served during this dinner was B&G's Les Charmes de Magnol Medoc—a surprisingly affordable priced bottle found in the VINTAGES section at $18.95 (just released March 21, 2015). This wine's tasting notes are deep purple-red in colour that is intense and complex on the nose. Notes of ripe fruits, plums and spice. When agitated, hints of tobacco and coffee appear. Very ripe fruity aromas to this selection and the finish is long and elegant.