The holidays are around the corner, and that means it's time to start thinking about what kind of cookies you're going to bake this year. But, if you're anything like me—a busy mom with a full-time job and lots of obligations around the festive season—you're a little overwhelmed at the thought of even starting holiday baking.
Being the editor of a food magazine, you can imagine that I spend a lot of time creating and testing recipes. I love to come up with simple and delicious ideas that can help busy families eat healthier meals and snacks, while spending more quality time together. That's why I was so happy when I came across Becel® Buttery Taste margarine. If you've ever wished for the ultimate holiday hack for all your baking needs, the Anything Goes Cookie Dough from Becel® is an expert-tested recipe that can be used to create endless custom cookie options using merry mix-ins. Soft and chewy cookies guaranteed, every time!  No matter what you bake this holiday season, all you need to do is replace butter with Becel® margarine 1:1 in any recipe—it'll be one of the easiest changes you'll ever make, and it's great for your heart healthy diet, too.  Scroll down to see how you could win 1 of 4 baking prize packs this holiday season!
I decided to see if the Anything Goes Cookie Dough recipe could be used to create a spin on a cookie that my mom used to make during the holidays. Her version was a vanilla thumbprint cookie, filled with chocolate ganache and sprinkled with chopped pecans. As my kids are not huge fans of nuts, but they love chocolate, mint and candy canes, I decided to make chocolate peppermint thumbprint cookies. And guess what? They turned out perfectly! Bursting with chocolate and mint flavour and sprinkled with crushed candy canes, these little morsels of holiday flavour were an instant hit with my kids (not to mention my husband). They were also a cinch to make and my kids could help out, which made for a fun Saturday afternoon activity.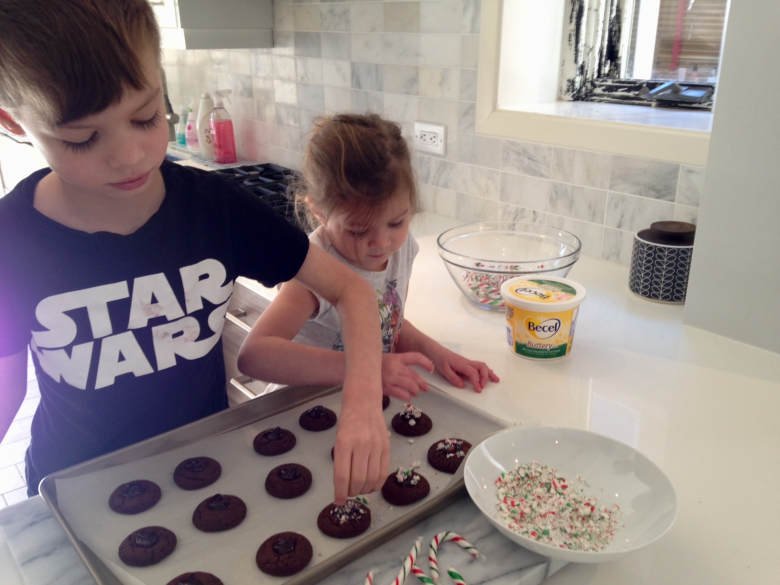 The thing I love most about Becel® Anything Goes Cookie Dough is that you start with one easy recipe that is guaranteed to make soft, chewy cookies, every time. Then you can add any ingredients that you and your kids love, to make them your own!
So, what kind of cookie will you create?
Have fun making your favourite holiday cookies with the Becel Anything Goes Cookie Dough recipe! Get #BakingWithBecel between November 16, 2015 and December 13, 2015 and you could win a baking prize pack! For your chance to win 1 of 4 Becel® Holiday Baking Prize Packs (valued at $625), share a photo of your Becel Anything Goes Cookie Dough creation on Facebook, Twitter, Instagram or Pinterest alongside a tub of Becel margarine and make sure you use the hashtag #bakingwithbecel #contest. Full contest rules and details pertaining to entry mechanisms can be found here. Happy baking!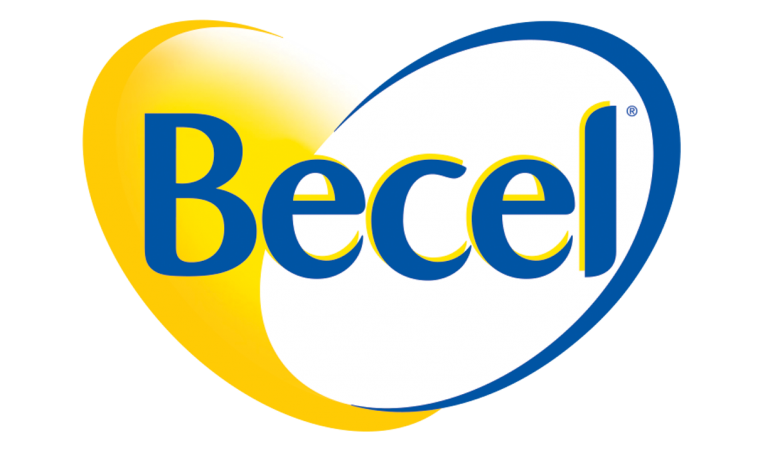 Becel Chocolate Peppermint Thumbprint Cookies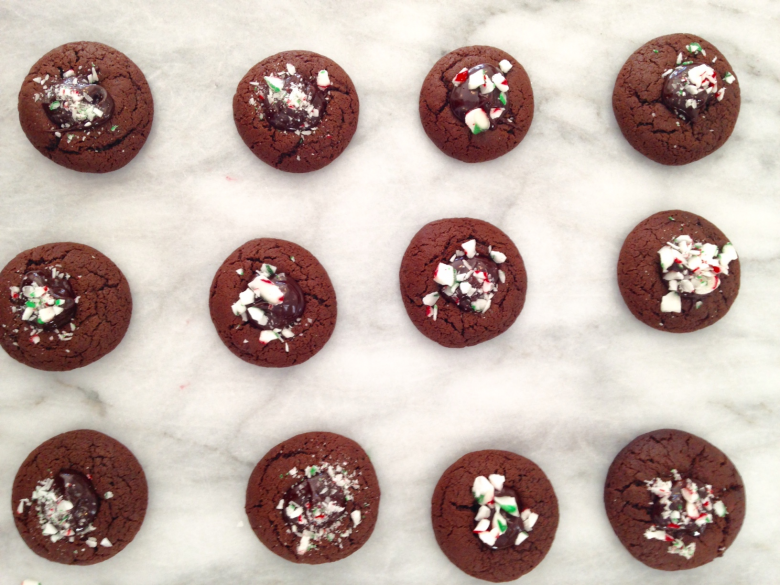 Ingredients
2 1/4 cups (550 mL) all-purpose flour
1 cup (250 mL) Hershey's cocoa powder
1 tsp. (5 mL) baking soda
1/2 tsp. (2 mL) salt
1 cup (250 mL) Becel® Buttery Taste margarine
1 cup (250 mL) firmly packed light brown sugar
1/4 cup (60 mL) granulated sugar
2 large Naturegg™ Omega 3 eggs
1 tsp. (5 mL) vanilla extract
1 tbsp. (15 mL) milk (optional)
Peppermint Ganache
6 oz. HERSHEY'S CHIPITS Pure Semi-Sweet Chocolate Chips
1/2 cup heavy cream
1 tsp pure peppermint extract
Crushed candy canes
Directions
Step 1: Combine flour, cocoa, baking soda and salt in a medium bowl; set aside.
Step 2: Beat Becel® Buttery Taste margarine with sugars in large bowl using electric mixer until light and fluffy, about 3 minutes. Beat in eggs and vanilla until blended. Gradually add in flour mixture; beat just until blended. Add milk if your dough seems too dry. Scoop dough out onto a clean surface and shape into a disk. Wrap tightly in saran wrap and place in fridge or freezer for at least 2 hours, or overnight, to become firm.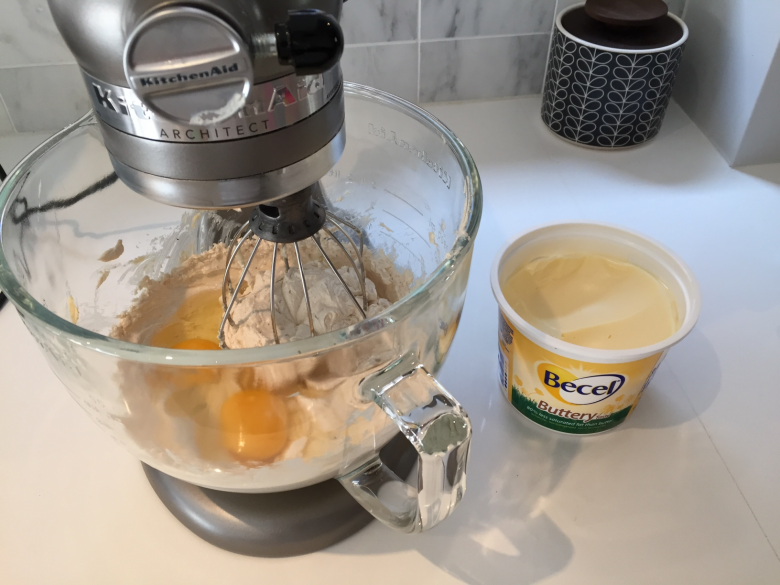 Step 3: Preheat oven to 375°F (190 C). Pinch about 2 tsp of chilled dough and roll into balls. Place 1-inch apart on parchment-lined baking sheets. Use the bottom end of a wooden spoon to press gently in the center of each to create an indentation. Bake, rotating sheets halfway through, until cookies are just set, about 10 to 12 minutes. If indentations lose definition, press centers again. Let cool slightly on baking sheets. Transfer cookies to wire racks, and let cool completely.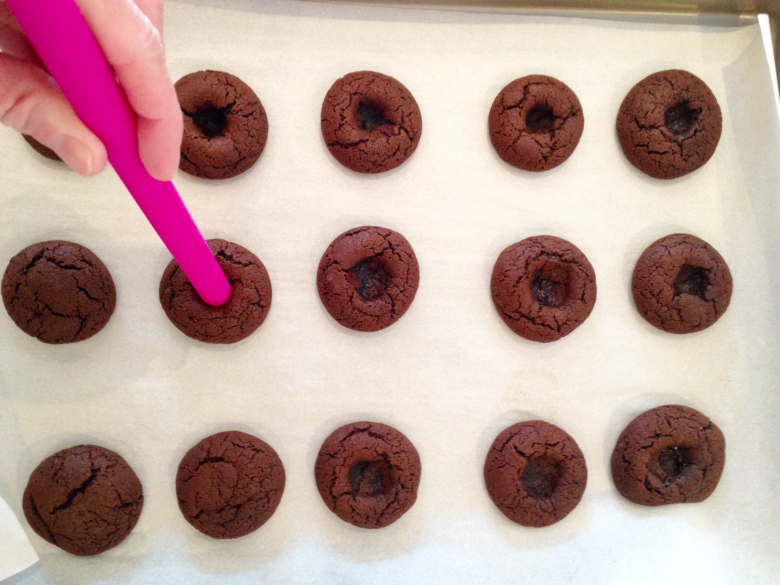 Step 4: To make ganache, place CHIPITS chocolate chips in a medium bowl. Heat cream in a small pot until just simmering. Pour cream over chocolate; let stand for 5 minutes. Stir until smooth. Stir in peppermint extract. Let stand about 15 minutes.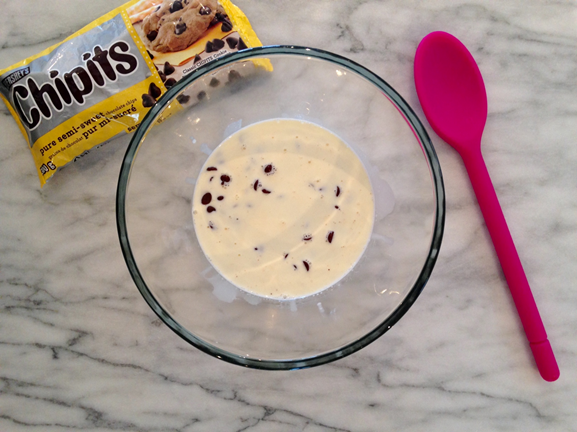 Step 5: Spoon ganache into center of each cookie. Let stand until firm, about 15 minutes. Sprinkle with crushed candy canes.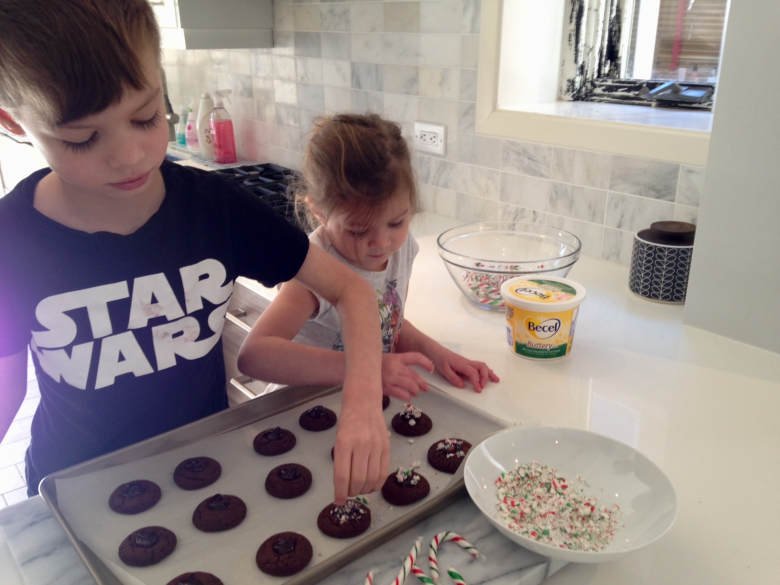 Other Becel® Buttery Taste margarine recipes to try!
Anything Goes Cookie Dough recipe video
This post was sponsored by Becel, but the opinions, recipe and images are my own.