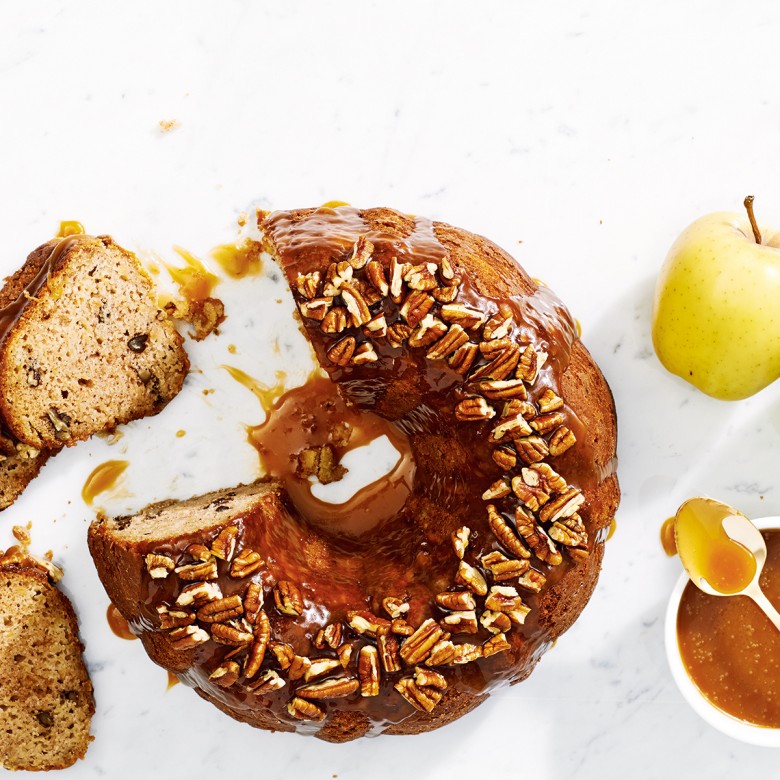 This recipe is from Canadian Living: Sweet & Simple. Enter now for your chance to win one of three copies!
Bundt cakes are deliciously retro, and this one is no exception. Tender apples, crunchy pecans and sticky caramel sauce make it a divine dessert for relaxed entertaining.
Makes 16 servings. Per serving: about 434 cal, 6 g pro, 25 g total fat (12 g sat. fat), 50 g carb, 2 g fibre.
What you'll need:
¾ cup butter, softened
1½ cups granulated sugar
2 tsp vanilla
3 eggs
1 cup sour cream
¼ cup milk
3 cups all-purpose flour
1½ tsp each baking powder and baking soda
1 tsp cinnamon
¼ tsp salt
3 Golden Delicious apples, peeled, cored and grated
1 cup chopped pecans
Caramel Sauce: 
2⁄3 cup granulated sugar
½ cup butter
2 tsp lemon juice
5 tbsp whipping cream (35%)
Direction:
In large bowl, beat together butter, sugar and vanilla until fluffy. Beat in eggs, one at a time. Beat in sour cream and milk.
Whisk together flour, baking powder, baking soda, cinnamon and salt; stir into butter mixture. Stir in apples and three-quarters of the pecans. Scrape into greased and floured 10-inch (3 L) Bundt pan, smoothing top.
Bake in 325°F (160°C) oven until cake tester inserted in centre comes out clean, 1 hour. Let cool in pan on rack for 10 minutes. Turn out onto rack; let cool completely.
Caramel Sauce: Meanwhile, in saucepan, cook sugar, butter and lemon juice over medium heat, stirring, until sugar is dissolved and butter is melted. Cook, without stirring, until light amber colour, about  5 minutes. Remove from heat; standing back and averting face, stir in cream. Return to heat; cook until slightly thickened, about 1 minute. Pour into large bowl; let cool to lukewarm.
Pour half of the caramel sauce over top of cake; sprinkle with remaining pecans. Serve cake with remaining caramel sauce alongside.