I had the pleasure of attending a very interesting dinner last week. Hosted by Almond Breeze and Chef Carl Heinrich (of Top Chef Canada fame) at his restaurant, Richmond Station, I was treated to six amazingly delicious courses all featuring one ingredient. You guess it, Almond Breeze almond milk.
I'm no stranger to Almond Breeze myself; I've used it in smoothies before and have even started to use it instead of milk when I am baking. But never before would I have dreamed of all the amazing ways you can use it beyond the everyday.
Almond Polenta Fries with marinara and Parmigiano Reggiano and Almond Peeking Duck Crepes; Sunchoke Agnolotti with an almond brown butter sauce; Almond Breeze glazed porchetta and Pommes Kennedy; my personal favourite was the Smoked Trout Amandine Salad with almond puree.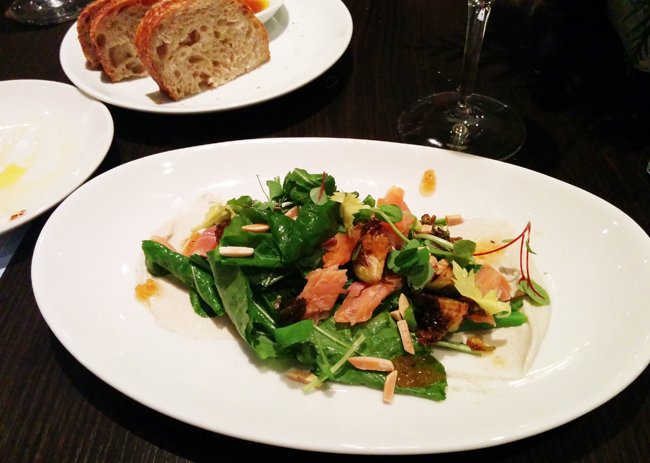 I can tell you I left completely stuffed, completely satisfied and dreaming of ways to use Almond Breeze during my holiday entertaining!
For dessert we were treated to a panna cotta featuring Almond Breeze and I am lucky enough to have the recipe to share with you!
Almond Breeze Panna Cotta
Ingredients
3 Gelatin sheets
1 cup Almond Breeze Vanilla
1 cup 35% cream
½ cup sugar
¼ tsp agar-agar
Directions
Bloom the gelatin sheets in a cup of cold water and set aside.
Whisk together the Almond Breeze, cream, sugar and agar-agar in a pot and bring to a boil while whisking rapidly over high heat.
Squeeze out any extra water from the bloomed gelatin sheets. Remove pot from heat and stir in the gelatin.
Portion the mixture into bowls or tea cups and let them set uncovered in the fridge for a minimum of 4 hours.
Once set, remove from fridge and garnish as desired.
I am telling you, this panna cotta was amazing! So grab some Almond Breeze, try out Chef Heinrich's recipe or see what you can come up with on your own!