I make rice about three times each week and usually simple white jasmine rice does the trick. Once in a while I'll shake things up. Since the weather has been so cold lately I've been inspired to cook a bit more and this tropical taste is exactly what we need!
The other night I had planned to make jerk chicken baked in the oven (sorry, yes, skin and bones intact and I used my preferred wet Jerk Seasoning rub from Walkerswood). But I was craving coconut rice. I have played around with different variations but this one is easy and it offers just a hint of coconut that compliments any meat or fish dish that has a bit of a spicy kick to it! I served it with a very simple green salad. The kids loved it too!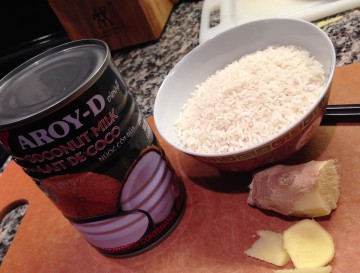 COCONUT RICE
1 can (14 oz) of coconut milk
1 1/4 cups water
1 tsp granulated sugar
1/2 tsp salt
1 1/2 uncooked long-grained or jasmine rice
3 slices of fresh ginger
1. In a medium saucepan combine all ingredients except for the rice and ginger.
2. Add the rice and bring just to a boil.
3. Give the rice a stir then add the ginger.  Lower the temperature to simmer. Cover.
4. Let it simmer for about 25 minutes. Do not lift the cover unless it boils over! If that happens, just lift the lid for a quick second to let it calm down.
5. After 25 minutes, fluff the rice with a fork and let sit for another five minutes off the element before serving.
Tip: Cooking rice can be finicky. I don't use a rice cooker. The trick my dad taught me about the liquid to rice ratio is measuring with your fingertip.  The liquid that sits on top of the rice before cooking should be from the tip of your finger to the first knuckle. It's about an inch.  Ancient Chinese secret? I don't know but it has always works for me!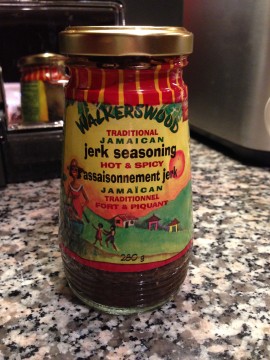 Here's the Jerk Seasoning we prefer to use….it's deliciously spicy!  Although my brother-in-law makes a wickedly good version from scratch! I must get that recipe from him!!!  One heaping tablespoon and a couple of tablespoons of soy sauce will make a perfect marinade rub for 4 chicken breasts or thighs.