I had almost forgotten one of my most favourite pasta dishes in the world until hubby and I were on vacation last year. We had spent a couple of weeks driving along the Cote d'Azur. We ventured to the edge of  Monaco and stayed in a neat spot a cliff in Eze. It's a quaint little world of unhurried life except for the tourists who explore this off the beaten path oasis during the days. But at night, Eze was magical. With only a smattering of hotel guests this village became intimate and inviting.
We wandered aimlessly each night in our small village as the cobblestone walkways was a labyrinth of discovery spotted with galleries and tiny shops. There were Michelin starred restaurants along side unnamed little cafes. One night we came across a tiny restaurant that had set up tables in the narrow walkways. The stone walls were tall and the menu changed daily based on what the chef could pick up at the nearest farmer's market.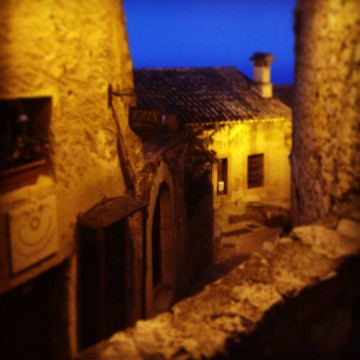 I remember the pasta so vividly. I can still taste the freshly grated cheese and the smoky taste of pancetta. Eze is close to Monaco …which is very close to the Italian border so this culinary influence was no surprise. But this Carbonara dish was heavenly! This dish will always bring  bring back amazing memories.
But anyway…I don't think I could ever duplicate the dish exactly as they made their own pasta fresh in-house daily. I do have a preference in eggs though. I always use brown eggs. Free-range if possible. I just find them a little tastier.
Another tip…I prefer using linguine only because that's what I had in Eze. But you can use spaghettini if you are in a serious rush.
Here's my recipe for Pasta Carbonara. This a super easy recipe and my kids love it too. The only trick is you need to move quickly while the pasta is hot!
Ingredients:
Pasta for 4 people
1 cup Parmigiano Reggiano cheese, fresh fine grated
3 eggs
3 cloves garlic, finely chopped
1 cup of pancetta, diced into small cubes
1 cup grape tomatoes, cut in halves
1 tbsp olive oil
1 tsp salt
salt and  pepper
Directions:
1. Cook pasta in a large pot according to package.
2. While the pasta is cooking — in a medium sized bowl combine the eggs, cheese, salt and set aside.
3. In a deep frying pan, heat up olive oil and add garlic. Cook for a minute and then add the pancetta and stir until cooked, about two minutes. Remove from heat.
4. Here's the tricky part, when the pasta is "al dente" reserve about a cup of the boiling pasta water. Then drain the pasta. Quickly take the HOT pasta and transfer to the pancetta pan along with the reserved water.
5. Give the pasta and pancetta a quick toss then add the egg mixture to the pasta. Mix together gently but quickly so the eggs will coat the pasta. The eggs mixture will cook fast while the pasta is still hot.
6. Add in tomatoes and stir in quickly.
Salt and pepper to taste
Grate some extra cheese over top if you like too!