We had one of those days when we had just a few hours notice from a few old neighbours who were going to be in the 'hood and wanted to drop in for a visit. I love that! Seriously! To me it means that people feel so at ease with us that they don't hesitate to drop in. I don't consider it an after thought. I totally get it — especially with parents.
Our old neighbours were dropping in for drinks in between their date night. With 3 kids under the age of 4…I'm sure they make the most of their nights out!
With just a few hours to spare, I made a quick eyeball of the inventory in my pantry. I learned this from my mother-in-law. Always have the basics around milk, sugar, eggs, butter, flour and you can work magic. I noticed a lemon hanging around the fruit bowl so I quickly made LEMON SQUARES. I know that these are a real hit every time I make them. Fast, impressive and everyone loves them. Here's the recipe…
REALLY GOOD LEMON SQUARES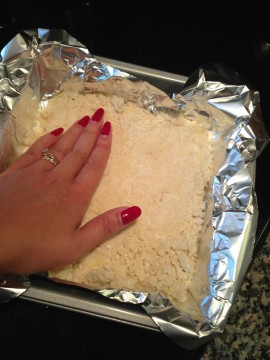 CRUST:
6 Tbsp butter (room temperature)
1/4 cup icing sugar
1 cup all purpose flour
1.Blend butter, powdered sugar, and flour in a medium sized mixing bowl until the texture becomes crumbly texture.
2.Press mixture gently into a square baking pan and bake in pre-heated oven at 350F for 20 minutes until light brown. Remove from oven.
FILLING:
3 eggs
1 cup granulated sugar
3 Tbsp all purpose flour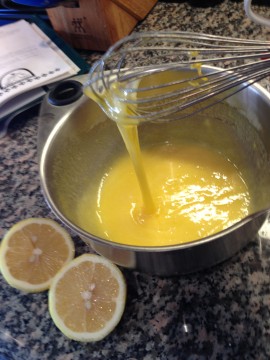 Juice from one fresh lemon
Zest of one fresh lemon
Powdered sugar
1. In a medium mixing bowl, beat eggs, sugar, flour, lemon juice and zest.
2. Pour mixture over hot crust and bake for an additional 20 minutes until top starts to golden brown.
3. Remove from oven and let cool. Sprinkle with icing sugar. Cut into squares when cool.
OPTIONAL: I've also done this recipe with adding a layer of rasperry jam on top of the crust and before pouring on the lemon mixture. It's delicious!!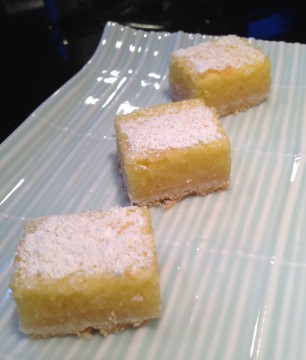 TIPS I've learned a secret in my magazine days from stylists at food photoshoots — line the baking pan with tin foil before putting in the ingredients. This helps you lift the recipe out of pan easily.
Once the recipe has cooled to room temperature put the entire pan into the fridge for an hour or two. It will make cutting easier!
You can sprinkle the icing sugar on top while it's still hot. But I like the "presentation" of the snowy effect so I prefer to sprinkle sugar just before cutting.