Just breathe. I keep telling myself. After a few weeks of entertaining, I'm already exhausted and summer has just begun. So, here I am writing at 3 am as I had a late night Lebanese coffee and suddenly I'm woken up with the thought of this weekend's get-together for hubby's birthday. With 14 people coming over I'm juggling a few little picky eaters and dietary restrictions.
But just breathe. Deeply. It's late at night when I  do my most calm and logical thinking. So in the wee early hours is when I get a flashback of Chef Andrea Bucketts. I met her recently on a foodie retreat up north hosted by President's Choice. Andrea effortlessly (or appeared to be) cooked and entertained a group of 15  for a couple of days. I remember how remarkably calm and organized she was. She actually took the time to get to know all the guests — heck she even led a yoga class!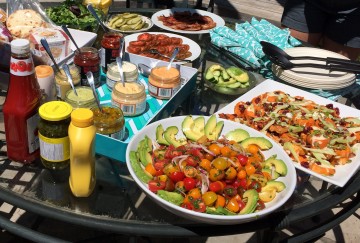 "Entertaining doesn't have to be stressful," said Andrea. "Summer is suppose to be easy and you should spend time with your guests whether your at home or away at the cottage."
So, I'm taking her lead when I'm entertaining a big crowd. I close my eyes and visualize the relaxing weekend I had watching Andrea work wonders in the kitchen.
Throughout that PC weekend, Andrea dropped tips on entertaining…
TAKE IT UP A NOTCH!  You don't have to be too fussy but consider offering different condiments with your usual go-to ketchup and mustards. The PC Black Label Collection has been in my pantry since the company has introduced the line. Try a different marinade or spice blend. We often get into a routine of spices we like to use.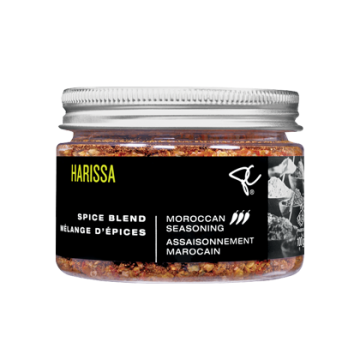 But I fell in love with the PC Harissa Spice blend when it first came out. Obsessed actually… so much that I pestered my local Loblaws manager to get it in for me. Explore the many different condiments and have them ready for your guests; they are bound to impress your guests. My absolute MUST HAVE from this season's PC Black Label Collection include the Spiced Tomato Condiment, Caramelized Red Onion Condiment, and Peperoncini Picccanti Hot Peppers. Our family loves, loves, loves the PC Loaded Gouda and Mushroom Beef Burgers and PC Wagyu Burgers for the BBQ as well.
SIMPLIFY!  It's okay to cheat to save space and time. When you've discovered that such needs like simple syrup and sangria mix can be done really well without you fussing… we're all for that! Fuss when it's an absolute must but don't be a kitchen snob. I've been pleasantly surprised by the taste and quality of many products that can cut my time over the stove.
TWIST IT THIS WAY!  Campfire s'mores two ways! This all time summer favourite dessert over an open fire pit is fun to make but requires a watchful eye. A clever twist to this classic is to build it in a sugar cone, wrap in foil and place it at on the inside edge of the fire pit. Leave it for a few minutes and you've got a fun new way to enjoy. Guaranteed the kids will love this! Take it up a notch and add a few berries or bananas. So good!
MAKE IT INTERACTIVE! Delegate prep and it all of the sudden becomes a social event in your kitchen! It seems that everyone likes to hang out in the kitchen and chit chat while the cook is preparing the meal. So get your guests involved and delegate out easy drink recipes or making a salad. Most people would be happy to help instead of watching you run.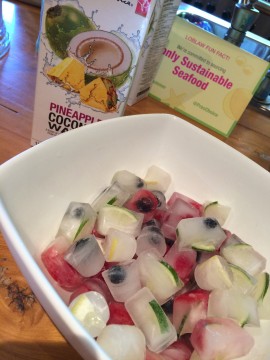 PRESENTATION!  I've always said that presentation can step up any dish! Your burgers are fabulous, of course, and your tomato salad can be simple but toss it into an elegant dish and voila! Beautiful! Or your drinks? Instead of making individual cups, have your lemonade or drink du jour in a larger dispenser. Pretty  it up with pretty fruity ice cubes!
At the PC Summer Cottage retreat there were a number of knock-out recipes but the one that was different and offered such WOW power was this Roasted Sweet Potato Recipe. It was something different and I've tried it out a couple of times with my family as well. Everyone (including the kids) loves it!
ROASTED SWEET POTATO SALAD by Andrea Bucketts
4 Sweet potatoes, peeled and sliced into 1/2″ rounds
3 strips Bacon, fried until crispy, cooled and crumbled
1 stalk celery
2 green onions
2 tbsp dried cranberries
2 tbsp roasted pepitas (pumpkin seeds)
1/4 cup President's Choice Memories of Alabama Creamy BBQ Sauce
2 tbsp PC New World EVOO (Extra-Virgin Olive Oil)
salt and pepper
Method:
1. Preheat oven to 375 degrees
2. Place the sliced sweet potatoes into a bowl and toss with olive oil until all potatoes are well coated.
3. Place sweet potatoes on a cookie sheet and season lightly with salt and pepper.
4. Place potatoes in the oven and cook for 15 minutes. Turn potatoes once and cook an additional 15-20 minutes or until the potatoes are tender and just beginning to borwn. Remove from oven and allow to cool completely.
5. Once the potatoes are cool, place in one layer on a large serving platter.
6. Use a spoon to drizzle the sweet potatoes with half of the PC Memories of Alabama BBQ Sauce.
7. Scatter the bacon, celery, green onions, cranberries, pepitas over the sweet potatoes. Drizzle with more PC Memories of Alabama BBQ Sauce and serve!
Thanks to President's Choice for hosting a relaxing and inspiring weekend! This post was not sponsored, nor was I compensated in any way.