It's not everyday that you get invited for "The Perfect Lunch." And with that comes high expectations. I was at the art gallery the other day with my 13 year old son, it's something we really enjoy doing together. We had also received an invite to P.F. Chang's China Bistro on the same day.
WHAT?  Well, you may have noticed, I'm asian. Chinese background as a matter of fact so when P.F. Chang's throws out an invitation, you KNOW I'm going to be a bit fussy and my expectations would be high.
Truth be told, recently I was in Boston with the kids and one night they wanted to have chinese food – a break from our clam "chowda" mission. I knew there was a P.F. Chang's within walking distance from the hotel and I was feeling a bit lazy. I know that P.F. Chang's is more upscale in decor and it's clean plus I've been to several locations in the U.S. The menu is quite extensive and presentation is great. The kids enjoyed it and I knew what we were getting with quality of food and service.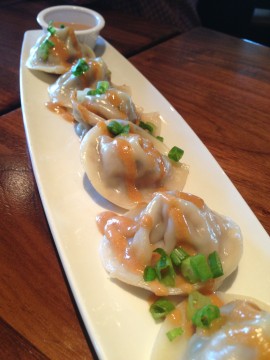 Recently P.F. Chang's opened up in Canada. There are three locations: one in Toronto (Shops at Don Mills), and two others in Quebec (Montreal/Laval) with the chain aiming to open up a few locations each year. What I do like about this chain is their consistency of freshness, great service, and menu assortment. You will find the same quality control across all their locations in North America. The chef came out to chat a bit and mentioned that they are exact in specifications from the way they cut their vegetables to the way they make their dumplings. And they take pride in almost everything being made in-house. I laughed at the thought of chinatown grandmas squatting and making fresh dumplings but here, at P.F. Chang's, there are no grandmas bending over and spooning in delicious fillings but well-trained team that make them every day.
On this particular day, we were invited to try out the new dishes available on "THE PERFECT LUNCH" menu available only until September 30 in the Canadian locations only. Their research team has found that Canadians were often asking for fresh, quick lunch solutions during the day that, say for a business lunch, wouldn't require the "family style" eating that most are accustomed to in a chinese restaurant. So, enter the PERFECT LUNCH.
The Banh-Mi is the first sandwich ever to be offered by P.F. Chang's. The term Banh-Mi is actually the Vietnamese term for 'bread'. A product of the French colonialism in Indochina. The Banh-Mi combines traditional Vietnamese ingredients with others of French origin, such as the baguette. This sandwich comes in three varieties including five-spice chicken, Asian BBQ chicken or pan-seared tilapia. The bun is actually supplied by the famous ACE Bakery (the only thing they don't make in-house). For us, the Asian BBQ chicken was our favourite.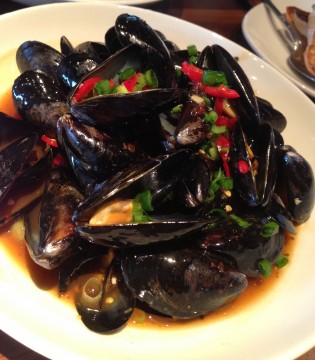 The other stand out  item on this limited time offered menu were the PEI Mussels made with Spicy Black Bean & Garlic Sauce. The sauce is rich and flavourful that you may just want a bowl of rice to accompany it. For lunch it's a satisfying dish to have. Chef had mentioned that their PEI Mussels are carefully selected and scrubbed well before hitting their woks.
Other items on the new PERFECT LUNCH menu include a Roasted Peanut Noodle Salad with Grilled Chicken Breast, Spicy Peanut Butter Dumplings, and a delicious Yuzu and Berry rum cocktail.
I asked them, why would they open up a Chinese restaurant where, in this city, we have so many to choose from? They mentioned that they aren't trying to compete directly with the Chinese restaurants but know that their customers enjoy a more  "upscale feeling" when they go out for meals and their menu is a bit more asian-fusion than a particular region.
The new PERFECT LUNCH menu is exclusive in Canada until September 30th. For more information on the new added lunch menu, locations and restaurant hours, visit www.pfchangs.ca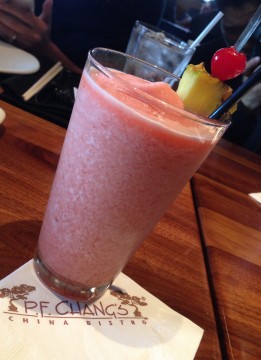 On a side note: P.F. Chang's China Bistro has mentioned that dietary restrictions, food allergies, and aversions are accommodated. I have an allergy to certain shellfish and their kitchen had mentioned they could use a vegetarian style oyster sauce instead of the normal oyster sauce. Good to know!
So, tell me, where do you go for chinese food?
This post is not sponsored, nor was I compensated. I was invited to sample the items on P.F.Chang's 'The Perfect Lunch' menu for review purposes only.  All opinions are my own.