Canadians love a good Caesar, but what exactly  in a Caesar? Clam juice, tomatoes, horseradish, Worcestershire sauce, hot sauce, and seasonings. I've never been patient enough to get the measurements just right at home and have relied on bartenders to mix me up this concoction that makes me feel like I am making a healthy drink choice (it's healthy right?) But a good Caesar mix is no longer hard to find!
Walter Caesar Mix is Canada's first premium, hand-crafted Caesar mix that's ready for your convenience. Just add your desired amount of Vodka (or not) and enjoy! The company makes small batches of the mix using all-natural ingredients to perfect the taste, pleasing Caesar lovers everywhere. The mix is made with no MSG, no artificial colours or flavours, and no high-fructose corn syrup.
There are two strengths of the mix available: Mildly Spiced and Well-Spiced. Both are very smooth and even my kids enjoy it (sans alcohol of course)! It's a cleaner taste than others I've tried. But feel free to take it up a notch!  On a recent cold winter's  night I wanted a bit more heat so I added even more hot sauce and fresh ground pepper. Soooo good!
Walter Caesar Mix  can be found at over 600 select B.C. and Ontario grocers, specialty food and gift shops, restaurants and bars.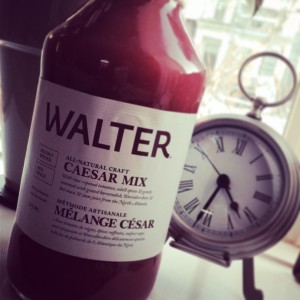 Fun Facts about the Caesar:
The Caesar was invented in 1969 by restaurant manager Walter Chell of the Calgary Inn.
The Caesar is often called a Blood Caesar.
In 2009, the Caesar celebrated it's 40th anniversary.
The "Best Caesar in Town" competition is held each year as part of the PEI International Shellfish Festival.
A similar drink in the US is the Bloody Mary only they don't use clam juice but straight up tomato juice.
The Caesar is traditionally served in a salt rimmed glass with a celery stalk.
Here's a delicious recipe with a twist! Perfect for those final days of summer!
THE MEXINADIAN
Ingredients:
Caesar:
1.5 ounces white tequila
5 Ounces Walter Craft Caesar Mix – Well Spiced
4 Lime wedges cut in half  (1″ cubes approx)
4 Cucumber cubes (1″ as well)
6-7 Cilantro stems, leaves on
To taste:  your favourite Mexican Hot Sauce (recommended: Tapatio)
Rimmer:
2 Limes worth of Zest
1 Tablespoon margarita salt
1 Tablespoon Coriander Seed
(Pulse rimmer ingredients in processor or spice blender, until salt is slightly broken down and ingredients are homogenous)
Place Tequila, Lime wedges, cucumber and cilantro in a martini shaker. Using a muddler, crush the ingredients together to release the flavour and fragrances into the Tequila (don't be shy – the more crushing the better!)
Add your 5 ounces of Well Spiced Walter Craft Caesar mix to the shaker and pack full with ice. Stir until thoroughly mixed and shaker tin is cold to the touch.  (Note – with all respect to Mr. Bond's martinis, we don't recommend "shaking" with ice as this "bruises" the tomato and tends to make the drink bubbly.)
Strain over fresh ice (big finesse point here for presentation and perfect consistency) into glass rimmed with lime and your house made rimmer. Garnish with Lime Wedge, and one stem of cilantro for presentation.
ENJOY!