"Can we have French toast with bacon for brunch, please?"
Oliver's eyes always gleam when he asks me for foods like this, and I'm obliging him, as a Last Request. He knows what kind of yummy it's going to be. And he knew after that special stop at the one grocery store that carries the gorgeous challah bread we love, that he could ask me for this in the coming days. (Sure it's great for regular toast, but it's outstanding for French-toast-making-purposes.) He also knows as far as breakfasts like these are concerned, his days are definitely numbered.
"Okay, but you'll have to have it with ham… bacon is on the shopping list."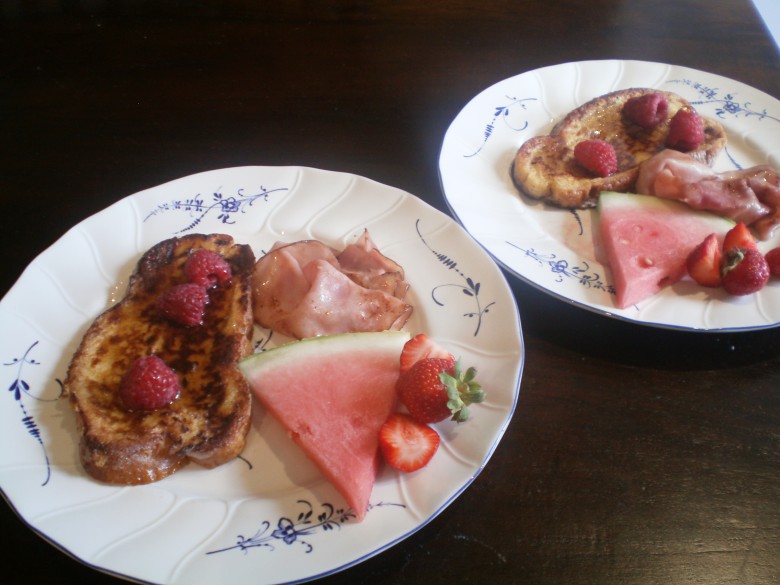 Also, my fridge is sans bacon. I don't quite know… how… this happened… (We always have pancetta, but it's not the same.) It's definitely time for a re-set around here. The fridge, the pantry… the closets… all of it.
"And Oliver? It's the last of these kinds of foods after tomorrow… weekends only. Maaaaybe. And only if you're nice to me." *winks*
I'm kinda done being the beck-and-call-girl for these turkeys. Servitude can suck it. #schoolstartsWednesday

Pro tip: Make a batch of French toast (or pancakes, for that matter) and freeze the left over portions – just pop a slice into the toaster (watch for burning!) for a quick nosh whenever anyone has a hankering. Throw some fruit on it, et voila – gorgeous, magazine-worthy breakfast. And I never thought I'd say this, but bacon is optional.
What do your kids like for breakfast?