Before you read any further, you should know that the recipe below is not the one I was intending to write tonight. I was intending to provide you with the yummiest, most decadent recipe for apple butter. I was intending to come home, peel and chop some apples and slowly simmer them as the warm, sweet smell of apples, cinnamon, and maple syrup enveloped my house.
Unfortunately, my domesticated daydream screeched to a halt when my housekeeper placed an emergency call to me at school.  This was an unprecedented move. Here's what she said:
"I went into the basement to check on the laundry and it was all wet!"
What was all wet? The laundry? The machine?
"The floor! There is water everywhere! And it won't go down the drain! And it's in the bathroom too. And it's in the cold storage room too!"
I told her to sit tight. That I'd be right home.
Six minutes later (even though my school is 10 minutes away) I pulled into my driveway just in time to see her dumping a bucket of water into the street. It would be the first of many buckets of basement water to be dumped in the street.
In between all that water-dumping, we placed an emergency call to our plumber. The good news? Our pipes were clean and in mint condition. The bad news? The main water line that drains water from our house to the city sewage system has collapsed and because it's beyond our property line, only the city can fix it.
So we placed a call to 311-the number you call if you live in Toronto and you have a problem such as this. More good news: our emergency is the highest priority and they'll be here ASAP (read: about 4 hours). More bad news: until then, there's no water. No hand washing, no teeth brushing, no toilet flushing, no showering, and certainly no apple butter-making.
And yet my dedication to the culinary arts continues. Like every good cook, teacher, & mom, I've always got a Plan-B trick up my sleeve. The name of this trick? Taleen's Mom's Olive & Walnut Salad. So sit back, relax, and read on:
I first encountered this salad while on a field trip with my friend and fellow teacher, Taleen. While the rest of us were stuffing our pie-holes with greasy fries and wings while supervising kids on a field trip, she was enjoying the strangest homemade concoction of walnuts, olives, and peppers. She offered me a taste. It was outrageously delicious. She said her mom made it all the time and then gave me the recipe. I made it, I loved it, I made it again, I loved it again, and then I lost the recipe. I tried to Google it based on the ingredients and came up snake-eyes. Thus, I was unable to make it until school was back in session and Taleen and I were reunited. Within 24 hours, I was once again enjoying the salad. I know you will, too.
Taleen's Mom's Salad (aka: olive & walnut salad)
Perfect for potlucks and buffets, this salad is gorgeous, delicious, easy to prepare, and chock-full-of healthy fats. It's great for make-ahead as the flavours intensify as it sits.
Ingredients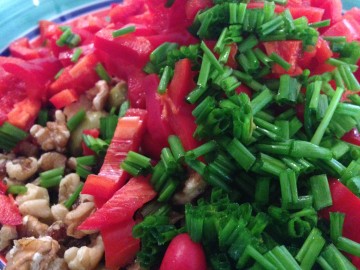 1 can each of sliced black and green olives.
2 bell peppers, diced (I used one red and one orange)
1 cup of roughly chopped walnuts
1/2 cup chopped chives
1 cup chopped parsley
juice & zest from 1/2 a lemon
2 tbsp olive oil
pepper to taste (but NOT salt)
Directions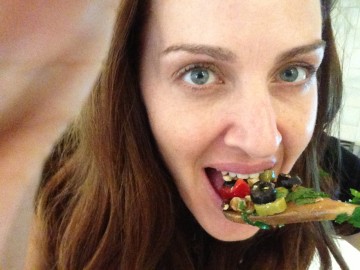 1. Drain and rinse the olives. Well. They're pretty salty and you wanna get rid of as much of it as possible.
2. Mix the olives up with everything else.
3. Cover and chill for at least an hour before serving. Try not to eat it all before serving.