When I was younger I can remember winding down the summer vacation with a visit to the Canadian National Exhibition (CNE). My parents would always take us kids as a treat before school started back up. I can recall the whirling noise of the Alpine Way ride and the "carnies" trying to get kids to beg their parents for a chance to win a prize along the Midway.
I was born and raised in Toronto and as long as I can remember, the CNE was always part of my summer. Every year we would go and wander through the Better Living Centre and check out the latest products. We would spend lots of time in the Food Building — back then it offered endless free samples… who remembers LOLAS? Of course, I've always loved visiting those guys who always tried to guess my age.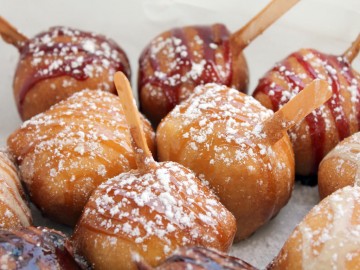 Then as teenager, I can vividly remember going with friends and boyfriends throughout the years.  It was like a scene out of GREASE. We'd have a blast and stay out late and ride the rides. It was so much fun before heading back to school.
I've carried on that tradition with my kids. Now at 9 and 14 they still ask when we plan to go.  We plan on a full day and wander through the different buildings, take in a few rides, play a few games (I am a legend at whack-a-mole) and taste some of the novelty foods. We always check out the agricultural building to see the piglets and chicks. If we can, we would even find last minute tickets to a Toronto FC soccer game or see what musicians are playing at the Bandshell.
If you're planning to head down to the CNE this year, here's are a few highlights!
PAN AM Sport Zone: This fun area will feature a variety of interactive sports activities. The outdoor attraction will celebrate the upcoming 2015 Pan Am and Parapan AM Games including scheduled athlete meet and greets.
FANDOM EXHIBIT AND SAND SCULPTURE: Displays of fan-made replicas of movie-style props, collectables, costumes, photographs… the list goes on in this unique exhibit that pays homage to pop culture through the eyes of fans. You won't miss the 100 tonne sand sculpture created by Karen Fralich that includes Star Wars characters!
SKETCH: A brand new music, entertainment and live-art installation stage comes to the CNE at the Warehouse Outlets in the Direct Energy Centre. Performances by a team of local DJs, musicians, dancers and urban visual artists is scheduled.
GOURMET KITCHEN: This new feature in the AT HOME Pavilion will showcase great resources for the home chef including gourmet foods, preserves, jams and more. This 105,000 square feet of home related products will also include home decor and lifestyle.
CELEBRITY EXPERT STAGE:  in the AT HOME Pavilion will feature live demonstrations and chats with some of North America's top experts in food, fashion and home improvement, like Jeanne Beker and Candace Olson as well as North America's top chefs including Michael Smith.
DISCO DOGS: The President's Choice SuperDogs Show is always a family favourite. The show features talented and adorable dogs in a show that can't be missed. Note: the show has been relocated to the Ricoh Coliseum.
FOOD TRUCK FRENZY: Yes, you have the food building but the CNE hosts one of Canada's largest food truck rallies on August 22 to 24.
KIDS'S WORLD: This area is designed for younger kids in mind with rides, games, activities and entertainment that caters to this age set. fun includes pizza making studio, art studio, circus school and more. Appearances by popular TV characters like Dora and Mike the Knight are also scheduled.
FOODIES: Of course everyone is wondering what the novelty food will be this year. We're eyeing S'mores Bao from by Far East Taco (bao is chinese for bun); Thanksgiving Waffle sandwich from Fran's Restaurants; Crowbar from Hula Girl Espresso (croissant pastry with chocolate bar baked inside – Kit Kat, Caramilk etc); and the Spicy Peanut Butter Sriracha rolls from Fran's.
There's LOTS more to see and do, so be sure to check out the schedule online before you go!
SPECIAL FAMILY NOTES:
If you want to avoid long line ups and massive crowds like we do, plan on going earlier in the week and earlier in the day. Mondays to Thursdays are ideal. Nights get busy with the afterwork crowd and teens although the Midway lights against Toronto's cityscape is breath-taking.
If you're in Toronto, remember to dig out those free kids' admission tickets that were handed out by the school boards with the June report cards! I just found mine!
If you need a quiet and private space to change and nurse your baby, there are Baby Care Centres located in Kids World and at Guest Services Baby Care Centres (salon 102 in Hall A of the Direct Energy Centre) and at the Better Living Centre.
Wagon rentals are available (it can be a lot of walking for little ones) at Information Booths located at main entrances. Cost is $10 rental with $50 deposit. ID required.
CNE staff wear uniforms with photo ID tags. When you enter the CNE Grounds brief your child to look for official staff, police and information booths should they get separated from you. There are Found Children Centres located in Guest Services in two locations.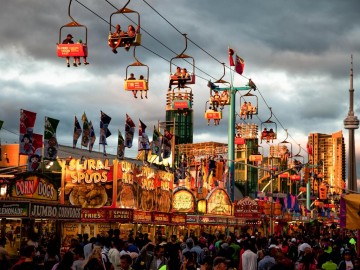 The Canadian National Exhibition runs from August 15  to September 1, 2014
Purchase tickets  before August 14th and SAVE!
General Adult Admission Ride All Day Pass** $12 ($6 savings) $36 ($2 savings)
General Admission (14-64): $18
Adults 65 & Better: $14
Children (13 and under): $14
Children 4 and under: FREE
CNE Family Pass: $50 (2 adults and 2 children or 1 adult and 3 children)
Ride All Day Pass**:  $38 (rides only;  does not include admission)
**Zip Line is not included in Ride All Day Pass. Zip Line is $20 per ride.
For more information, visit www.theex.com
I'll be heading there with the kids for sure! Follow @urbanmomsca on Twitter and on Instagram, as we'll be sharing some fun stuff!  What's your CNE Tradition?