One day I was rushing around getting the kids off to school. I didn't have much time other than to throw on a touch of lipstick and my sunglasses. My hair, as always, was one hot mess — (translation: I was out the previous night and rolled it into a bun thing and woke up with "natural" beachy wave. Yah, whatever).
After dropping them off and returning home, I found a box at my doorstep.
I opened it and realized it was an invitation to have breakfast with a sweet, good-looking Italian. I felt my face turning a little red with embarrassment . Well, as you know, I'm a happily married woman and I have a enough to eat at home!! ….sorry, I couldn't resist using the quote of the day.
But I felt I couldn't just toss this invitation aside. It caught my attention but I wanted to discuss this with hubby. I knew he was busy at work already but I called him anyway.
He told me he understood and it was okay with him.
He told me to take the time and  enjoy…this time.
What would you do?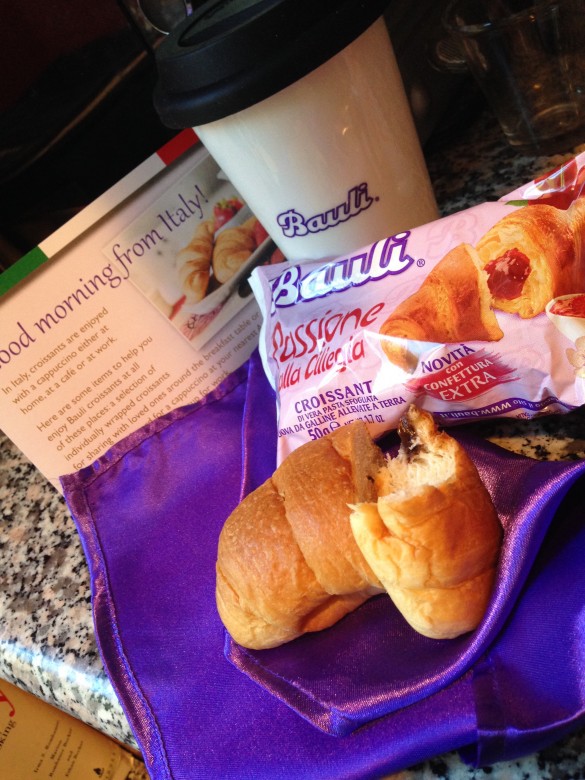 Bauli is one of Italy's most loved brands of baked goods. Now it's available in Canada. When I had posted photos of my introduction to this sweet Italian, several friends had commented about how they enjoyed the pastries when they had travelled through Italy.
Bauli is connected to shared moments of sweetness, pleasure, joy and tradition. "That's what we'd like to bring here," says Joe Buttigieg, Managing Director, Global Appetite. "People love Italy and the Dolce Vita way of living and these products symbolize both." Food is a moment that should be pleasurable and relaxing…and a little sweet!
Bauli croissants are distributed exclusively in Canada by Italpasta Limited and can be found at fine retailers across Canada. For more information visit the Facebook page at www.facebook.com/BauliCanada 
This post is not sponsored, nor was I compensated. I will not apologize for indulging in this sweet moment.