Fries are my weakness. Yes. I admit it. If I see poutine on a menu I'll most likely gravitate (and levitate) to that first. I'm not kidding. But it's a treat… yeah, yeah. But we don't eat too much fried food in our family. We avoid it since we all know that the fats and such aren't good for us in the long run. Not only that, often these foods just don't sit well in our tummies.
Recently Philips had asked if I was interested in testing out their Airfryer. What? I was super curious. I'm always interested in new gadgets and if it's a way to enjoy something a little healthier I'm all for it. BUT it cannot compromise taste and texture. So, I agreed to take it for a test run for a month and see what this baby can do.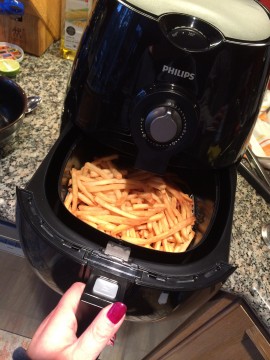 I knew I could make fries… pfft… no brainer. It's probably the one thing that everyone would use it for. When I read the instructions I wondered "why would I use this when I can use the oven to bake frozen fries?"
Well, last night I hummed and hawed about making the fries to go with our home made burgers, because did you notice? Spring has finally arrived and we were all craving barbeque burgers! So, no joke… I immediately turned on the oven but then realized that hubby had put the burgers on the grill. Timing is everything.
I quickly plugged in the Airfryer and within three minutes the machine was warmed up. I tossed the frozen fries into the basket and set the timer. The fries came out perfectly crispy AND they were made with NO OIL! We were thrilled.
But as mentioned, I need to know what else this baby can do… because we cannot live on fries alone!
So I flipped through the cookbook that came with the machine and  I made fried chili shrimp. Easy and impressive. I used a teaspoon from a jar of spices that was brought back from Napa Valley recently. It took 30 seconds to toss the spices with the fresh tiger prawns from the market and 8 minutes in the machine. Done… and cooked perfectly!
What else do you want to know? You won't have that greasy oil smell in your kitchen either! The temperature and timing functions are straight forward to use and  the machine is easy to clean. Thank goodness!
My next mission… to see if I can come up with my own recipe. Stay tuned!
The Airfryer is unique way to enjoy healthier "fried" foods. But it's not just for frying! You can also grill roast and even bake. Using Rapid Air technology, the machine circulates hot air around a mesh cooking basket so it requires little or no oil. What I've made so far has been cooked evenly. For more information about the Philips Airfryer visit www.philips.ca.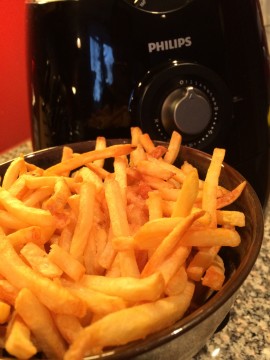 This post is not sponsored, nor was I compensated. The Philips Airfryer was provided for trial and review purposes only. All opinions are my own as always!