It's been a busy few weeks here in the city with all the get togethers. I swear my diet will start after the holidays! My good friend Katya and I have had our social calendars mash up a few times. But Katya and I love to linger when we are out and we try to find time to rest our heels in between events. Did I ever mention that we LOVE to eat?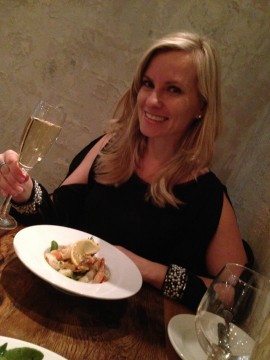 We choose our restaurants according to the following criteria: a) great food b) amazing service c) lingering time. We hate to be rushed because WE HAVE SO MUCH TO TALK ABOUT every time we're together! So, in between all our shenanigans, we managed to sneak in a dinner recently and checked out a new Italian hotspot Destingo on Queen Street West in Toronto.
There are a few cuisines that are universally loved. Italian is one of them. Whether we dine with friends or with family, we often gravitate to the comforts of honest dishes.
Destingo Modern Italian Kitchen is one of the newest resto in Toronto and offers the kind of atmosphere of dining dining amongst friends. It reminds me of a recent trip to Italy where we would stumble upon a local eatery and everyone wants to feed you. Like any good Nonna would!
The name "Destingo" means "destined to go" and was the idea of Monika Vacca, former co-owner of Vaticano in Yorkville. Monika brought in former sous-chef Arshad Uwais who apprenticed for  executive chef Felice Vacca. Felice has been creating some of the best Italian food in Toronto for the past 10 years. Here at Destingo, you'll find some familiar dishes only with a slight contemporary twist in a more casual and relaxed setting.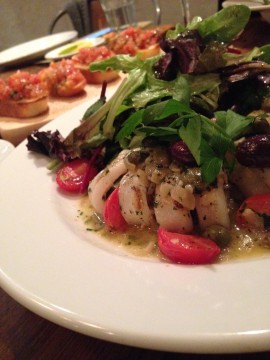 When I had reserved ahead of time they took note of my allergies to shellfish. Nice knowing that they make the efforts to deal with food allergies and dietary restrictions! The menu had a great selection of appetizers, salads, pastas, pizzas, risottos, meats, and desserts of course. The selection had our mouths-watering and our eyes wide. The choice was so great that we decided we could share most of the dishes. The owner didn't mind that at all! The portions were definitely enough for the two of us to share.
As we raised a glass of delicious Prosecco (which you can order by the glass or bottle), fresh bruschetta came to our table and our first courses. I had my heart set on the grilled calamari appetizer as soon as I locked eyes on it. Perfectly cooked and seasoned — I enjoyed every morsel. I could have stopped right there. It was THAT good! I still salivate at the thought of it. Then the owner came around and suggested a few other dishes. It all sounded so good and so…well, we were in it to win it!
I had heard from a few other friends that the mushroom risotto was incredible here so we quickly agreed on that dish as well as a veal scallopini that was so tender! I swear if we could have fit more into our bellies we would have! But you know, we had to save room for dessert!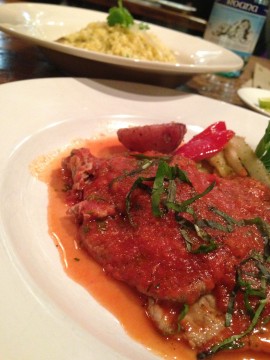 Wait…back track ..that mushroom risotto lived up to the rave reviews! Slightly al dente like it should be and not like the disappoint mush that I've experienced at other restos. And real threads of saffron?! Now this is seriously good!!!! Again, I'm craving at the thought of it.
The Tiramisu came to the table much to our delight! Moist and delicious. It was probably the best we've ever inhaled ate. We had to share but next time….I'll get my own!
If you love the comforts of  really delicious Italian home cooking then this restaurant is definitely worth a visit.
Destingo Modern Italian Kitchen is located at 741 Queen Street West, Toronto. They are opened for breakfast, brunch, lunch and dinner.
Visit www.destingo.ca and be prepared to drool over the menu and wine selection.
 Buon Appetito! 
Side Notes:
Comfortable for families with kids but also great for date-night!
Individual and spacious washrooms.
Wheelchair accessible – restaurant is street level with ample room between tables.