I admit that a road trip to Connecticut never really crossed my mind. Until now. Connecticut is known as a family friendly state rich with history, arts and culture. It's somewhere worth exploring if your family enjoys road trips. Located just within a couple hours drive from Boston and New York, Connecticut offers many attractions for families. I'll be offering up a few ideas in an upcoming post.
Remember the movie Mystic Pizza starring Julia Roberts? Well, the real Mystic Pizza that inspired the story written by Amy Jones is located on Main Street in Mystic, Connecticut!
Recently I was invited to get a "Taste of Connecticut" in Toronto hosted by the U.S. Consulate and the Connecticut Tourism Board. Here I had a chance to savour some delicious recipes made by the State's finest chefs. I had no idea that Connecticut has such culinary offerings. In fact, the Tourism Board offers up an entire Foodie Travel Map in and around Mystic Country that includes everything from their famous fine dining to Micro-breweries and Clam shacks.
While you wait for the rest of the post on Connecticut…here's something that is soooo delicious. It's so good and honestly one of the most delicious New England Clam Chowders I've ever had the chance to taste in my lifetime and I've tried a few! Our family travels to Boston often so we absolutely get our fill whenever we are there! But this is divine!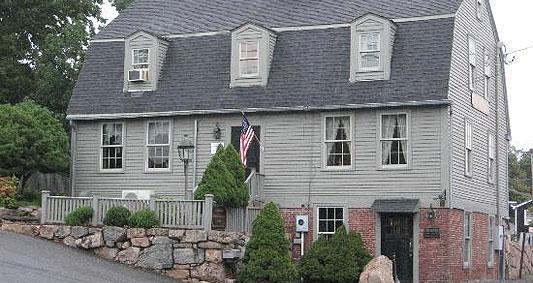 CAPTAIN DANIEL PACKER INNE NEW ENGLAND CLAM CHOWDER
Ingredients:
1 cup celery, diced
1 cup yellow onions, diced
1 Tbsp garlic, chopped
1 tbsp good olive oil
1/4 cup sherry
1/2 cup dry white wine
1/2 gallon water (equivalent to 8 cups or 64 oz)
1 tsp dried thyme
1 tsp dry basil
1 bay leaf
Roux (3/4 cup salted butter, 3/4 cup flour)
2 cups chopped clams, drained
2 cups red bliss potatoes, diced 1/2 inch cubes
1 tsp clam base
salt and pepper to taste
Directions:
1. In a stock pot, saute celery and onions in olive oil until onions are transparent. Add sherry, white wine, garlic, thyme, basil and bay leaf. Let cook for 3 minutes. Add water and bring to a boil, then simmer.
2. In a separate sauce pot, melt butter and whisk in flour a little at a time until well blended. Cook on low heat for 15 minutes stirring occasionally.
3. Bring stock back to a boil and add clam base and roux a little at a time until stock is thickened. Add potatoes and drained chopped clams, Cook for 20 minutes on low stirring occasionally. Add salt and pepper to taste.
Recipe provided by Captain Daniel Packer Inne Restaurant & Pub, Mystic, Connecticut, and the Connecticut Tourism Board.