In 2017, Chinese New Year falls on January 28th—but the celebrations will last long after Saturday night. The festivities actually span two weeks based on the Lunar calendar. The festival involves getting together with family and friends, lots of eating, and plenty of well-wishing for the upcoming New Year. Many Asian cultures celebrate it—in fact, roughly a sixth of the world is expected to observe Chinese New Year.
So what is it all about and how can we mark it?
In Chinese culture, the food that is eaten holds significant meaning, particularly over this special holiday. Noodles and dumplings are considered lucky foods and are a must-eat during the celebration period! Noodles symbolize longevity in Chinese culture and are served during the New Year to wish everyone a good, long life. They can be eaten in any way—stir fried or in a soup. But NEVER cut the noodles (and, yes, slurping is permitted!)
Dumplings symbolize wealth and prosperity because they are shaped to look like traditional Chinese ingots. Ingots were used as currency many dynasties ago and came in numerous different precious pure materials including gold and jade. Chinese people eat dumplings in abundance and wish for good fortune for the year to come.
For a fun weeknight or weekend dinner, you can certainly make your own dumplings. I've posted a delicious recipe here. However, if you're stretched for time, you can pick up frozen dumplings (chicken, pork, and vegetable)…look for T&T brand dumplings. They're great and take just minutes to cook. Boiling them for a noodle soup is fastest but you can also try pan-frying to give them a crisp outer shell.
For Chinese New Year, I'm making a quick and delicious Dumpling Noodle Soup with the kids. It's comfort food in a bowl. I always make extra dumplings as the kids can't seem to get enough! All ingredients in my family recipe can be found at your local No Frills or Real Canadian SuperStore. I also encourage you to bring the kids to the store so they can check out the displays now.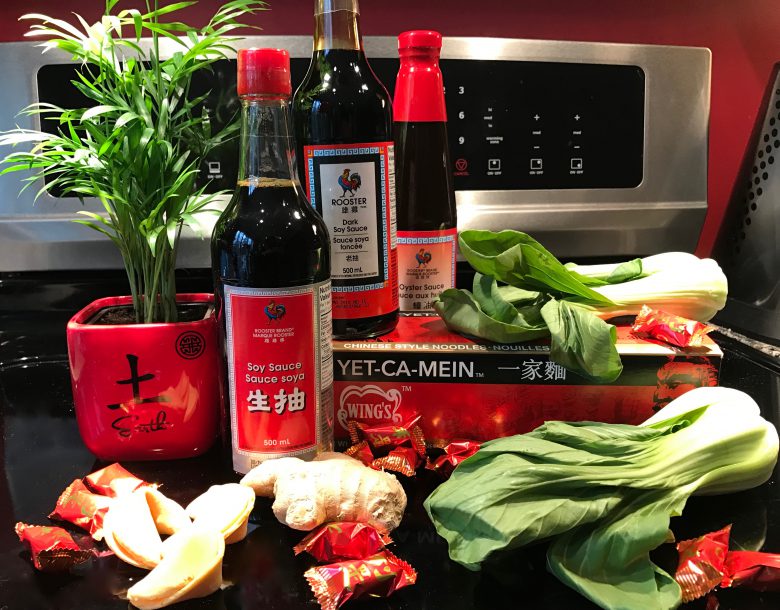 CHINESE DUMPLING NOODLE BOWLS (for 4)
1 package of frozen T&T Chicken, Pork, or Vegetable dumplings
8 cups of homemade chicken broth, or low-sodium chicken broth
2 slices of fresh ginger (peeled and cut into matchstick size)
1 tbsp Rooster brand soy sauce
1 tsp pure sesame oil
1 tsp granulated sugar
1 scallion (sliced into thin slivers)
1/2 cup of carrots (cut into matchstick size)
2 bunches of Shanghai Bok Choy (or substitute with napa cabbage, baby bok chop or spinach), leaves washed and separated from the stem
1 package of Yet-Ca Mein (or substitute with fresh udon or egg noodles)
Directions:
Dumplings: Follow cooking instructions on the packaging.
For Soup:
In a large pot, add chicken broth, ginger, soy sauce, sesame oil, sugar, and scallion. Bring to a slight boil (about 10 to 15 minutes)
Turn down heat to medium, add bok choy to the broth in the pot and cook for 1 minute. Remove cooked bok choy and place in a separate bowl
Add noodles (portions similar to when you make pasta) to the broth, turn the heat back up to high and boil. Note: Yet-Ca Mein cooks quickly in about 6 minutes and you will want it Al dente in texture
Turn off the stove and move the noodles into a bowl. Add the cooked bok choy and dumplings on top of noodles. Pour broth over the meal. Serve and enjoy.
Side dipping sauces:
Rooster brand Oyster Sauce
Sriracha Sauce
Option: Add a halved soft or hard-boiled egg to the noodle bowl, or add in sliced water chestnut for a sweet crunch.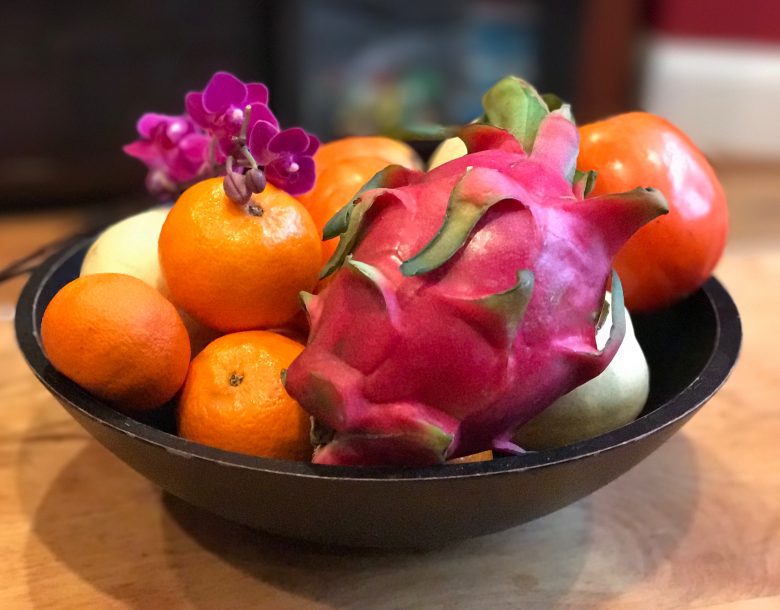 Other tips on how to celebrate the Lunar New Year…
FRUITS: These are not only eaten but often on display in the home, as well as gifted to friends and family. Tangerines, in particular, represent prosperity, and it's best to buy them with stems—which symbolizes fertility. Pomegranates represent happiness and—because they are filled with seeds—abundance and hope. Pomelos look like large grapefruit and are thought to bring good luck to a home. Grapes and plums, because of their roundness, represent infinite good luck.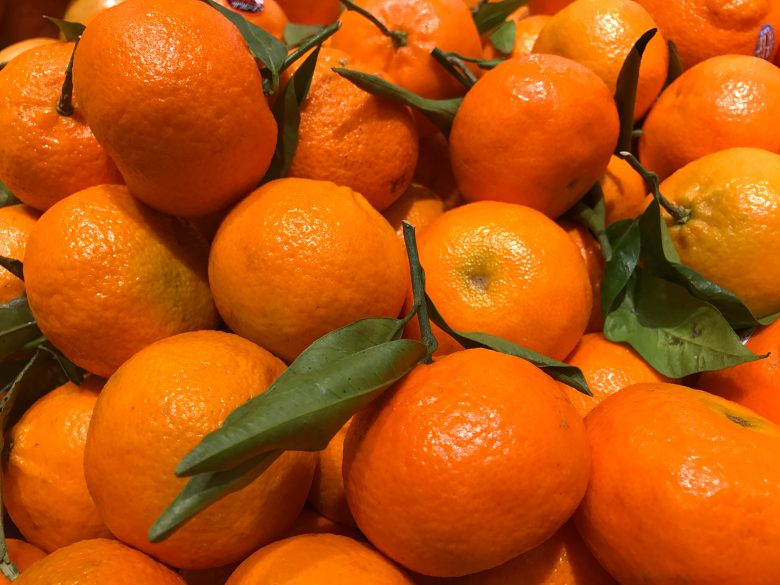 FLOWERS: Orchids are popular gifts as they are a symbol of fertility and children. Because this plant requires special care, it signifies beauty and needs attention in order for it to flourish. Pussy Willows represents growth and coming prosperity because of its many buds on the stems. Young bamboo and other jade-colour plants also help to bring good luck into the home.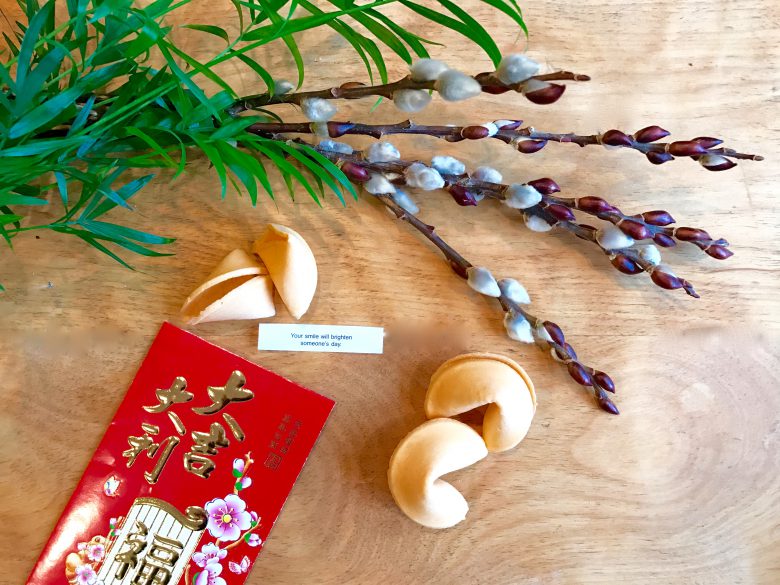 RED & GOLD: These are the colours of Chinese New Year and are often worn to ring in the New Year. Red symbolizes good fortune and gold for wealth. Children are given red packets of lucky money ('lai-see') from adults during the holidays, along with wishes for good health, happiness and good luck for the coming year.