If there is one thing that is synonymous with Mother's Day it's got to be brunch. There are tons of spots to take in brunch in the city but for Mother's Day I'm eyeing some of the prettiest, most memorable tables in Toronto. I tell my family that I don't need anything really and I don't want them to stress… but a pretty brunch spot with great food is always welcomed. Be sure to make reservations now because everyone will want in.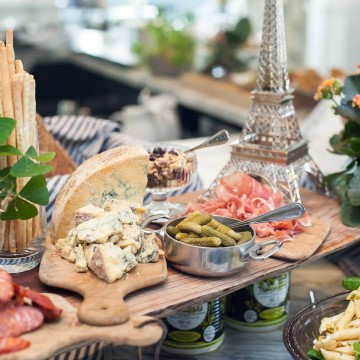 Colette Grand Cafe (55o Wellington Street West): Located in the Thompson Hotel is this gem of a restaurant with modern French fare. The decor transports to you France and celebrates the elegance and simplicity of French cuisine. Food is exceptional and so is the service. Weekend brunch is always beautiful here.
Shangri-La Hotel (188 University Avenue) : Moms like me love spending time in hotels (makes me feel like we're away if only for a few hours). Mother's Day Afternoon Tea in the Lobby Lounge will offer 3 seating times. There are over 68 kinds of tea in their tea library. BOSK restaurant at the hotel is where guests can also treat mom to a glass of Rose sparkling wine at $15 or a glass of Champagne at $17. Mother's Day features will happen for three days (May 8, 9 and 10) If you haven't visited there, make note of the live piano music that will play throughout the extended Afternoon Tea service! Worth checking out!
Casa Loma (1 Austin Terrace): is a great choice for the Queen of the family. Set in the historical castle in the city this brunch is full on impressive including a seafood bar. The restaurant includes a spectacular view of the gardens and who doesn't want to dine in a castle?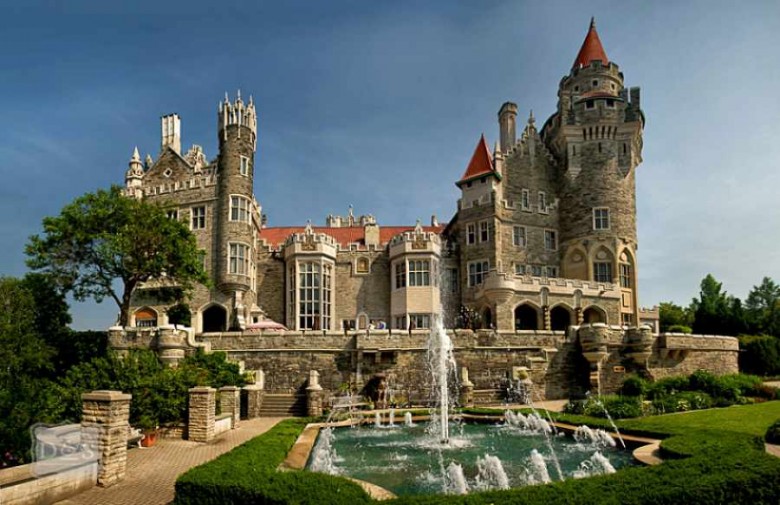 MoRoCo Chocolat (99 Yorkville Ave.) is discreetly tucked into a cove along the bustling busy Yorkville area. A la carte brunch menu is ideal for those who don't want to over indulge. Make room for desserts. Afternoon Tea seatings also on Mother's Day with portion of the day's sales going to Camp Ooch – a camp for children with cancer.
America Restaurant Trump Hotel (325 Bay Street): Mother's Day family brunch is happening here in  way up on the 31st floor as well as the Grand Ballroom in the Trump Hotel. Grand Ballroom Brunch is complete with family-friendly food stations with choices for every generation. Fresh baked pastries, made to order omelettes, carving station, artisanal desserts and more.
Four Seasons Hotel Vinci Ballroom (60 Yorkville Avenue): On significant days like Mother's Day, the hotel rolls out the food stations for mom and families. Complete with entertainment and an interactive dessert station this is definitely  one of the chic-est and most sophisticated brunch option in the city. Spa offer  also included for moms celebrated here on this day.
Cafe Boulud (Four Seasons Hotel, 60 Yorkville Avenue): Inspired by Internationally acclaimed and Michelin-starred Chef Daniel Boulud's French roots, this restaurant is already a family favourite for us. A delightful three course prix fixe menu will be available for Mother's Day. Children's menu also available. Kids love the colourful pop art around the dining room.
A La Cart at the Gardiner Bistro (Gardiner Museum, 111 Queen's Park): located on the third floor Terrace Room this modern restaurant has a stunning view of the city. High ceilings and tall glass windows shine natural light into this beautiful space. While no specific menu is created for Mother's Day, the brunch is wonderful and worth tieing in a wander through the Ceramic Museum. The current featured exhibition "Women, Art & Social Change: The Newcomb Pottery Enterprise" is a rich story of the entrepreneurial women in this Smithsonian exhibition that is making this the only stop in Canada on its North American tour.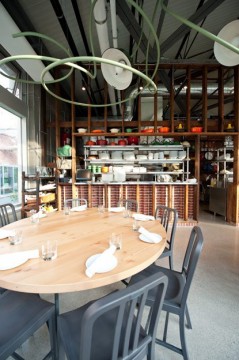 Cafe Belong (55o Bayview Avenue, Evergreen Brick Works): Its rustic charm and beautiful casual nature setting is hard to beat in the city. Chef Brad Long is a celebrated chef that sources from local farmers and producers with an appreciation that we're all connect to each other and the food we eat. Inspiring dishes with a focus on organic and brunch here is not only naturally pretty but pretty special.