The warmer weather is here and that means more time for friends and family! We often hold a neighbourhood soiree and  multiple BBQs in this busy entertaining season. Aside from offering the usual drinks we like to have a "drink feature" for each of our events. I've had so much fun trying out a few new *adult* recipes recently and here are the ones that really stood out for this season! As always, please serve and drink responsibly!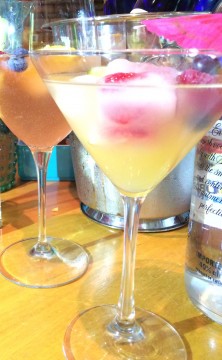 PINEAPPLE COCONUT TROPICAL DAIQUIRI
1 cup granulated sugar
ice cubes
1/3 cup PC Pineapple Coconut Water
3 tbsp white rum
2  tbsp fresh lime juice
Method:
1. To make simple syrup: In small saucepan, combine sugar and 1 cup water; bring to a boil. Reduce heat to simmer; cook for 5 minutes or until sugar is completely dissolved. Cool to room temperature.
2. Half-fill cocktail shaker with ice cubes. Add coconut water, rum, lime juice and 2 tbsp of the simple syrup. Shake vigorously for 20 seconds. Strain into two martini or white wine glasses. Refrigerate remaining simple syrup for up to 2 weeks.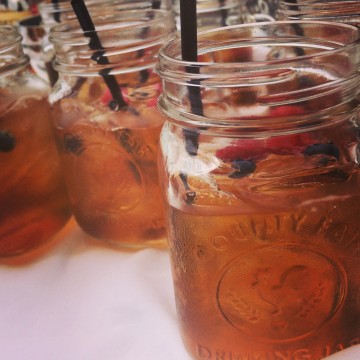 PURE LEAF BERRY BOURBON ICED TEA
1.5 ounces bourbon
2 raspberries
2 blackberries
4-6 dashes of peach bitters
Pure Leaf Lemon Iced Tea
Ice
Mint sprig
Method:
1. Muddle the berries in the bottom of a wide-mouth mason jar.
2. Fill the mason jar up with ice cubes. Pour the bourbon over the ice and add the bitters. Mix well, and top with the Pure Leaf Lemon Iced Tea. Stir well, and garnish with a mint sprig.
vitaminwater's refreshing "squeezed" lemonade
1 cup of vitaminwater  "squeezed" lemonade (b-zinc)
1 shot of gin
1 spring of rosemary
ice
Method:
1. Pour gin into tall glass filled with ice. Fill to brim with vitaminwater "squeezed" lemonade
2. garnish with rosemary.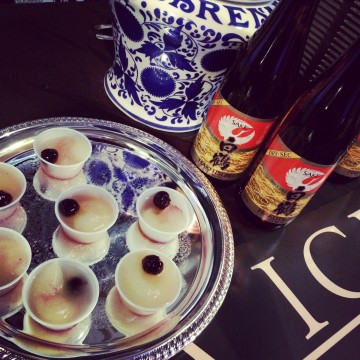 SAKURA ICE
1 bottle of sake (750 ml)
1 can of pears in syrup
1L of simple syrup (1:1 water and sugar)
250ml fresh lime juice
10 leaves of basil
Method: Blend, strain with cheesecloth, and set on the second or third level of the machine, depending on the texture desired (colder = thicker) .Garnish with a Marachino Cherry.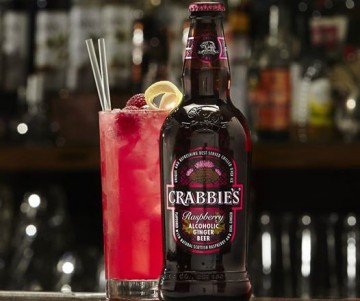 CRABBIE'S RASPBERRY COLLINS
4 raspberries
25 ml lemon juice
50 ml gin
30 ml sugar syrup
Crabbie's Alcoholic Raspberry Flavoured Ginger Beer
Method:
1. Muddle raspberries with lemon juice, gin, sugar syrup.
2. Shake well into a glass of ice
3. Top with Crabbie's Raspberry Flavour Ginger Beer
4. Garnish with 3 raspberries and a lemon twist