So yesterday was Yom Kippur, the Jewish day of atonement. For most people, this entails fasting for 24 hours in order to reflect on the year behind us and the year that lies ahead. At sundown, we gather with family to break-fast. In my family, this means that each year, a different cousin steps up to the plate and hosts a brunch-like meal of bagels, lox, cream cheese, egg & tuna salads, other salads, and noodle pudding, or kugel (pronounced kuh-gull).
Or more specifically, Aunt Helen's Noodle Kugel (and yes, I meant to capitalize Noodle Kugel).
In my family, everyone has their signature dish: Auntie Rhonda's brisket, Auntie Sari's meatballs, Auntie Mara's chicken wings, Bubby Sharon's chicken soup, Bubbie Arla's fish, Late-Aunt Phyllis's chocolate squares and Auntie Helen's coffee cake. And Auntie Helen's noodle kugel. And-ever since Auntie Phyllis passed away-Aunt Helen's chocolate square.
Is it just me or does Auntie Helen have more than her fair-share of signature dishes?
This year, the break-fast was at my house. It was my daughter's birthday on that exact day and she wanted the whole family over to par-tay. It was supposed to be at Cousin Michael's house, but after barely any arm-twisting, he allowed let us to host. Since it was Maya's birthday, I felt that it was only right if I made the whole meal myself, instead of the usual potluck. Including the noodle kugel.
In the weeks leading up to the Big Night, I had no less than three conversations with Aunt Helen about the noodle kugel.
"Are  you sure you don't want me to make it because I always make it and people will be expecting it?"
"It's not an easy recipe; can you handle it?"
And then finally…
"I'm glad you're making it so I don't have to."
We agreed that she would stick to her famous coffee cake and and I would make the kugel.
Now, I'm not an idiot. I knew enough not to test out a new recipe on the night of the party. I had my own tried-and-true noodle pudding recipe and if I must say so myself, it's pretty darn good.
My family agreed. My noodle pudding was a success. Everyone loved it, had seconds, and brought a giant piece home. And not once, did anyone ask if Auntie Helen made it. My sister even said that once she had the recipe in hand, it would most certainly become part of her dinner rotation.
So sister, here it is:
Not Auntie Helen's Noodle Kugel
This recipe isn't just great for break-fasts, it's also great for breakfasts, brunches, dinners, and best of all, leftovers for the next day. If you're got leftovers, that is.
Time: 90 mins (15 min prep time, 1 hour cooking, 15 min cooling time.) Serves 6 as a main course and 10-15 if part of a buffet.
Ingredients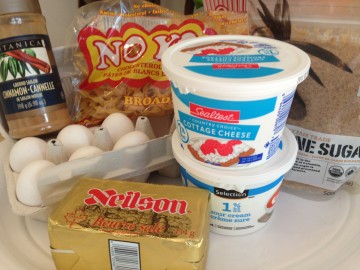 1 container low-fat cottage cheese
1 container Greek Yogurt
5 eggs
1 package broad egg noodles
1 cup plus 1 tsp brown sugar
1/2 cup plus one tbsp butter, melted & cooled
3/4 cup Cornflake Crumbs (or crushed Cornflakes)
2 tsp cinnamon, divided
1 tsp vanilla
Directions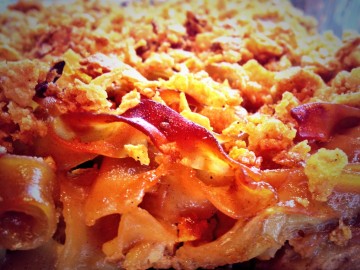 1. Preheat oven to 350 & grease a 9 x 12 glass baking dish.
2. Cook all the noodles until al dente (a little firm when you bite into it).
3. While cooking the noodles, mix one cup of the butter, one cup of the sugar, cottage cheese, Greek yogurt, vanilla, half of the cinnamon, and eggs in a large bowl until well combined.
4. Make the crumb topping: Mix the remaining melted butter, cinnamon, and brown sugar until it feels like wet sand. But not smooth wet sand; the kind of wet sand that has a lot of shell bits.
5. Rinse the cooked noodles under cold water and combine with the egg mixture.
Rinsing the noodles cools them and prevents them from cooking the eggs.
6. Pour the noodle mix into the glass baking dish and sprinkle the crumb topping evenly over, well, the top.
7. Bake for about an hour or until the top is getting brown.
8. Let cool for at least 15 minutes so it cools and sets enough to cut into lovely squares. Alternatively, you can just scoop in out and not care at all what it looks like. Either way, serve with salad or mixed berries or alongside bagels, lox, cream cheese, tuna and egg salads and other salads, like I did last night.
 P.S. If you know Auntie Helen, please don't tell her about this post.