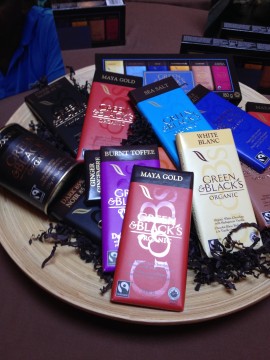 I've discovered a lot of fantastic products in my years as Trend Watch writer, but my discovery of Green & Black's Organic chocolate is one of my favourites. I've long been a fan of good chocolate, and this line direct from England is the world's leader in organic and Fair Trade chocolate.
Recently I was invited to a wonderful event to celebrate this line, and share an exciting announcement. Just in time for the holiday season, they've added two NEW members to its Canadian family of premium chocolate bars with the launch of Sea Salt and Burnt Toffee.
The Sea Salt bar is something very, very special. I love the combination of salt and chocolate, but sometimes find the actual flakes of salt on top of the sweetness a little off-putting. This bar has delicate flakes of sea salt blended right into the creamy milk chocolate bar, resulting in a perfect mix of sweet and salty.
Fans of chocolate with crunch will be drawn to the new Burnt Toffee bar. With amazing pieces of Yorkshire toffee in a rich 60% dark chocolate, this is one taste sensation for the discerning gourmand in your life. You'll feel good about giving these bars because not only are they delicious, they're also chocolate without compromise. From bean to chocolate bar, every step of the process uses only the very finest organic ingredients, Fair Trade Certified cocoa and traditional expert chocolate making techniques.
At the launch event, Chef Lora of Toronto's famous Ruby Watchco restaurant developed recipes using the new chocolate flavours, and after I rolled myself out of the restaurant, I followed to get the recipe of one of my favourite dishes so that I could share it with you…enjoy!
Green & Black's Organic Burnt Toffee Chocolate Peanut Butter Tart
Makes 1 tart, serves 10-12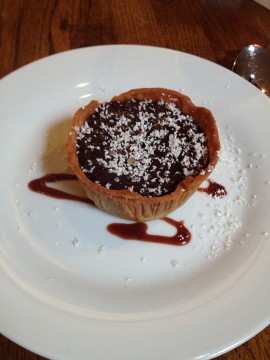 Tart Shell
1 cup unsalted butter, room temperature
2 cups all purpose flour
3/4 tsp salt
4 Tbsp ice wter
Preheat oven to 350 degrees. In a large mixing bowl, cut flour into butter. Add salt and water, mix until dough forms, being careful not to overwork the dough. On a floured surface, roll out dough to fit a 9-inch tart pan. Place rolled dough in tart pan, pressing up sides of pan. Place sheet of parchment paper over dough and cover with a layer of dried beans or rice. Bake for 10-12 minutes, until edges of shell are barely golden and bottom has started to cook. Remove beans or rice and parchment. Let cool completely.
Tart Filling
1 1/4 cup whipping cream
250g Green&Black's Organic Burnt Toffee Chocolate, chopped
1 tsp vanilla extract
1/4 tsp salt
2 eggs
2 cups smooth peanut butter
Over medium heat, bring whipping cream to a boil. Remove from heat. Add chocolate, vanilla and salt. Stir until completely incorporated. In a stainless steel bowl, lightly beat eggs. Slowly whisk in half of chocolate mixture to temper eggs. Add egg mixture to the remaining chocolate mixture and whisk lightly to combine.
Preheat oven to 350 degrees. Carefully spread peanut butter across bottom of cooled shell. Pour chocolate mixture into shell to fill. Bake for 20-30 minutes, until filling starts to set but centre is still jiggly. Let cool completely.
Coffee Caramel Sauce
3/4 cup sugar
1/4 cup water
3/4 cup whipping cream
1/8 tsp salt
1 tsp instant coffee
In a large, heavy saucepan over medium-high heat, bring sugar and water to a boil. Cook until mixture is lightly golden, about 6-8 minutes. Remove from heat. Carefully stir in cream, salt and instant coffee. Return to heat, stirring constantly until mixture is smooth. Remove from heat and let cool slightly.
Pour sauce over cooled tart, slice and serve.
Green & Black's Organic Sea Salt and Burnt Toffee retail for $3.99 in 100g bars and can be found in major retailers across Canada.
I was not compensated for this review, but was provided with samples of these bars which I've been savouring piece by piece and raving about ever since.