Tis the season of entertaining! Our social calendar is filling up fast and we're happy to partake in the fun of the festive season. Like any good guest, I like to bring something to the party and I often offer up desserts. You know, that sweet tooth I have! But what if you've offered and suddenly find that you've run out of time? Whether it's brunch, afternoon social or full-on dinner, here are some fun and delicious desserts in a pinch!
The whole mason jar dessert trend is everywhere and this is an extension to that idea. Yummi! Desserts in a Jar by Baker Street are individual desserts with lids that are fun and delicious. Think layers of moist cakes sandwiched between creamy mousses and icings. Can't finish it in one sitting? No problem! You can re-seal the jar with ease so you can save it for later. There are eight dessert options to choose from including red velvet, tiramisu, and even a gluten-free chocolate mousse! The kids LOVE this dessert. Available at Loblaws, Zehrs, YIG and Valu-Mart.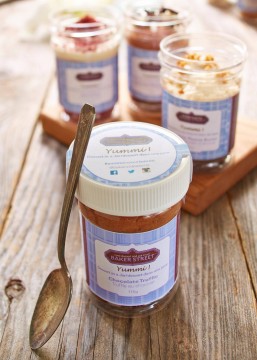 At a recent PC Holiday tasting there were several stand out entries at the dessert table. The PC Black Forest Cheesecake desserts are heavenly. Not only are they incredibly delicious, they also present very well as they come ready to serve in glass ramekins. Great way to finish off a dinner party! Another one that caught my attention are the pretty mini-cheesecake cupcakes with coconut icing. I "almost" forgot to put them out for our party a couples ago!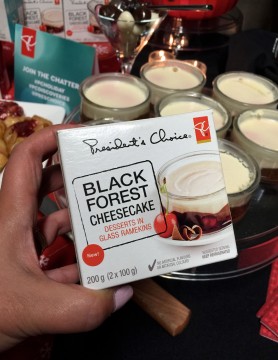 Macarons are gaining popularity and as someone has said to me "macarons are the new cupcakes". These small indulgences originated from France and have gained a cult like following around the world. At our recent dinner party for 20 people I had Butter Avenue (477 Queen St. West and 3467 Yonge Street, Toronto) create a "macaron tower" with several of my favourite flavours. The delicate sweet morsels definitely received much attention as it can also be used as a stunning centre piece. Guests can help themselves by pulling off a macaron to enjoy.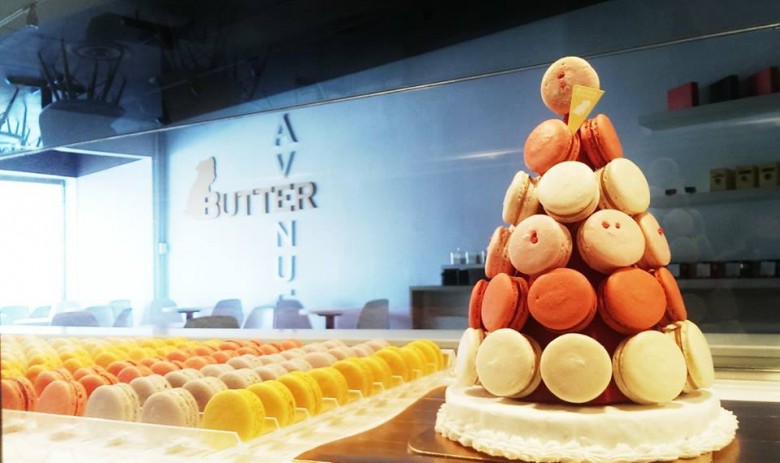 If you think doughnuts are fast food, think again. There's a surge in "gourmet" doughnuts in many cities. I particularly love two bakeries that supply the most creative sweets in the city. The Rolling Pin (3429 Yonge Street, Toronto) offers doughnut creations that will leave you in a state of ecstasy. Some even come with an extra potent shot of sweet goodness in a form of squeezable test tube that you need to use right before eating. Flavours like Coconut Caramel, Tiramisu and Nutella Banana are just a few that will have you salivating. Fun for all ages this holiday seasons.
Jelly Modern (1414 8 St. SW, Calgary and 367 College Street, Toronto)  is another favourite of mine that offers two sizes (they say three bite is the small but it's really enough for me and there's a larger version). Most popular flavours like Traditional Jelly, S'Mores, Madagascar Vanilla remain steady on the menu. Seasonal and daily flavours are also fun to check out.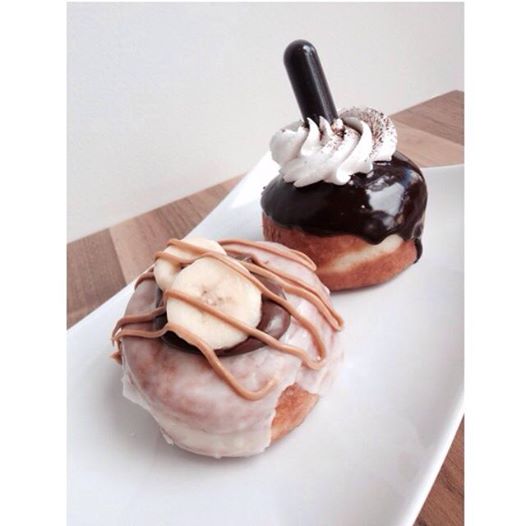 If you know there are guests with gluten sensitivities Dufflet has a line of desserts that are completely gluten free and they are seriously delicious! Having tried several items in the collection I was really impressed with the tasty cakes. The lemon tarts are exceptionally good and even those without gluten sensitivities will want to try these. The line includes carrot cake, Devil's Food chocolate cake, pink velvet cake, brownies, cookies and a variety of cupcakes. The line is certified gluten-free and recognized by the Canadian Celiac Association. The line is now available in specialty food stores, grocers and at Dufflets.com