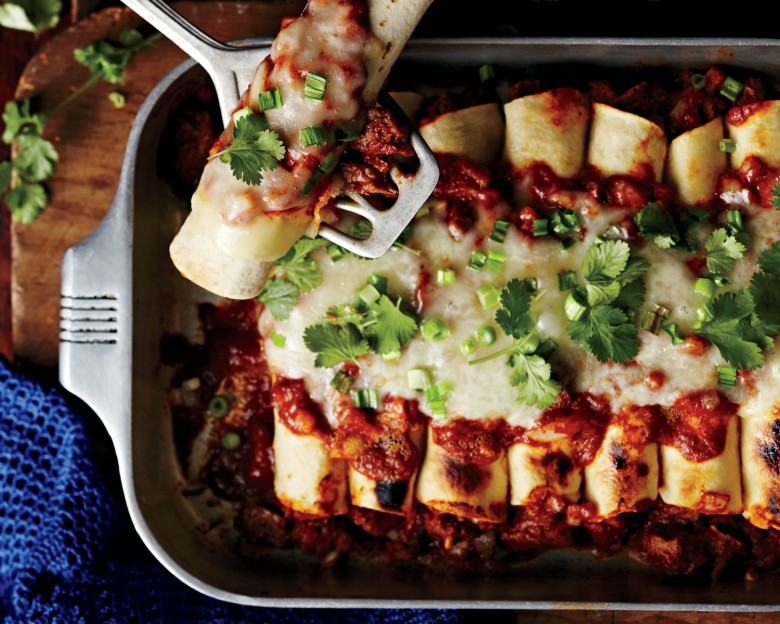 With an amazing shredded beef centre, gooey cheese and a zesty sauce, these enchiladas are impossible to resist. The best part? This is yet another slow cooker recipe. So the stew-like filling simmers away untended, freeing you up for other things… like homework, laundry or, if you're lucky a glass of red wine! Check out Canadian Living's New Slow Cooker Favourites for even more great recipe ideas that you can prepare and basically forget about until dinner time.
Per each serving (recipe makes 5 servings):
691 calories, 52 grams protein, 32 grams total fat, 46 grams carbs, 4 grams fibre.
What you need
900g stewing beef cubes
1 sweet onion, diced
3 cloves garlic, minced
1 jalapeno pepper, seeded and diced
1 ½ cups sodium-reduced beef broth
½ cup bottled strained tomatoes (passata)
¼ cup tomato paste
1 tsp ancho chili powder
2 tsp ground cumin
1 tsp dried oregano
½ tsp each salt and pepper
¼ cup all-purpose flour
3 tsp cold water
3 tbsp lime juice
10 small flour tortilla
1 ½ cups shredded Monterey Jack Cheese
2 green onions, chopped
¼ cup fresh cilantro leaves
How to make it
1. In slow cooker, combine beef, onion, garlic, jalapeno pepper, beef broth, strained tomatoes, tomato paste, chili powder, cumin, oregano, salt and pepper.
2. Cover and cook on low until beef is tender, 7 to 8 hours.
3. Using slotted spoon, transfer beef to bowl; using potato masher, break up beef until coarsely shredded.
4. Meanwhile, whisk together flour, cold water and lime juice. Whisk into liquid in slow cooker; cover and cook on high until slightly thickened, about 15 minutes
5. Stir 2/3 cup of the sauce into shredded beef.
6. Spread 2/3 cup of the sauce into 13×19 inch (3 L) baking dish. Spoon heaping 1/3 cup of the beef mixture onto centre of each tortilla; roll up. Arrange seam side down, in single layer in baking dish. Pour remaining sauce over top.
7. Sprinkle with Monterey Jacky cheese and green onions. Broil until cheese is melted, about 3 minutes. Garnish with cilantro.